"Rare Michael Jordan sneakers on sale for $1 million price tag": Unworn 1985 Air Jordan 1 shoes autographed by the Bulls legend listed on eBay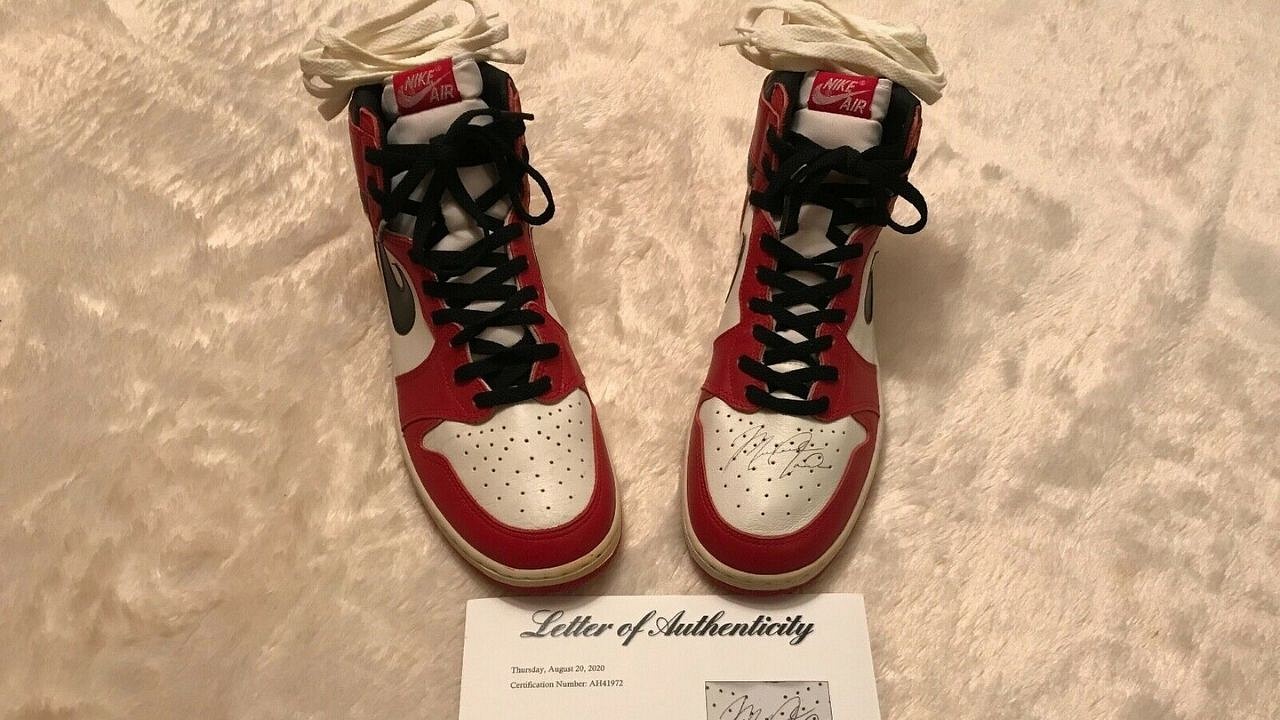 An unworn pair of the 1985 Air Jordan 1 shoe, autographed by Michael Jordan as a rookie, is for sale at an asking price of $1 million USD.
Collectibles for MJ items have been peaking in value of late. A pair of 1986-87 Fleer Michael Jordan rookie cards recently sold for $738k each. These cards were rated at a perfect Gem Mint 10, but the jump in value of the cards was astounding. They gained over $500k within a month of resale from a December auction.
Last week, a Mint 7 Jordan card sold for nearly $1.5 million. It features a clear signature and a piece of the jersey Michael Jordan wore during the 1992 NBA All-Star game.
Reportedly one of two verified pairs with MJ's rookie signature. https://t.co/m7SJQGmxTn

— HYPEBEAST (@HYPEBEAST) February 8, 2021
Also Read: "Stephen Curry is not frustrated, but he doesn't like to lose": Steve Kerr on Steph appearing frustrated after Warriors lost back-to-back games
Details of this rare Air Jordan 1 sneaker up for sale on Ebay
Original Air Jordan 1 sneakers from 1985 have become scarce in the sneaker world. Hypebeast reports that there are only 15 to 20 'deadstock' (unworn and unopened) pairs of the shoes available from this early SKU of the most iconic piece of streetwear in urban legend.
The shoe features an "850204 TYPS" label, where the PS stands for the "player sample". This is suggestive of the notion that these sneakers were personally designed for Michael Jordan himself. The pair is reportedly a mismatched one, with one at size 13 and the other at 13.5 – although this is unconfirmed.
The shoe is in the 'Chicago White' colorway of the Air Jordan 1, which is among its most popular looks. You can find the link for the listed shoe here.
Also Read: "I thank Warriors fans for being so supportive, if a bit delusional": Steve Kerr has a hysterical reaction to fans claiming that the league is rigged against the Dubs
Air Jordan 1 shoes are by far the most copped sneakers in the history of shoewear. This colorway is among the most iconic ones for the shoe. It was conceived by Tinker Hatfield for Jordan as a rookie. The other very famous colorway of the Air Jordan 1 shoe is the Royal Blue, which Michael himself liked to wear in public.
---