Logan Paul Takes Shots at Andrew Tate, Asks Him to "Step Into the F***ing Octagon"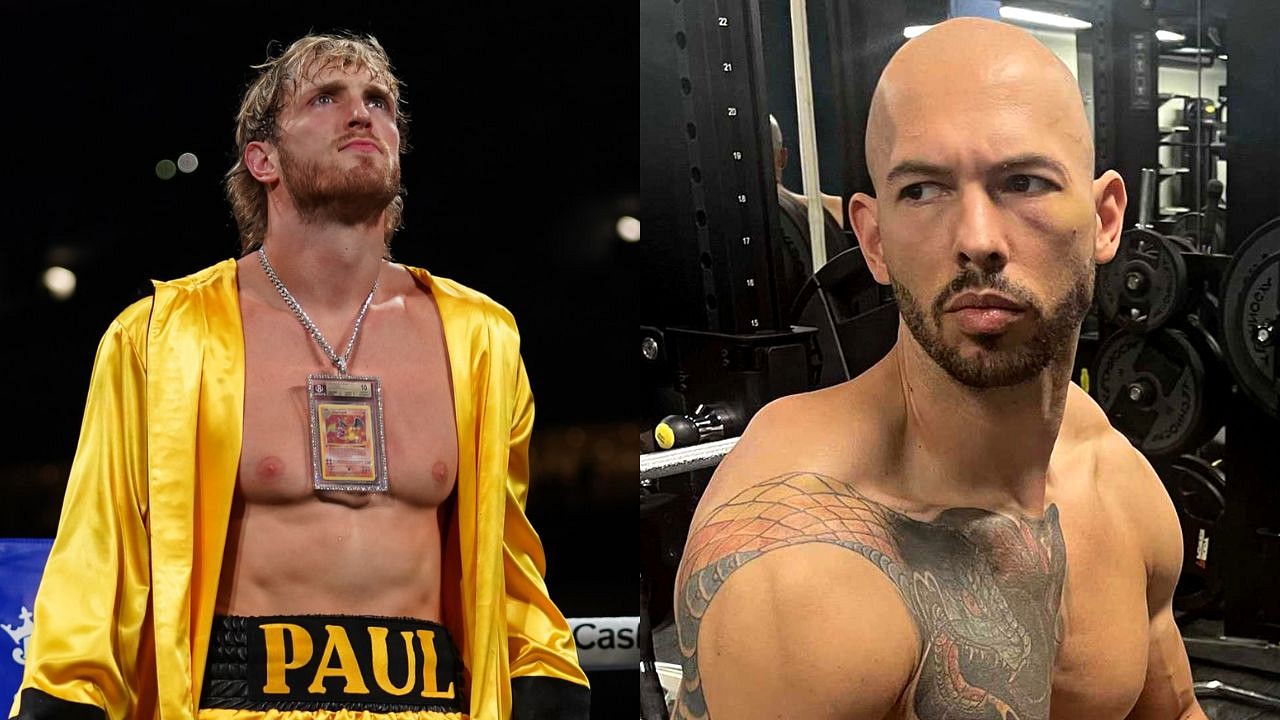 Logan Paul, an outstanding in-ring performer, a successful YouTuber, and podcaster, is also well-known for his blunt attitude. Be it in real or social media, the YouTuber-Turned-WWE Star has never backed away from confrontations. For the last few months, Logan Paul has been entangled in a verbal feud with another social media personality, Andrew Tate.
Last year, Top G was rumored to face Logan's younger brother Jake Paul in a boxing match. However, while Tate blamed the negotiation process, Logan, in one of his ImPaulsive podcasts, refused the match, calling it silly.
Although the match never happened, both social media celebrities have berated each other at any given opportunity. In fact, in November 2022, Andrew Tate claimed Logan Paul has been using steroids. Recently, the 27-year-old WWE star took some heavy shots at the social media personality.
Logan Paul called out Andrew Tate and challenged him to a UFC fight
Speaking on the TimboSugar Show, the WWE superstar discussed the beef and made some strong remarks regarding Tate. Logan Paul even offered an intriguing solution for his rivalry with Top G. The 27-year-old star wants to sort out his issues with Andrew Tate in the UFC ring. The logic behind a fight in the Octagon is both men have not done that in the past.
Logan Paul further added Andrew Tate has been a kickboxing champion, but he's a YouTuber with no wins. Further, noting that both possess two of the three skill sets, the WWE star asked Tog G to stop running and accept his challenge. He stated:
"So, I got a solution, why don't we do something that both of us have never done?… Let us step into the f***ing octagon, brother. An MMA fight, me [Logan Paul] vs. [Andrew] Tate, in the UFC… He's a world-champion kickboxer, I'm a YouTuber with no wins, bro. What are you f***ing running from?"
Well, Logan Paul has sent out his challenge publicly, let's see if Andrew Responds to it. Though, looking at Tog G's current incarceration, the chances of both fighting in UFC seem very less as of now.
The 27-year-old YouTube Sensation is rumored to make his in-ring return at Royal Rumble later this month
Logan Paul delivered an excellent performance while fighting Roman Reigns for the Undisputed Title at Crown Jewel 2022. Although he lost the match, he did win hearts and earned a lot of respect from the pro wrestling community.
Unfortunately, during the match, Logan tore his MCL and has been out ever since. Now, according to Xero News, Logan Paul could be making his return at Royal Rumble later this month. Though, his appearance depends on whether he is fully recovered from the injury.
Some reports even claim the 27-year-old will be facing John Cena at this year's WrestleMania. In fact, The Cenation Leader himself hinted at the same through a cryptic post.
 

View this post on Instagram

 
Nevertheless, it seems Logan versus Tog G is inevitable, and they will confront each other in the future. With both men having no UFC experience, a fight in the Octagon will something to see. Though as of now, there has been no response from Andrew Tate's side.
For More Wrestling News, Click Here.
---