5 Best Defenders in the Pro Kabaddi League 2019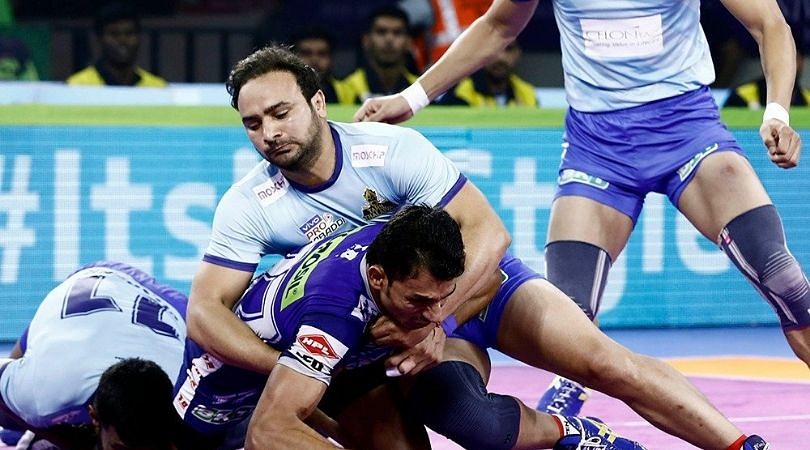 In this day and age where people find exhilaration in the Indian Premier League or elation in the English Premier League, a few sports franchises feel left out in this modern day of commercialisation. One such example is kabaddi—a rather taxing sport that requires not only meticulous movements but also infallible coordination. Thankfully, with the advent of acceptance in the sporting world, kabaddi is getting its due interest, and this year's finals of Pro-Kabaddi is expected to gather a gargantuan crowd. There is also an increase in online business when it comes to review of kabaddi betting sites in India, and this is a certain positive for the sport. People are making not just bets but analytics on kabaddi players, thereby slowly but surely attaining the status of the aforementioned sports. 
This year's Pro-Kabaddi League has witnessed a good number of promising sportspersons and potential legends of the game. The dynamics of this game is such that raiding is as arduous as defending and hence, there truly aren't any visible lines of distinction to claim one player's degree of prowess over the other. However, if individuals playing the same role are considered and compared, here are the 5 best defenders this year's kabaddi season has to offer.
Manjeet Chhillar
Rightly hailed as one of the best all-rounders in the Pro Kabaddi League, Chhillar chooses to play as a defender in most of his matches, and is truly an avant-garde of Pro Kabaddi League defenders. He has an impeccable record of 51 match points in just 16 matches, which is arguably the best in class, right from season 1. Naturally, Manjeet was awarded the 'Most Valuable Player' in the aforementioned season (Tamil Thalaivas). 
His defensive capabilities were not just confined to the first edition of the Pro Kabaddi League, but instead extended into both season 2 and quite unsurprisingly, season 3. With 60 tackle points in just 15 matches in season 2 and 61 tackle points in just 15 matches in season 3, Chhillar truly is a force to be reckoned with. 
Surjeet Singh 
With over 50 tackle points in this year's edition of the Pro Kabaddi League, Surjeet Singh rightly leads his team when it comes to the defence frontiers. With incomparable leadership capabilities, Singh proves the value of serenity in one's life through his action-packed tackles. He rightly shows his fans how important it is to maintain a cool temperament in order to be at one's technical acumen to ensure that the tackles are done efficiently. 
With an average of 3 tackles per game, Surjeet Singh is definitely one of the best defenders this division has to offer. Unfortunately, due to the elimination of his team (Puneri Paltan) from the league, it will not be possible to witness this gifted athlete defending his team and leading the battalion until the next edition. 
Ravinder Pahal 
If Bollywood has a 'Dabangg' franchise, so does the Delhi Kabaddi team, and Ravinder Pahal is the leading officer when it comes to defensive activities of Delhi Dabangg, with his anaconda-like holds whose technical attributes are off the charts. Known for his unconventional holds such as the 'wrist hold', Pahal brings to the table an air of mystery, for his opponents are seldom able to calculate his movements, thereby rendering them nullified against his thigh holds. 
Pahal also holds an impeccable record of 29 tackle points in just 9 matches, making him one of the best defenders in the game and one of the most ferocious foes in the eyes of his opponents. 
Nitish Kumar 
The Skipper of the group of warriors from UP (rightly called UP Yoddha) is yet another fierce opponent one would generally try to avoid even in their wildest dreams. With an average tackle point score of 3.18, Kumar is by far one of the best this game has to offer. With his Mammoth structure, he is surprisingly agile for someone of his size. 
His natural capabilities have made him end up in the top 5 defenders of all time, and rightfully so, for this division is yet to see another individual who happens to be a perfect conglomeration of both leadership skills and technical knowhow. 
Sandeep Narwal
With an impressive 27 tackle points in just 14 matches, Narwal is just second to Chhillar when it comes to core stats in terms of defence. With Chhillar by his side, Narwal is one of the anchors of Puneri Paltan, and has diligently led his team to quite too many victories. 
One of the main reasons for the success of his team, Narwal is notorious for his thigh holds and back holds, and is one of the most flexible when it comes to position playing. Mostly serving as a defensive all-rounder, Narwal seems to be an unstoppable force in the PKL.  
---
Share this article