5 Key signings who could make a huge impact in the 2019/20 Premier League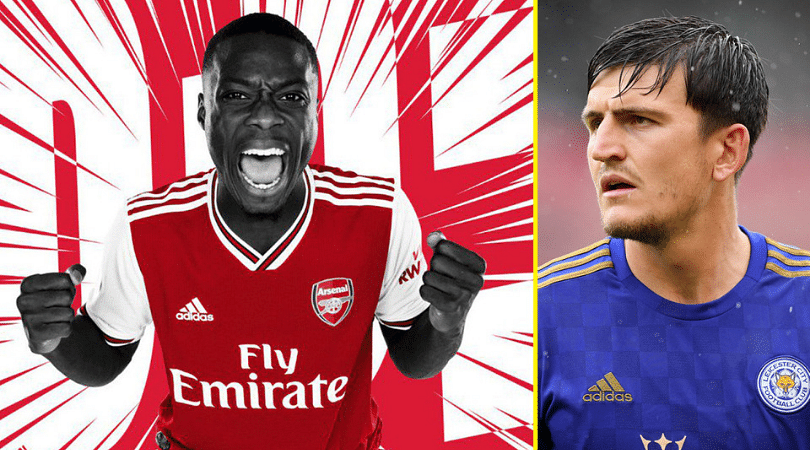 5 Key signings who could make a huge impact in the 2019/20 Premier League. We here at SportsRush look at the 5 players who can make a big splash with their new clubs this season.
The English summer transfer window is almost done and dusted. Unless, some clubs make last minute buys (here's looking at you Manchester United), we already have a fair idea of which players will turn up for the Premier league sides this summer. Some clubs have stocked their resources with multiple signings while others like Liverpool have refrained from jumping too deep into the transfer pool.
Loading embed tweet https://twitter.com/brfootball/status/1158511623490998272?ref_src=twsrc%5Etfw
Manchester City will look to dominate the PL once again while Liverpool will hope to knock them off their perch. There are however, other teams who share Liverpool's sentiments and have bolstered their side with players they believe will help them closer to the top than they were last season.
Loading embed tweet https://twitter.com/reggie_ynwa_/status/1158050490002944000?ref_src=twsrc%5Etfw
Here's a look at 5 key signings who could make a huge impact in the 2019/20 Premier League.
Youri Tielemans
Youri Tielemans is the youngest Belgian to ever play in the UEFA Champions league. His boyhood club Anderlecht fielded him when he was merely 16. He is considered one of the brightest young prospects in the world. He has already knocked up 250 appearances in all competitions and he is merely 22!
Tielemans made his move to Leicester last year as a loan signee and bought all his experience to the club. He impressed the Foxes in his 13 appearances for them last summer and has now joined them for £40m. A bargain when you consider the vast experience he brings and the amount that has been thrown around this summer.
Leicester may not be a top 6 club but they have lofty ambitions and will hope that the young midfielder will guide them to desired results. Tielmans will play as their Box to box midfielder. Leicester however, will expect more from him and look forward to his ability kick a killer pass and the long-range drive.
Leicester fans must be licking their lips at the prospect of watching Tielemans link with Vardy. A brilliant showing here may catapult Tielemans to other European giants. Leicester may not want to part with him, but should their hands be forced, they can easily sell him for double.
Tanguy Ndombele
Tanguy Ndombele shattered Tottenham's previous transfer record and became their most expensive signing as well as their first singing in two seasons. The 23-year old, last played for French team Lyon, where it had become evident that he was one to look out for. Tottenham Chairman finally let loose his purse strings and he was bought for £55m with a further £10m in add-ons.
Ndombele is blessed with technique and power. This make him a very efficient box to box midfielder who can excel in both attack in defence. When out of possession, the Frenchman thrusts himself towards his opponents and challenges for the ball. When in possession, he drives his team forward relentlessly.
He is a midfielder that covers the midfield exceptionally well and controls the entire centre of the pitch. Ndombele is a brilliant buy by Spurs who may just give them the edge this campaign. However, Tottenham boss Mauricio Pochettino has advised fans to be patient with the new signing and give him the time to settle in the club.
Christian Pulisic
The new Chelsea signing has a host of records to his name in both club competitions and Internationals and he is only 20-years old. The former Borussia Dortmund player is the youngest player the youngest non-German to score in the league, the youngest player to score two Bundesliga goals, and is the youngest player to appear and score for Dortmund in the UEFA Champions League.
He made his international debut at age 17 and has racked up a host of records with them as well. He is the youngest person to appear and score in a World Cup Qualifier for the United States. Pulisic has also featured as team captain—their youngest ever among a host of other records. It should come as no surprise why Chelsea shelled out €64 million for the still very young American.
With Eden Hazard's departure this summer, Frank Lampard will hope to replace the Belgian with his new signee. Pulisic himself is up to the task and is looking forward to replicate the success his idol, Hazard had at London.
Pulisic can play either as an attacking midfielder or in the wings, though he was usually played at the flanks by Dortmund. His low centre of gravity means there are very few who can dribble faster than him. He weak foot skills also ensure he can play on either side of the field; providing his manager with versatile ways to field him.
 Nicolas Pepe
Arsenal's miracle signing of the summer. Just when fans thought that Arsenal would not be able to bring in a winger, the North London side pulled one on the fans and bought in Lille winger Nicolas Pepe for club record fee of £72 million.
Last season, Pepe found the net 22 times and assisted 11 times to find a spot in the UNFP team of the year. Arsenal will hope that Pepe can bring his rich vein of form to England and help solve their problems at the flanks. Mesut Ozil and Henrick Mkhitariyan were both tried to disappointing results and Unai Emery will want the Ivorian to galvanize the wings.
Nicolas Pepe is a fast and skilled attacking winger. He can play as an inverted-winger or as an outright winger and also as a forward, if an when required. It is likely that Emery will play him on the right where he can cut in with his left. Aubameyang and Lacazette, this is a scary trio most defenses will cower from.
Harry Maguire
To come into Manchester United as their biggest transfer of the season can be nerve wrecking. But to walk in as the most expensive defender in the world can lead to self-doubt and destruction within many. Hopefully new Manchester United recruit Harry Maguire isn't one of them. United pay the enormous fee of £80 million to secure Maguire's service and will hope that his impact will be immediate.
Last season United were guilty of letting slip many goals in crucial junctures. They were urgently pressed to make new defensive recruitments. Aaron Wan-Bissaka and Maguire will help shore the defense this campaign. While fans understand the need to be patient with Bissaka, Maguire will not be afforded the same understanding. It is imperative he signs or the restless United fans may call for his head before the next summer.
Maguire was solid for Leicester last season. The same or perhaps even better will be expected of him at his new club. The centre back is excellent in the air and has the ability to score the occasional goal. He may be a little slow. However, he is a good reader of the game and very few can match his composure in the field.
Click here for more football news
---