On this day, 44 years ago, Mumbai became witness to the birth of a child who was not one of us. When he wielded his weapon which was supposedly made of wood, time came to a standstill. Everyone was glued to a black box which showed a creature who looked like us, wore clothes like us but was unstoppable. What he had to do was to play a game called cricket and you knew that clocks hands would lose their ability to move. There are two periods in the history of Cricket, Before Sachin and After Sachin. Because when the GOD himself played, there was nothing but SACHIN TENDULKAR.
Australian great Matthew Hayden said "I have seen God. He bats for India at number 4 in Tests." 24 years of carrying the burden of the whole nation whom he put onto the world sports map, and we still wanted him to play. Those shots that he played, the sound of the bat hitting the ball is still somewhere in the air, reciting the epic that had everybody in disbelief. And those of us born in his times have done a hell lot of punya karmas that we were witness to his artistry.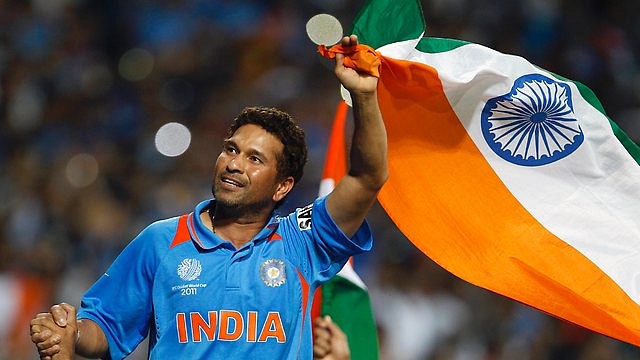 Tendulkar played more test matches (200), scoring the more Test (15921) and One-Day International (18426) runs, and compiling more Test (51) and One-Day (49) hundreds than any other player in cricket history. These humongous stats are just a flash in the pan in the greatness this man achieved playing a sport. One wants to born again to watch those upper cuts, the backfoot cover drives, the paddle sweeps, the pulls, the leg glances (Waqar Younis said that "He can play that leg glance with a walking stick also."), the straight drives, and the innumerable shots that he blessed us with.
There were bowlers which had fear in the minds of batsman, Ambrose, Wasim Akram, Waqar Younis, Allan Donald, McGrath, Shane Warne, Walsh, Shaun Pollock, Muralitharan, Shoaib Akhtar, Brett Lee but all of them were mere witnesses when The Master Blaster essayed his trademark shots. He became the very definition of our existence. Even the dead rose to watch him bat.
Everybody wants to be Sachin and there are champions, there are legends but there ain't be no Sachin. The mankind may forget to breath, but he ain't be forgotten. Above all, we'll always miss the sound of "Sachin, Sachin" that reverberated through the stadiums across the world when he came out to bat. He was not just a phenomenon, he was an inspiration. In the words of the GOD himself, "When people throw stones at you, you turn them into milestones".