Alphonse Areola makes a one-handed catch in the Real Madrid vs Osasuna match last night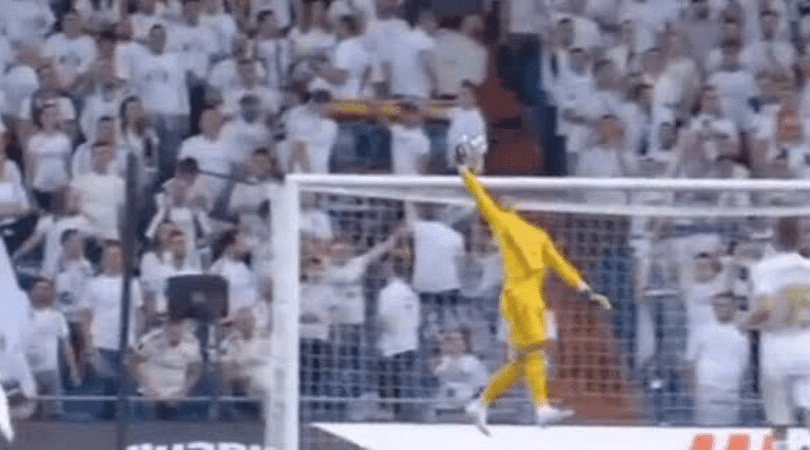 Alphonse Areola makes a one-handed catch in the Real Madrid vs Osasuna match last night in the La Liga. Fans are now asking him to replace Courtois between the sticks.
For a team said to be in crisis, Real Madrid have performed exceptionally well. They may have lost 3-0 to PSG in the Champions League but are yet to be defeated by anyone in the La Liga. With 4 victories and 2 draws, they sit atop the points table after 6 matches. However, there are still improvements to be made.
Also read: Bayern Munich claims to not allow it players to serve Germany if Neuer gets replaced
Teams win matches by scoring more goals than the other, ergo, goals win you matches. Not conceding a goal though makes you that much harder to beat. Real Madrid unfortunately have had a hard time with their backline guarding their goal.
Thibaut Courtois, has been handed the keys to be the man in charge of their last line of defence. However, he has received a lot of flak for his keeping since he switched his allegiance from the English capital to the Spanish one. Especially considering the price he came in for and the person he would go on to replace.
Courtois managed to keep a clean sheet in their match against Sevilla last weekend. The last time that happened though was on February 3rd. Not too impressive for someone that displaced Keylor Navas; the no.1 keeper during Real Madrid's hat-trick of Champions League triumphs.
Alphonse Areola makes a one-handed catch
According to Marca, Zinedine Zidane is considering playing 2 XI in this league run. We may have seen a glimpse of it yesterday, with a number of fringe players getting their chance including loanee Alphonse Areola between the sticks.
The supposed Real Madrid B side proved very good for Osasuna, beating them 2-0 last night. Areola, who is on loan with Real Madrid from PSG knows that his chance will probably be few and far between. However, he grabbed his opportunity with both hands; single handed in this case though.
Not only did Areola keep a clean sheet for Los Blancos on his La Liga debut but he also made a one-handed catch using his tall frame to catch the ball Odell Beckham Jr. style.
https://twitter.com/__LD13/status/1176967038612529153
The catch has since gone viral with many demanding the Frenchman take Courtois' place in the squad.
Click here for more football news
---