Bournemouth 1-0 Man Utd: 3 talking points as the Cherries end the Red Devils' mini revival | Premier League 2019/20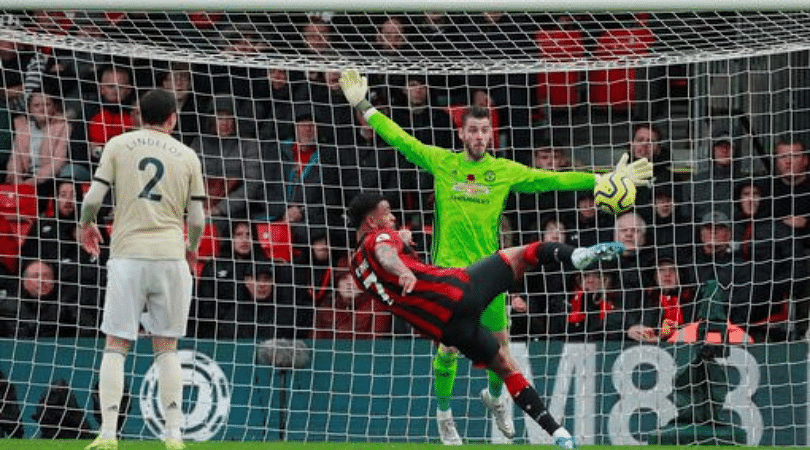 Bournemouth 1-0 Man Utd: 3 talking points as the Cherries end the Red Devils' mini revival during their Premier League encounter earlier in the day.
Manchester United have had a very tough time in the Premier League this season. However, the side managed to fill their fans with hope after they strung together 3 consecutive away victories following their gutsy draw against Liverpool at home.
Also read: Top 10 Most Valuable football Squads in Europe
Following their 1-1 draw against a rampaging Liverpool side, Manchester United beat Partizan, Norwich and Chelsea on the road. United fans who had long given up on the team, came out screaming in joy with their hopes renewed.
However, just when the fans began believing in the team, Ole Gunnar Solskjaer's men produced an absolute disaster to hand Bournemouth their first win in 6 matches. With their 3-win streak snapped, United fall to 8th in the table as the scoreline read: Bournemouth 1-0 Man Utd.  Let us look at the 3 talking points from the match.
#3) United's over reliance on set-pieces
Manchester United once boasted of the best attacking talents, not just in England but all over the world. The trio of Wayne Rooney, Cristiano Ronaldo and Carlos Tevez once manned United's attack. Now it is Anthony Martial, Marcus Rashford and Daniel James who have taken the responsibility.
Unfortunately, the three are not blessed with the same talents or positional awareness as their predecessors. The young forwards do not have the vision for goals and have failed to penetrate the opposition defences regularly.
In fact, most of their goals seem to have come from set pieces and even then, they have squandered a lot of it. In their match today, the Red Devils did not look threatening at any point and even failed to register a single shot on target in the second half.
United have experimented with a few formations but they still seem unsure of what their best play is. 2 at the front and 5 at the back? Or 4 at the back with one in the front supported by 3 behind him. If United want to qualify for the Champions League, they will have to settle on a formation that maximises their goal scoring opportunities.
#2) Scott McTominay, the lone shining light in a midfield that sorely lacks creativity
Manchester United's attacking woes are very well known at this point. However, there midfield has been equally poor for them this season. Your strikers can only provide you with goals as long as you feed them a healthy dose of quality passes that set up potential scoring chances.
Scott McTominay has been a scrappy customer in the middle of the park. He has run his heart out trying to win the ball and has shown a great eye picking out his teammates. Unfortunately, he has received very little support from his teammates.
Fred has become better in recent times, but he is still nowhere near the standards required to play in the Premier League. Nemanja Matic is past his prime and Paul Pogba is still out injured. This has left McTominay with a lot to do on his own.
Fans will hope that once Pogba returns, the side will be injected with much needed creativity in the middle of the park. With McTominay grinding like he has in the last few weeks, this will reduce the pressure on Pogba and hopefully help him be a lot more relaxed and in control upon his return.
#1) Solskjaer's hesitance on playing youth despite advocating a philosophy on the same
All season long, Manchester United have spoken on their desire to play youth and look towards the future. However, despite a majority of their top stars failing repeatedly, United have refrained from handing chances to their academy graduates.
Solskjaer's reason for not buying a striker despite selling Romelu Lukaku in the summer was Mason Greenwood's development. The Norwegian even went on to say that the teenager had the best attacking instinct in the club and yet Greenwood only gets to play in the dying minutes of a match. Surely he can't fare worse than their current attacking options.
Then there's the curious case of Tahiti-Chong, Angel Gomes and Brandon Williams who are all said to be prodigious talents. Yet Solskjaer prefers to play failing players such as Andres Pereira, Jessi Lingard, Fred and Ashley Young ahead of them.
It is obviously important to play a mix of youth and experience but when your experienced players give you no reason to pick them, the better decision perhaps, is to play your youth who are raring to go and waiting for a chance.
Click here for more football news
---
Share this article