Brooklyn Nets vs Indiana Pacers Dream11 Prediction : Dream11 Fantasy Tips for BKN vs IND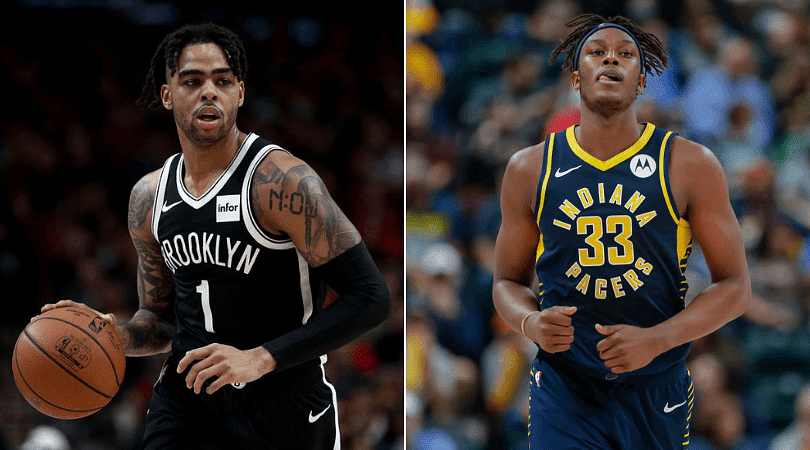 Brooklyn Nets vs Indiana Pacers Dream11 Prediction : Dream11 Fantasy Tips for BKN vs IND as The SportsRush helps you form the best possible Dream11 Team.
Eastern Conference did not show much promise after LeBron James moved to the West after lording over the East for nearly a decade. But Eastern conference has provided two good fights for the play off spots even though the conference is top heavy. At the top Toronto and Milwaukee jostled for the top spot, that Milwaukee has now locked up thanks to Giannis' MVP campaign. The next three teams fought through the year for the 3-4-5 slots and Philadelphia has seemingly locked up the 3rd position.
Boston sits a game above Indiana with 2 games to go for both teams and while its more likely that they Pacers and Celtics face off with Boston having home court advantage in the 1st round, there are no guarantees in the NBA. At the bottom, 6-10 positions were up in the air until the last couple of weeks when Charlotte dropped out, albeit still not out mathematically. The remaining 4 teams are fighting for the 3 spots and for now it stands as Nets, Magic, Pistons and Heat with the teams being separated between 1.5 games from 6th placed Nets to 9th placed Heat. So its all to play for for Brooklyn.
Nets and Pacers Form –
Neither team comes into this contest in great form. Brooklyn have a 4-6 record in the last 10 games and are in the second half of a back-to-back after winning a close game against the Milwaukee Bucks who didn't have Giannis for the night. Alan Crabbe remains the only long term absentee for the Nets.
Indiana Pacers are 3-7 in their last 10 games hitting a rough patch at the worst/best time of the season, given how you wish to see this. They have locked in at least the 5th place in the conference and finishing a spot higher would still mean a series against the Celtics, just with home court advantage, so not a lot to play for, for this team, but that hasn't stopped them so far. Darren Collison remains a day to day for the team, with most sources not expecting him to be back for the game, while Oladipo remains out for the season.
Dream11 Tips: Brooklyn Nets vs Indiana Pacers
Point Guard: D'Angelo Russell (18 Cr)
Russell is the only all-star across both teams and is the only player on either team to be averaging 20+ points per game this season. The past few games have seen Russell rely more on his passing when he hasn't been able to find his shot and has led to him getting a couple of double doubles of points and assists for the first time this season. He is a lock for the game and probably the safest bet for star player.
Shooting Guards: Joe Harris (11 Cr) Tyreke Evans (9 Cr)
Joe Harris gets his points in the game. He is NBA's best 3 point shooter for the season (at least as far as percentages go) and has solid rebounding to get him some more points. If he heats up from the distance and his team mates start looking to find him beyond the arc, he has the potential to run riot from the distance.
Tyreke Evans and Wesley Matthews are priced similarly at 9 Cr, but while Matthews came into the team with more fanfare, he has failed to contribute much beyond his limited scope in the team's offense. While neither player scores points in hordes, they both have similar averages but Evans is a much better rebounder and can easily outscore Matthews on any given night because of it.
Small Forward: Caris Levert (13.5 Cr) Bojan Bogdanovic (12.5 Cr)
Caris Levert is the second best scorer for the Nets after Russell, but has a habit of scoring in bunches when he is in the mood. While Russell brings in 21 odd points every game, Levert can outscore him half the nights while still putting in 14 odd points on off nights. He is not the greatest rebounder for his position, but he still manages to pull down 3 rebounds a game, but his passing has come around nicely with recent games average of 5+ assists per game.
Bojan Bogdanovic is the best scorer for the Indiana Pacers outside of Oladipo. He is averaging 18 points per game this season and that number has only gone up since Oladipo went down. Before a shoddy performance against the Celtics in the last game, Bogdanovic was averaging 24 points in the previous 6 matches. If he can go back to that same form, he provides great value for money at 12.5 Cr.
It the final home game of the regular season!

🏀 #Pacers vs. Nets
🕔 5 p.m. ET
📍 @TheFieldhouse
🎟 https://t.co/wqBzuYbwVr pic.twitter.com/nWuJ3lL6QE

— Indiana Pacers (@Pacers) April 7, 2019
Power Forwards: Thaddeus Young (14 Cr) Jared Dudley (5.5 Cr)
Thaddeus Young at Power Forward does his best when he isn't matched up against a big physical PF and Pacers do not have a great collection of Power Forwards, except for when they force Turner to play in that position while sharing the court with Sabonis. Young has been averaging 15 points per game over his past 6 games to go with 7 rebounds and 3.5 assists. His numbers will only improve if he's being guarded by Jared Dudley.
Jared Dudley just scored 16 points, 5 rebounds and 1 assist in the previous game at just 5.5Cr. He is the best bargain pick available from either team in this game and his value comes the points that not only he scores, but the points your big guns score because you can afford them due to picking Dudley at his price point.
Center: Myles Turner (16.5 Cr)
Myles Turner is the Pacers best 2 way player and actually produces stats that benefit you on the defensive side. He averages nearly 2.2 blocks per game with his pogo stick verticality and his long arms enable him to get a steal per game. 13 points and 8 rebounds are also pretty handy to go with those defensive stats.
Star Player:
Its a toss up between Russell and Turner. Russell hasn't been the best player on the back ends of back to backs so that might be a concern, but he does put it stats that earn most points. Turner gets his 30 points due to the automatic rebound numbers to go with his defensive numbers and his shooting ensures that he gets his points even if he gets bullied inside on the offensive end where he will face Jarett Allen.
Myles Turner edges this based on fatigue level of Russell.
---
Share this article