A Champion like No Other – Danke Schweinsteiger !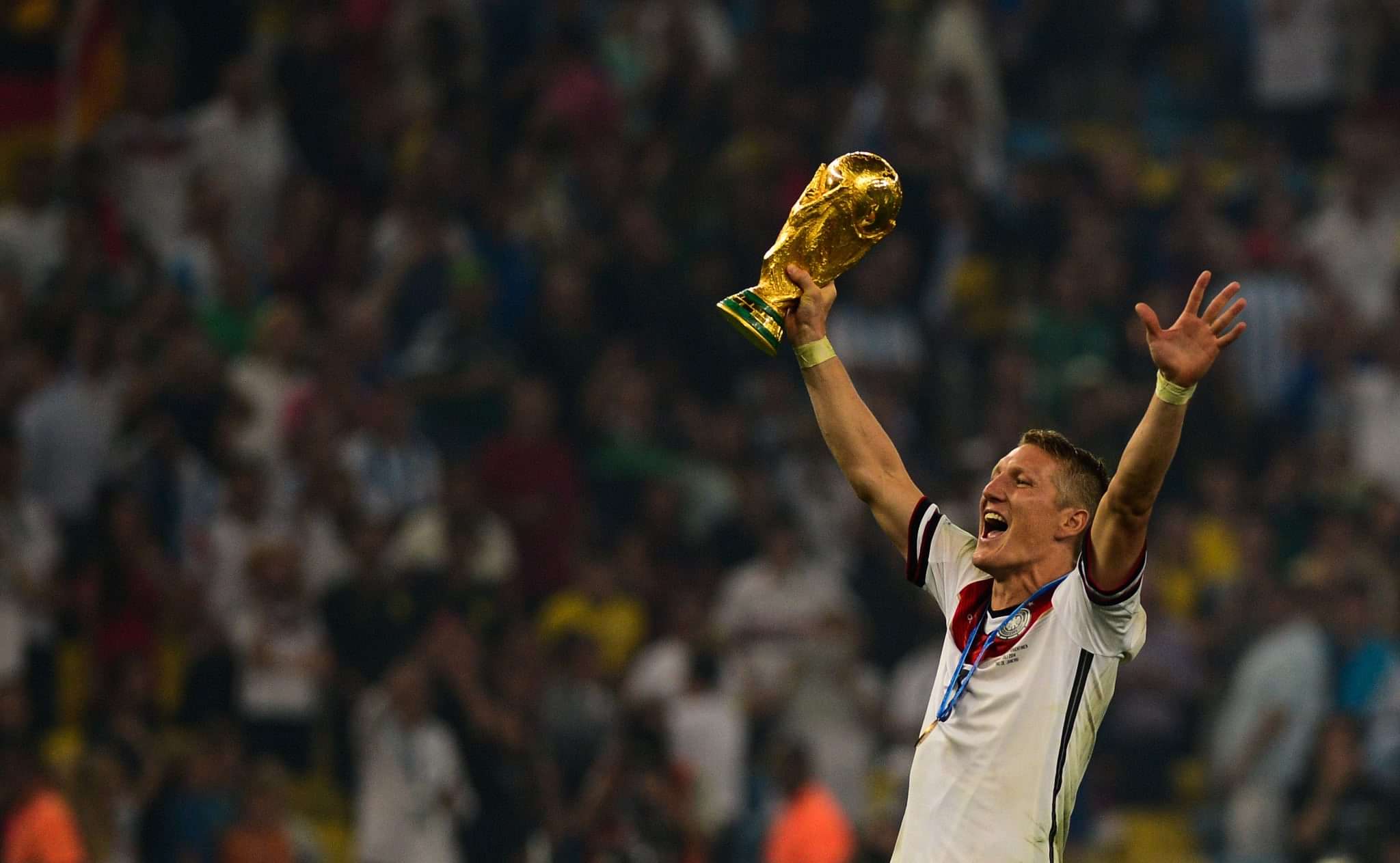 Every once in a while there comes a special player. Not only does he posses all the footballing qualities that one desire but also inspire the people around him to become much much more than what they actually are. Basti Schweinsteiger is one of those players.
In truth he is much more than just a player. He is an icon of German football. He burst on to the scene as a runaway blonde winger who was as skillful as he was erratic. It is a testament to his footballing intelligence and quality that he morphed himself in to a commanding midfielder for both Germany and Bayern Munich.
Blonde Schweinsteiger !
Bastian Schweinsteiger announced himself on the world stage in the 2006 World Cup held in Germany. His trickery and quality shone through as Germany made their way to the semi final. After a heartbreaking loss to Italy in Dortmund, Basti made his presence felt in the third place play off against Portugal.
Two long range screamers stole the show as Germany ended their campaign with optimism towards the future with the likes of Podolski, Lahm and Basti the new superstars of German football. A glorious future was promised.
Unfortunately that future did not materialize. In the 2010 World Cup in South Africa, with Basti now a leader in central midfield, a youthful German side lost to eventual champions Spain in the semi final.
Final Heartaches !
At club level Bayern had been massively under performing in Europe for a few years. LVG took Bayern to the Champions league final in 2010, but they lost tamely to Jose Mourinho's Inter Milan.
Worse was to follow as Bayen lost to Chelsea at home in the Champions league final in 2012. Of all the people to miss a penalty, Basti missed the telling penalty as Didier Drogba won the title for Chelsea.
There was a prevailing feeling that the likes of Lahm and Schweinsteiger would end up like the unfortunate Micheal Ballack. A footballing great who never won 'The Big One'. Which is why 2013 was a crucial year in the career of Bastian Schweinsteiger.
Bayern Munich romped their way to a historic treble as Schweinsteiger finally won the Champions League that his career deserved. Now there was unfinished business with Germany.
He knew that this was his last chance to win the World Cup when Germany took on Argentina in the Maracanna in the big final. Lionel Messi was expected to steal the show that evening, but it was not to be.
Bruised, Bloodied Champion !
Basti put on a performance of a lifetime as a Mario Gotze goal was enough for Germany to win the World Cup. Scheinsteiger was the Man of the Match as he battled, fought and led his team from the front. He also obtained a few battle wounds as a token !
From a loser in 2012, to a hero in 2013 to an absolute hero in 2014, Bastain Schweinsteiger's legendary career can be condensed in those three years. There was no fairytale end to his international career as Germany lost to France in the Euro 2016 semi final.
The lack of a Euro title is the only blemish in what has been a brilliant international career. But that will not diminish the significance of Bastian Schweinsteiger on German football.
A legend has just called it a day !
---