Champions Trophy Fantasy Tips: Fantasy Guide for England vs Pakistan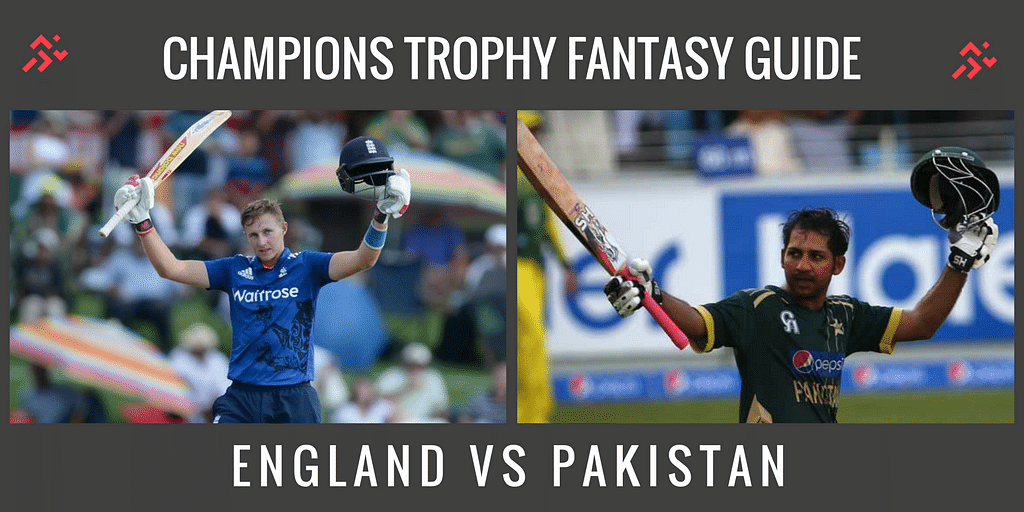 Expectation is the mother of all problems. It causes people to nurture a dream, to believe in something that is considered absurd, to work towards something that seems ridiculous; but more often than not it makes people reel in disappointment. Sport just as life presents such disappointments too, but while it makes a few fall on their face, it also rises a few to high altitudes, those few who maybe haven't ever experienced such excitement in life.
Bangladesh would be ecstatic on reaching their first ever ICC semi final, a dream that they had been nurturing ever since they arrived on the international scene, a dream that had given them a lot of grief over the years, but one that would be giving them the purest form of joy at this point.
Also Read: Do's and Don'ts for the Champions Trophy Fantasy League
Pakistan would be ecstatic too. A terror struck nation that finds solace in cricket has so often been frustrated because of the erratic nature of its team. But there is just something about Pakistan that makes then a huge threat in international tournaments. England would be foolish to write them off and would be expecting a tough and erratic fight from Pakistan today.
England have reached the semi finals using all their might. Everyone except Jason Roy has contributed in one form or another and they pretty much look the ideal ODI side at the moment. It would take a few moments of brilliance from Pakistan or a few moments of madness from England to make England crash out of the tournament.
India have been hot all through, except that middle period in the 2nd innings against Sri Lanka, when it all went south for them. They have been clicking as a unit at most times and are the 2nd most favoured side to win this tournament.
Let's get to business now!
Fandromeda Fantasy Tips on the next page:

Fandromeda Fantasy League
With 5+2 free substitutions available for this game, I would be going in with at least 6 players from the first semi final.
I will be going in with the 7,8,10 combination or the 8,7,10 combination.
Joe Root and Ben Stokes are essentials for the first semi final. Root has anchored England's innings in all three games and I expect him to dish out a similar performance against the potent Pakistan pace attack. He would be responsible for batting through, for maneuvering the ball around and making everyone else play around him. He should provide you with at least 80 points today.
Ben Stokes' all round skills have been on display this CT. Having recovered from injury, Stokes now gets to bowl at least 7 overs and coming in at 5, he has already won his team a game with the bat. On a big semi final day, you can't leave him out.
Hasan Ali and Mohammad Amir have been brilliant for the Pakistanis. Hasan Ali more so as he has been amongst the wickets too. Amir hasn't been very lucky in the wickets column but he has managed to swing the ball around in the initial stages and has been effective in the death as well. Get both of them in, as they could prove to be a menace for the England batting unit.
In all surety Pakistan should go down against the mighty English(you really can't say, but you have to go on face value here). Their batting just isn't up to the mark and hence you should get in a few English bowlers into your side, as they could run through the Pakistani batting unit.
Liam Plunkett has been exceptional  for the English, hurrying the batsman upfront and picking up a few cheap wickets during the death. Get him in!
Babar Azam is Pakistan's best bet with the bat. He hasn't really been on top of his game in this tournament but he has a staggering average of 50+ and has been scoring runs all over the world. On a big day for Pakistan, their hero with the bat could stand up. Also, he could be your big trump card for the game.
This game would be played on the same surface that was used for the last game in Cardiff and hence the spinners could come into play today. And when that happens, Adil Rashid becomes a mandatory pick. His leg spinners have been exceptional and on his day he could run through the opposition, just like he did in England's last group game. Get him in!
I won't be bringing in any other players from this game into my side. The one probable change that you could look into is, dropping Mohammad Amir and going in with either of Sarfaraz Ahmed or Shoaib Malik, but do that only if Pakistan bat first, as they could be under too much pressure in the second innings.
Shikhar Dhawan, Buvi, Ashwin and Mushfiqur Rahim would complete my XI.
Dhawan's and Bhuvi's form speaks for itself. Mushfiqur Rahim has been amongst the runs for sometime now and is the highest batting wicketkeeper amongst all the semi final nations. Ashwin could come in handy against the sea of left handers in the Bangladesh unit.
Batting Superstar: Joe Root
Bowling Superstar: Liam Plunkett/Hasan Ali(whoever bowls first)
Champions Trophy Fantasy Tips on the next page:

Champions Trophy Fantasy League
The official league has a very different substitution rule. You have unlimited transfers before the start of today's semi final, and you have a maximum of 4 transfers available between the first and the second semi final. You can then make unlimited transfers before the final. So, essentially the last game becomes a 'one-day fantasy game' which wouldn't involve a lot of strategy.
The Official Fantasy authorities have disappointed more than Sanjay Manjrekar's commentary in the tournament.
So, essentially you can either go in with the 7-8 combination and or an 8-7 combination.
Due to Pakistan's unpredictability, I'll be going in with the 7-8 combination.
Joe Root, Ben Stokes, Liam Plunkett and Adil Rashid walk into my side, because of the reasons mentioned in the Fandromeda Fantasy League section.
Now, from the Pakistan side, I'll be getting in Babar Azam and Hasan Ali for sure(reasons for which are already there in the Fandromeda Fantasy League section).
The only toss up here is between Mohammad Amir and Sarfaraz Ahmed/Shoaib Malik. Mohammad Amir is the safest choice here, as he'll be able to bowl 10 overs and should get at least a wicket or two.
Dhawan, Ashwin, Bhuvi and Mushfiqur Rahim complete
Captain: Ben Stokes
Happy Team picking 🙂
---