Chelsea's Kepa Arrizabalaga refuses to come off in Carabao Cup final vs Man City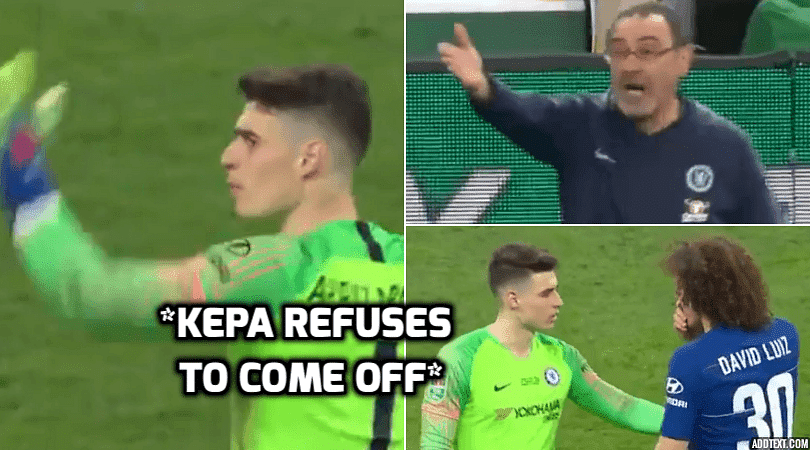 Chelsea's goalkeeper Kepa Arrizabalaga refused to come off for Willy Caballero in a shocking turn of events during the final.
Manchester City retained the Carabao Cup trophy after defeating Chelsea on penalties. Raheem Sterling scored the winning penalty to win the cup for City.
However, the match was marred with significant controversy during the closing minutes of the extra time.
Chelsea's Kepa Arrizabalaga refused to come off as a substitute for Willy Caballero before the penalty shootout.
The Chelsea goalkeeper was asked to come off during the final against Manchester City.
Maurizio Sarri was justifiably furious with the open rebellion from his first-choice goalkeeper, as he shouted towards Kepa from the touchline.
However, despite the clear frustration from his manager, the goalkeeper kept gesturing Sarri and the coaching staff that he won't come off the pitch.
Kepa did make a save but couldn't prevent a loss for Chelsea.
Here's the full video:
😳 – Have you EVER seen anything like it!?

Maurizio Sarri tries to substitute Kepa Arrizabalaga for Willy Caballero, but Kepa refuses to come off and Sarri is absolutely FURIOUS! 😡 pic.twitter.com/Q81v6ry3Kk

— Sky Sports Football (@SkyFootball) February 24, 2019
Twitter reacted to Kepa Arrizabalaga's disgraceful behavior:
Mauricio Sarri: Take the goalie off.
Kepa Arrizabalaga: https://t.co/zgyiLS5JUm

— Daley (@DaleyAFC) February 24, 2019
Kepa should be sold after this. Disgraceful behaviour. Even worse that he lost the shootout. #CHEMCI

— Daniel Stone (@DanStone08) February 24, 2019
Hubris for Kepa. Now Chelsea have to drum him out of their club. Disgrace

— ian herbert (@ianherbs) February 24, 2019
The #CarabaoCupFinal is the first game Chelsea have lost under the management of Kepa Arrizabalaga after he appointed himself 20 minutes ago #CHEMAN #LFC

— Kop Magazine (@TheKopMagazine) February 24, 2019
Sterling the hero. Kepa now the villain. Feel sorry for Sarri but congratulations to @ManCity.

— Gary Lineker (@GaryLineker) February 24, 2019
Arrizabalaga just walked across at full-time and shook Caballero's hand. Mutinous act by the No 1 towards Sarri, refusing to come off when his coach demanded. You have to feel for Caballero. Plenty of pressure on Arrizabalaga in the shootout now.

— Henry Winter (@henrywinter) February 24, 2019
---
Share this article