Yash Pathak: The all-rounder from Mumbai is all set to represent Saint Pierre Quakers in the inaugural Mauritius T10 Cricket League.
The ongoing trend of private T10 and T20 tournaments is catching up with countries across the globe. Comparatively easy and quick to conduct, these tournaments provide unmatched exposure to rookie players of both the host and overseas countries.
The imminent inaugural season of the Mauritius T10 Cricket League, which is scheduled to be played between December 2-19, will also provide numerous chances to young players for rubbing shoulders with and against some of the tried and tested players at the highest level.
24-year old Yash Pathak from Mumbai, who bowls off-spin and bats right-handed down the order, will be one such player who will have a lot to learn while playing with and against the likes of some former and current international players.
Another player who is rising up the ranks after getting coached by former India batsman Pravin Amre, Pathak will represent Saint Pierre Quakers in the Mauritius T10 League. Speaking in an interview with The SportsRush, Pathak opened up on the process of getting a nod in this tournament, his stint with Kings XI Punjab and his future goals.
What is the life of a professional cricketer such as yourself? Is it easy to find private tournaments to play in on a regular basis? 
See, the private tournaments are not really easy to find. If you are performing well at the local level and doing well, it is a positive as states have their own private tournaments. We get invitations for such tournaments.
However, if you talk about playing [private tournaments] at a global level, having contacts with the organisers or scouts is a must. More often than not, if you are consistent throughout the season, people notice you and you have high chances of receiving a call for trials or even to play a tournament.
As far as the Mauritius Cricket League is concerned, can you talk about the process of getting picked for Saint Pierre Quakers in the inaugural season?
I got to know about this [Mauritius T10 Cricket League] from a friend who was already selected for one of the teams. He told me about sending a resume and contacting certain people. He helped me out initially.
Eventually, they [organisers] had professionals who went through all resumes and bowling videos and inquired about where a certain player has played in the past and all that. As far as I know, the recruiters were looking for young cricketers because there were already many senior international cricketers who had signed up and I consider myself fortunate for getting a nod.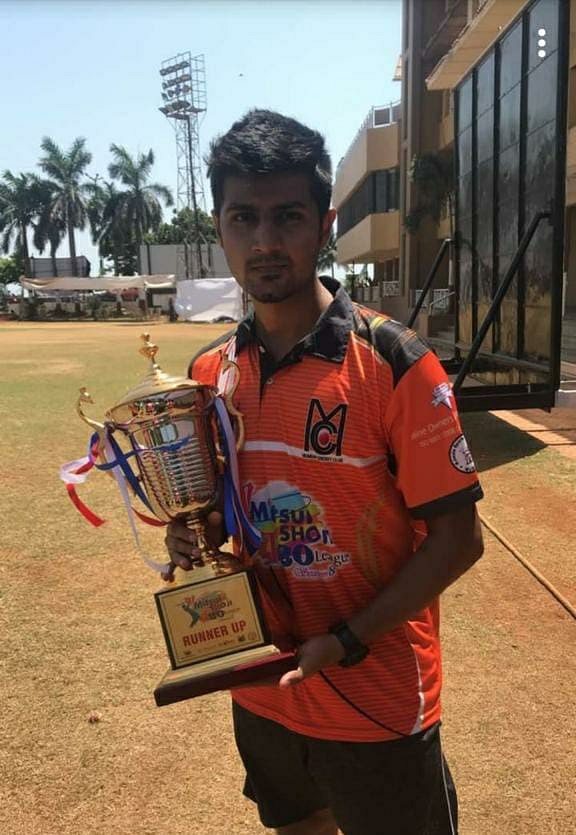 Do you consider T10 as a harsh format for bowlers?
Yes. T10 [and T20] cricket can be a bit brutal for bowlers. I personally feel it's just about the state of mind. If you're mentally prepared for the challenge ahead, you should be fine. The transformation of the game has ended up benefiting the batsman through many ways. That being said, I firmly believe that a sound state of mind makes adapting to these formats very easy.
How was your stint with Kings XI Punjab as part of their development squad in 2016-17. What was your biggest learning after spending a whole season with an IPL team? 
IPL 2017 was one of the best moments of my life. I know how difficult it was for me to get through and get selected in the development squad. See, at the end of the day, international cricketers and coaches are also normal people. I was astonished to see the way they treated me – so cordial and welcoming.
These renowned names never make you feel inferior. The team had Hashim Amla, Eoin Morgan, Glenn Maxwell, David Miller, T. Natarajan, Axar Patel, Murali Vijay, Shaun Marsh and others and each one of them used to help us a lot to understand the game. I remember Marcus Stoinis explaining me the importance of mental health and preparation especially leading to a match. Even Hashim Amla. I made some good friends and have great memories of that season.
The tournament will witness some current and former international players. Any special preparation for rubbing shoulders with and against them?
This tournament has some great former and current international players. Players who've won World Cups for their countries. Some big legends. Before I flew to Mauritius, I really practiced very hard. My normal day used to comprise of eight hours on the field – both outdoor and indoor.
Being a spinner, I used to watch videos of [Ajantha] Mendis and [Sachitra] Senanayake to learn and add variety to my bowling. As this is a T10 format, my skills had to be all the more polished. As a result, I have added 2-3 more varieties to my arsenal. For a conventional off-spinner such as myself, developing these skills is a must.
How do you wish to shape your career going ahead? Are you looking forward to playing BCCI-affiliated tournaments so as to play across formats in domestic cricket? Or do you wish to continue playing T20/T10 tournaments as a freelancer?
To be very honest, my dream is to play and represent my country at the highest level. I've been practicing really hard to hone my skills and improve as a bowler. I strongly believe that now I'm ready to play against the top-notch cricketers.
And of course I am looking forward to play BCCI-affiliated tournaments. I am damn sure that I will be playing the same in the upcoming season. It will be another stepping stone in my career. As far as these private tournament are concerned, it's a great experience and you get to learn a lot.