Euro Fantasy Scout: Fantasy tips for Round of 16 Euro 2016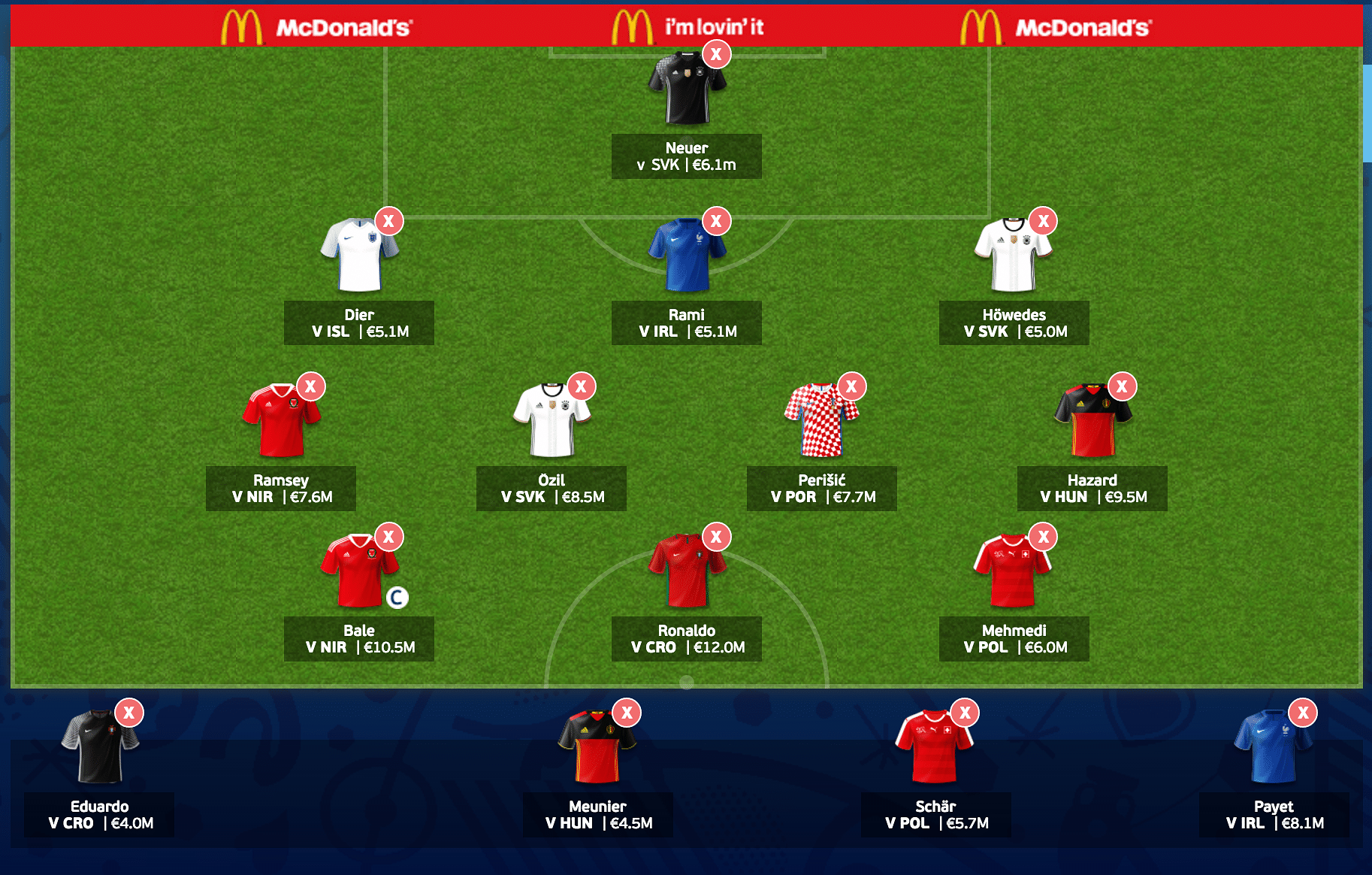 The knockout stages are upon us. The 16 best teams in Europe will be taking on each other to attain European glory. And as Germany, Spain, England, France and Italy are clubbed together in the lower bracket, we could be in for a new champion this time round.
There are unlimited transfers available for the round of 16 and thus you can change your entire team for Matchday 4. So, try and mend the mistakes that you committed in the initial three Matchday's by transforming your entire team.
As it is a knockout stage, do try and opt for players who are most likely to feature in the quarterfinals, as you'll be getting only 4 transfers before the quarterfinals.
Also, it doesn't get bigger than a Euro pre quarter final(only a World Cup knockout game trumps it), so get in as many big name players as you can. It's their time to shine now!
Let's get to business!
Matchday 4(Round of 16)
 Goalkeeper
 Keeping in mind the fixtures and big match presence, Manuel Neuer seems the best choice. He has provided me with 3 clean sheets in the group stages and it is only fair that I give him another chance against a mediocre Slovakian strike force.
You can go for any goalkeeper worth 4m as your 2nd keeper.
Also Read : Euro 2016 Switzerland vs Poland Match Preview

Defenders
Germany should be able to manufacture a clean sheet against Slovakia and thus I get in their cheapest defender i.e Howedes. He has been very solid in the first few games and sometimes is also a threat going forward. If you want to get one defender from the Germany side into your team, it should be him.
Roy Hodgson has deployed Eric Dier in the midfield, and he has repaid the faith instilled in him by his manger beautifully. He has been creative going forward and has provided shield to his back 4 with utmost stoutness. Also, despite featuring in midfield, he has been included in the defenders list in the Euro Fantasy game. This gives us a great opportunity, as he can score free kicks and in all probability should get a clean sheet against Iceland.
France face a relatively easy fixture against the Irish, and Rami is the least costly defender in their side. Get him in! He should get a clean sheet.
Meunier and Schar are my last two defenders for this game. Meunier's selection could be a little baffling seeing that Belgium play Hungary, who were on a goal scoring spree against Portugal in the last group game. But two of those goals were deflections and with Alderweireld and Vertonghen martialling the defence, I firmly believe that Belgium will get a clean sheet.
Schar has been solid in defence as well and if Switzerland can keep Lewandowski silent, they could easily deliver a clean sheet.

 Midfielder
Ozil will be my first pick for this Matchday. He has been brilliant in all three games but hasn't got much to show for it, mostly because of the 'no show' of Muller and Gotze.
Ramsey will be my second pick. He with Bale have marshaled Wales all this while and as they are in a relatively easier bracket, I am sure he'll be able to get at least an assist in this Matchday. Get him in!
In Modric's absence Persisic has beautifuuly handled the midfield and looks very threatening going forward. Against a leaky Portugal defence, it is a must to have him in your side.
Payet has been the player of the knockout stage for France. His incisive passing, direct runs into the box and brilliant crosses have proven to be a handful for teams. Against a rather meek Irish defence, you can count on him to get you at least 5 points tonight.
Hazard is my last midfielder for this game. Along with De Bruyne, he has been the lynchpin of Belgium's attacking threat. But as he is cheaper than De Bruyne, I get Hazard instead of De Bruyne.

Forwards


Cristiano Ronaldo and Gareth Bale are my first picks for the Forwards category. While Bale has been consistent throughout the group stage, Cristiano showed us why he is the best player on the planet, by helping his side reach the knockout stage with a brilliant brace in the last game.
As both these players face rather meek defences in the knockout stage and they feature in the easier bracket, I am sure they will be able to light up Euro 2016 with their skill and strength.
For the last striker, I have 6m in my wallet and for that there is a choice between Nolito and Mehmedi. Now, as Nolito would be playing against the rock solid defence of Italy, I opt for Mehmedi.
Captain : Gareth Bale
Happy team picking!
---