Euro Fantasy Scout for Round of 16 Day 2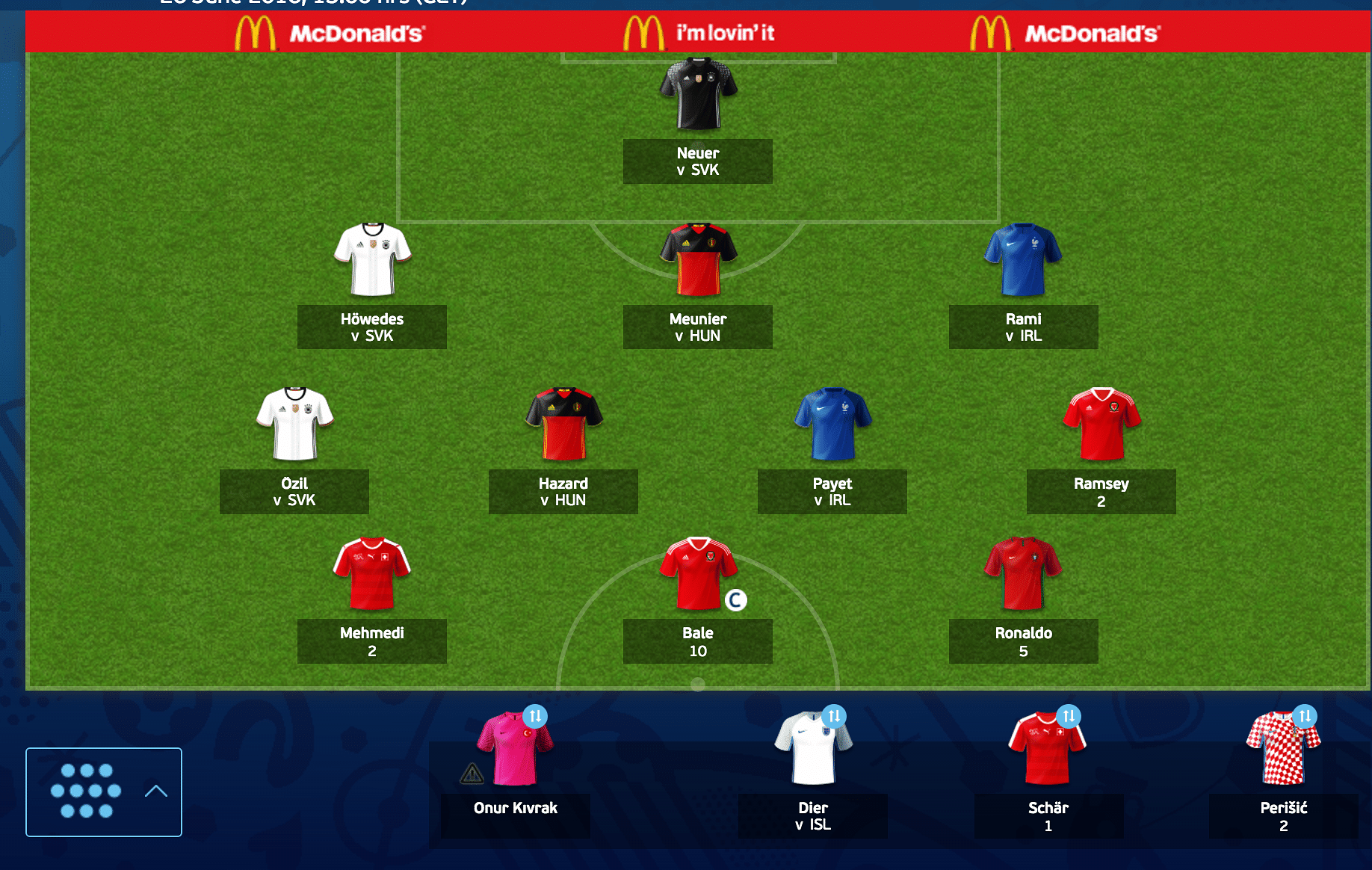 Euro Fantasy Scout for Round of 16
The knockout phase of Euro 2016 started with a thrilling encounter between Poland and Switzerland, where Shaqiri scored a stunner to level the match. But Xhaka was unable to handle the 'penalty shootout' pressure and thus Switzerland had to bow out despite playing an impressive game.
In the second game Wales made history by reaching the quarter finals, after a Bale led move ended up in the back of the net in the dying moments of the game.
The final game of the day between Croatia and Portugal was hyped up to be one of the best games in the upper bracket, but it failed to live up to expectations as none of the players could come up with the goods. It took 117 minutes before someone could come up with a shot on goal. And despite Croatia's dominance in the game, they had to give into a Quaresma goal right at the end. Tears started flowing as Portugal secured a highly undeserved victory but then Football games aren't decided by the amount of chances you create, they are decided by the amount of chances you take.
On the Fantasy front, Bale and Ronaldo both came up with an assist each and thus helped me gain something out of the day, as none of my other players could come up with the necessary spark to lead their team(and my fantasy side) to victory.
Round of 16 Day 2
Goalkeepers
Manuel Neuer is in my starting XI for the game tonight and hence I don't need to make any substitutions for this category.
My second keeper is a dummy one and I won't be using him, not now, not in any of the future rounds.

Defenders
Schar came very close to scoring in the game against Poland but in the end he could only provide me with 1 point, something that is just unacceptable at this stage of the tournament. Thus, I substitute Schar out!
I get in Howedes for Schar. Against Slovakia, Germany should be getting a clean sheet in all probability. And thus getting in Howedes seems the most plausible thing to do. Howedes got to play just 17 minutes in the last game, despite playing the full 90 in the first two games. So, even if he doesn't take full part in the game tonight, he is sure to get at least 1 point and thus I won't be losing any points transferring out Schar.
Other than this substitution, I already have Munier and Rami in my team

Midfielders
Ramsey and Persisic both could manage only 2 points yesterday and thus I will have to substitute at least one of them today.
I bring in Payet for either of them. Payet has been marshaling the French in this tournament and should be able to get at least 5 points today. Against a meek Irish side, he should relish running at defenders and getting quality balls into the box.
Other than that I already have Ozil and Hazard in my team.

Forwards
Both Ronaldo and Bale came up with an assist each to give me 10 points in between them, which frankly is a little less than what I expected but the fact that both these players have made it to the next round appeases me(as I won't have to transfer them out for the quarter finals).
Mehmedi couldn't deliver the goods and came up with just 2 points.
Most probably I will be transferring him out but not today, as I don't have anyone of the bench who could do that.
Captain for today: Mesut Ozil
With Bale just giving me 5 points (10 points as captain), I think it only makes sense to change my captain, given the caliber of the players that I have at my disposal.
Ozil has been brilliant with his game in this tournament and has only been led down by his strike force. He should be able to manufacture at least one assist and that is why I opt for him, as I won't be losing any points.
If you want to play it safe, you could stick with Bale.
Happy team picking!
---