Helder Postiga : "It's great to be back"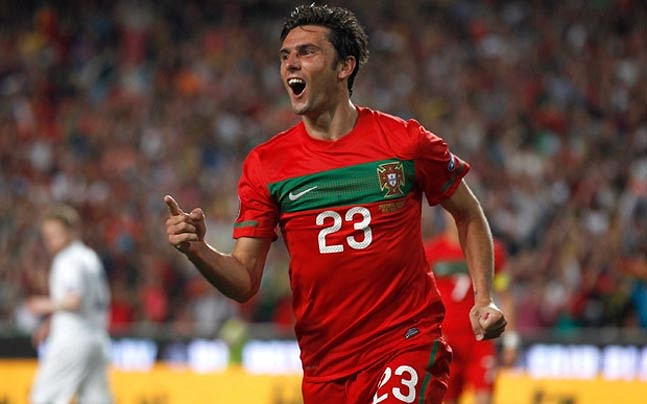 As we draw closer to the 3rd edition of the Indian Super League, preparations are in full swing. The champions of the inaugural edition Athletico de Kolkata are keen to regain the trophy this year. Their marquee player Helder Postiga rang out a warning sign to the other teams. "It's great to be back. I am fully fit now and it feels fantastic", he quipped.
Postiga in ISL
The Sourav Ganguly co-owned unit drafted in Helder Postiga to the squad last year with huge expectations. However, things went haywire as he met with and injury which curtailed his stint to a mere 72 minutes. This year though, promises to be entirely different. "Hope I can improve my last year's performance and help the team in becoming champions," Postiga added.
The Portuguese forward made an impact in his very first match of the ISL. Scoring twice against Chennayin FC, he ensured a 3-2 victory for Athletico. After returning to fitness, Postiga joined home team Rio Ave in the top tier Portuguese league. He made a notable contribution by scoring 5 goals and helping them qualify for the Europa League.
The words of Iain Hume
The other marquee player Iain Hume welcomed Postiga back into the squad. "Two goals from one match, it's not a bad record after all. If he can add up to that it can be a great for the team", said Hume who brilliantly took over from Postiga last season. The Scotish-born Canadian scored 11 goals and took the club to the semis. A bad match however, would rob them of a chance of winning two successive titles.
Team co-owner Sanjiv Goenka was also charged up during the launch of the team title track "Aamar Bukey ATK". He said "This is the best team in last three years. Hope we will do better this time and Postiga will be available for all 14 games."
Postiga's legacy
Helder Postiga, one of the greatest Portuguese players to grace the field was instrumental in helping his nation reach the Euro 2004 final. He also represented his country in 2 World Cups and 3 European Championships. In his illustrious club career, he amassed 8 titles playing for clubs like FC Porto, Deportivo and Valencia.
As the 3rd edition of ISL kicks in, the City of Joy will hope to usher in the festive season with a high octane season of football. The Sportsrush wishes Athletico de Kolkata all the best this season!
---