IND vs NZ Dream 11 Prediction: Best Dream11 team for today's India vs New Zealand Warm up match | CWC 2019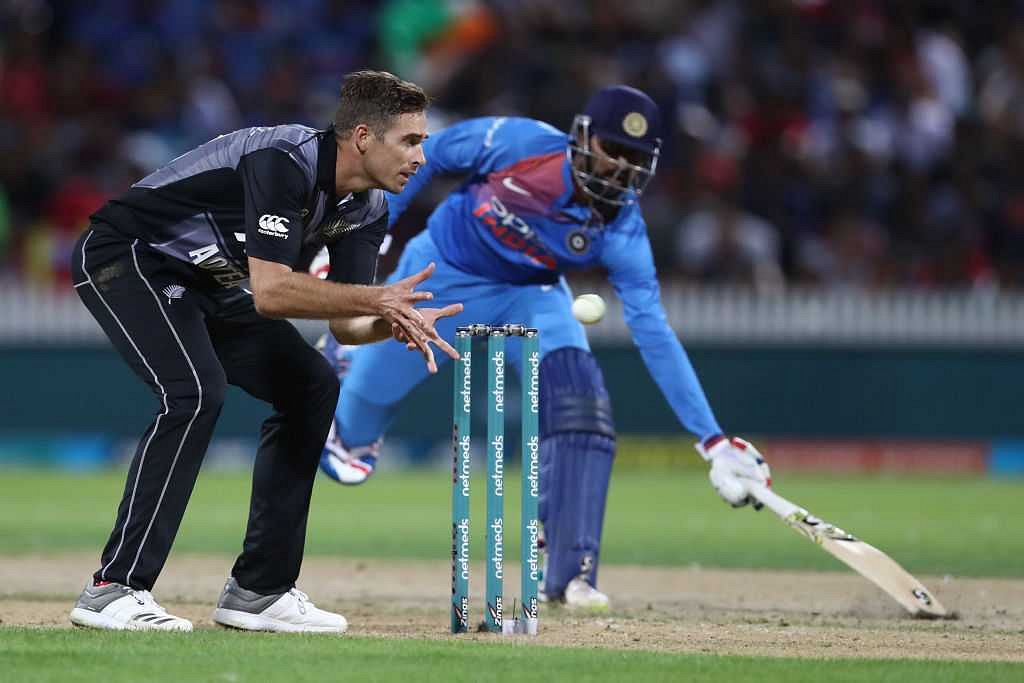 IND vs NZ Dream 11 Prediction: Best Dream11 team for today's India vs New Zealand Warm up match | CWC 2019 as TSR helps you with Dream 11
India will kick off their World Cup preparations with a warm up match against New Zealand. The Kiwis have been playing some good cricket over the last few years and were also the runners up in the previous edition. India have a stable unit and look set to have a good campaign if everything falls in place.
Dream11 team for IND vs NZ Warm-up
Bowlers for IND vs NZ Dream 11
The match will be played at the Kennington Oval in London and so, I have decided to go in with as many as 4 pacers for this match. The ball is expected to swing a bit at least offering some assistance. Jasprit Bumrah is my first man. He is the numero uno bowler in the world currently according to the rankings. Bumrah looks all set to pick up a few wickets especially in the final 10 overs when the batsmen try to go after him. Mohammad Shami has been having an unbelievable 2019. He is running in and bowling some rippers. He has consistently picked up wickets even in the IPL and he would want to show his value in this match as well.
New Zealand left-arm pacer, Trent Boult is my next bowler. He is one of the best in the world and can swing the ball any way. He troubles most batsmen he bowls to with his accuracy and speed. Another Kiwi bowler who can bowl unbelievably fast balls is Lockie Ferguson. He is a rising star in New Zealand and has the ability to break the stumps with his 150+ kph balls. Ferguson has also been picking many wickets in international cricket and I get him in for sure as the extra yard of pace can trouble Indian batsmen.
All-rounder for IND vs NZ Dream 11
With specialist batsmen and bowlers getting more opportunities to make a mark in the warm-ups, I have decided to go in with just 1 all-rounder for this match. Hardik Pandya has been in brutal form in the past couple of months. He has been hitting the ball hard and long and has become a fantastic finisher after adding many new shots to his arsenal. He has also been picking up regular wickets and it seems that the Indian team management will give him full freedom to go out and express himself at least in these warm-ups. Hence, do bring him in!
Wicket-keepers for IND vs NZ Dream 11
2 keepers make my team for this match. Tom Latham has been excellent for New Zealand over the years and has been able to score a lot of runs. Latham is especially fond of scoring runs against India and his calibre with the bat brings him into my team. The other keeper is obviously the Indian legend, MS Dhoni. Dhoni can not only play a vital role with the bat in the middle order by scoring some crucial runs but he can also give us many points through his sheer brilliance behind the stumps. Dhoni has to be in.
Batsmen for IND vs NZ Dream 11
Kane Williamson is the first man I pick here. Williamson is one of the best batsmen in the world today and has been always consistent. He is so dependable with the bat that till he is at the crease, we can never rule the Kiwis out. Williamson will also be my vice captain for this match.
Virat Kohli, arguably the best batsman in the world, is definitely in my team. A batsman of his potential cannot be ignored. He can humiliate any bowling attack and score runs at will. The Indian captain is also my captain for sure. Rohit Sharma is also in my team. He should look to play freely and be his natural self.
Rohit has been a vital man as India's regular opener and if he goes off, it will be tough to stop him. My last pick here is Vijay Shankar. Now he will be tried at No. 4 most probably in this warm-up match. He might also get to bowl many overs so as to give the management an idea of how much he can contribute with the ball. Hence, I will go in with Shankar for this match as he has tremendous scoring potential.
---