Indian colts lift Hockey U-18 Asia Cup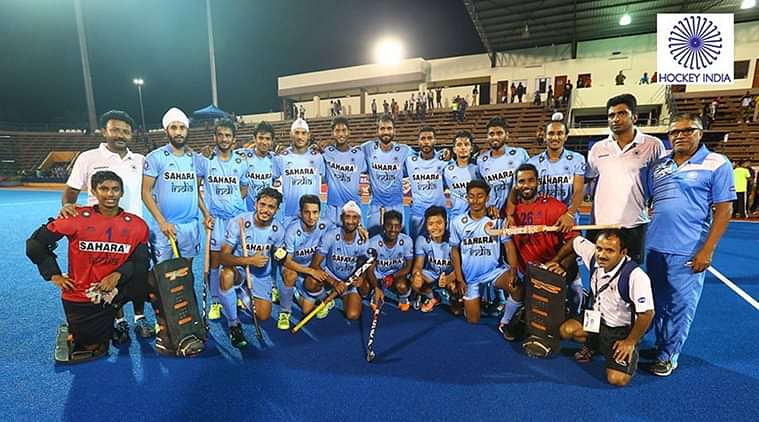 India triumphs:
Today marks a historic day in the annals of Indian hockey. The promising young breed of hockey players in the country continued their excellent form. Additionally as an icing on the cake, they lifted the hockey men's U-18 Asia Cup by defeating Bangladesh 5-4 in the finals.
More about the game:
Things were mighty tight between the two teams throughout the match as the scoreline suggests. The first quarter produces some brilliant hockey with Bangladesh taking the lead. However, their Indian counterparts struck right back to get level in the contest.
The game shifted from one team to the other like a pendulum. Bangladesh hit right back by taking a 2-1 lead. Again the unrelenting Indians hit 2 goals in virtually no time to wrest back the initiative. The game went down to the wire with the scoreline showing 4-4 before the last minute of the match.
As dramatic as it could get, the Indian colts shot in a winner with just 20 seconds remaining on the clock. Nevertheless, a thriller of a match and a desired result! What more can an Indian sport fan ask for. Also, the players were visibly ecstatic to have lifted the trophy in such a dramatic fashion.
A great boost for the future :
Lifting the U-18 Asia Cup is the perfect shot in the arm for the Indian team. Also, as this team under chief coach Harendra Singh takes giant strides, this victory will serve as a moral booster. More so, when there is the Junior World Cup to look forward to this December.
Yesterday, the Indian squad defeated arch-rivals Pakistan 3-1 to gallop into the final. Meanwhile hosts Bangladesh, competing in the tournament after 15 years, demolished Chinese Taipei 6-1 to reach the final.
Vice-captain Hardik Singh was announced as the Man of the Match for his excellent performance in this nail biter. The Sportsrush congratulates the Indian U-18 Hockey team on the remarkable achievement.
---