India's Kabaddi team loses to South Korea at Asian Games 2018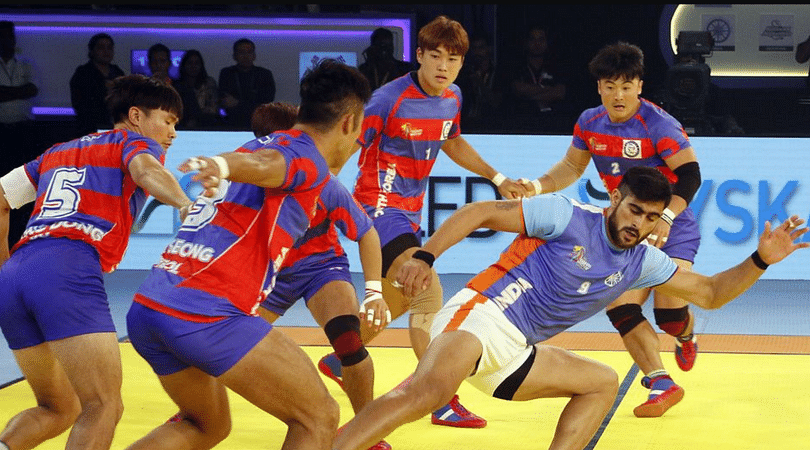 The fans receive a shock at the Asian Games 2018 on Day 2 as India's Kabaddi team loses to South Korea.
South Korea pulled out a big upset on the seven-time Asian Games gold medalist Indian Kabaddi team earlier today. The previous edition's bronze medalists beat India 24-23 on Day 2 of the Asian Games 2018. India are the current defending champions at the continental tournament.
This is only the second time when South Korea has registered a win against India, and the first time India has ever been defeated at the Asian Games. Korea's first win against India came in 2016 at the Kabaddi World Cup group stage in Ahmedabad.
Korea took a early lead in the match, courtesy their strong defence. The Indian raiders failed to penetrate the defensive wall, and even when Ajay Thakur and Pardeep Narwal equalised the score, India's sloppy defending conceded a three point lead to South Korea.
The match was closely fought, and even though Ajay Thakur scored a point off the final raid, Korea won a point when they dashed him out.
The writing was on the wall for India as they also looked sloppy against Sri Lanka on Day 1. India conceded a five point lead to their Island neighbours in the initial stages of the game, before recovering from the early setback to win 44-28.
The Indian men's team has now played 3 games, winning two against Sri Lanka and Bangladesh. The Women's team, on the other hand, have won both of their games against Japan and Thailand respectively.
After India's loss, people took to twitter to express their shock. Here are some of the tweets:
The men's kabaddi team has been upset by a point by Korea !! We lost to them in the world cup as well but recovered to win the tourney. Hopefully, we can repeat that !! Interesting to see now if Iran throw away a match to avoid India in semi like they did at world cup #AsianGames

— Kapil Choudhary (@kapil857) August 20, 2018
What a massive upset. South Korea beats India in men's Kabaddi @asiangames2018 24-23. Indians looked a bit complacent.

— Viren Rasquinha (@virenrasquinha) August 20, 2018
Switched over to #AsianGames. Sakshi Malik lost her semi-final and India lost a KABADDI match to Korea. Back to Trent Bridge.

— Saurabh Malhotra (@MalhotraSaurabh) August 20, 2018
One of the biggest shocks of the #AsianGames2018, 2014 Asiad bronze medalists South Korea have beaten seven-time gold medalists India 24-23 in the group stage #kabaddi
That's a lot like India beating South Korea in football

— Mihir Vasavda (@mihirsv) August 20, 2018
India going down against Korea in kabaddi. The end is nigh.

— Bond (@YogeshBond) August 20, 2018
This day also had to be seen (literal translation from Hindi's Yeh Din Bhi Dekhna Tha). India loses to Korea in Asian Games #kabaddi.

— G Rajaraman (@g_rajaraman) August 20, 2018
WHY KABADDI? Not Kabaddi for the love of god. That gold medal was ours and ours alone‼️ #AsianGames2018

— Statistictictic (@Shreya_Sagwal) August 20, 2018
Korea's win is good for #Kabaddi. The game needs to be competitive to grow globally #AsianGames2018

— Kaushal Shukla (@KasualShukla) August 20, 2018
---