IPL Fantasy Guide: Preview and Fantasy tips for Kolkata Knight Riders vs Royal Challengers Bangalore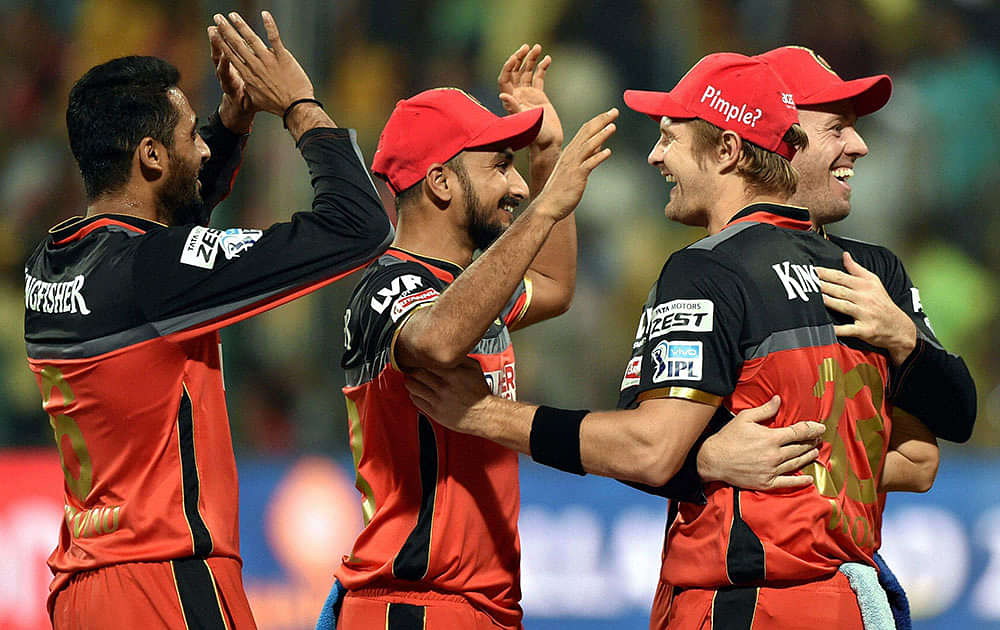 Even if SRH go on to win the IPL this year, the thing that will stay with the fans for a long time is that three of their batsman got out hit wicket in one season. While the entire team must be merrily celebrating their successful entry into the playoffs, the SRH batting coach must be planning ways of keeping his batsmen's hands, legs, bats etc. as far as possible from the stumps. I am sure that will be their batsmen's only job in the next training station. Despite Warner's hit wicket, SRH registered a thumping victory over KXIP.
Amla played one of the best knocks of this IPL by belting the in-form and highly skilful SRH bowling attack to all parts of the ground. And at the half way stage, it looked like Amla had done enough to keep Kings XI just clinging onto that little hope of making it to the playoffs. But the SRH batting line up had a different script in mind.
Warner and Dhawan started ever so solidly and then Yuvraj just milked the Kings XI bowlers towards the end to send his side storming into the playoffs. With Yuvi's return to form, SRH look the most threatening side in this IPL; they are no longer the dark horses.
Another 'pained' campaign for the Kings XI Punjab come to an end. They have played with a lot of freedom and freshness in their last 4 games but the damage had been caused in the initial part of the tournament and it was always going to be a difficult task to overcome that initial meltdown.
In the evening game, Krunal Pandya took centre stage, on a difficult batting wicket and just blew the opposition away. The Delhi bowlers had no answers to his fearful approach and Mumbai Indians ended up posting 200+, on a wicket that was conducive for bowling.
Quinton De Kock started the Delhi response in a positive manner but the Mumbai bowlers choked the Delhi middle order and ultimately the entire line up surrendered to some top notch bowling. Mumbai are well on track to pull off another late entry into the playoff party, but a loss in the next game and a few results going against them could mean them having to start strong from the beginning, next season onwards.
Delhi need to win 2 out of their next 3  games and considering that they'll be playing two of those games at their new home venue in Raipur instead of Delhi, it could get a little tricky for them.
Let's get to business now!
Kolkata Knight Riders vs Royal Challengers Bangalore
Transfer out: Krunal Pandya
Transfer in: Iqbal Abdullah/ Ankit Rajpoot(uncapped)
RCB have largely been a two man team, with Kohli and ABD carrying not only hopes of the entire city, but that of the other 9 players in the team as well. Rahul and Watson have played their parts as well, but when it comes to match winning performances, none of the other players are at par with these two supermen.
With the thumping victory over the RPSG, KKR have almost booked a spot for themselves in the playoffs, but it is the top 2 positions that they will be targeting, in order to get that cushion of playing two qualifying games.
Yusuf Pathan's return to form has been a big boost for the KKR middle order, especially when he negate the spinners so well on a turning Eden Gardens track. Piyush Chawla has been the mainstay of the the spin attack, bamboozling the batsman with the traditional leg spinner as well as his wily wrong ones.
Uthappa and Gambhir haven't really got going in the last few games and that is the only worry for the Knight Riders. They have done well over the last few seasons all because of their opening pair and for them to have any hopes of lifting the IPL for a record third time, Gambhir and Uthappa will have to sort things out at the top.
Now, I already have Virat Kohli, ABD, Shane Watson, Robin Uthappa and Yuzi Chahal in my team for this game.
With the above mentioned players in my side, I have covered almost all my bases for this game and considering that rain has been forecasted for today as well, I don't think making any more transfers would be an intelligent choice.
[quads id="3″]
Now, if you don't have any of Gambhir or Uthappa in your side and you want to get one of them in, I suggest you go with Uthappa, because he gives you that cushion of an extra 20-30 points with his wicket keeping skills.
The only additional player (apart from the ones that are already in my team) that is worth considering is Piyush Chawla. He has been the lynchpin of the KKR bowling attack, picking up wickets in every game and bowling economically. On a turning Eden Gardens track, he cause a lot of trouble to the RPSG batsmen and you could expect the same to happen today as well. But get him in only if KKR bowl first, because it might rain later in the evening and in a shortened game, he might have to bowl during the powerplay, which could force him to bowl flatter and hence not use his trickery to beat the batsman.
I am pretty sure that RCB would bring in Iqbal Abdullah for this game and hence I would go for him as my first choice uncapped player for this game. Again, I have to pick a bowler/all rounder because of my team combination. If Abdullah doesn't play, Ankit Rajpoot is the second best option. But do this only if you already have Yuzi Chahal in your team, if you don't, it's a no brainer to bring him in on a turning track.
Batting captain: Virat Kohli(I am opting for him ahead of ABD because of the turning Eden Gardens track)
Bowling captain: Piyush Chawla(if you get him in)/Andre Russell(if you don't have PC and KKR bowl first)/ Shane Watson(if RCB bowl first)
Happy team picking!
---