ISL starting date: Full schedule of the fifth season of ISL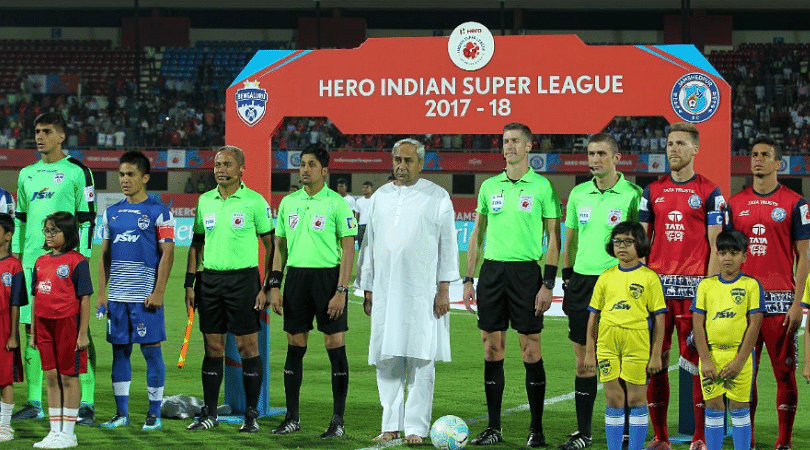 TheSportsRush provides full information on ISL starting date and full schedule of the fifth season of the Indian Super League.
Indian Super League is set to enter its season five, with two-time champions ATK taking on Kerala Blasters on September 29. The match will take place at the Salt Lake Stadium, the home ground of ATK.
The first half of the season will have three breaks – two for international breaks in October and November, and one towards the end, beginning from December 17, 2018.
The final break was made keeping in mind the preparations for the national team for AFC Asian Cup, to be held in the UAE.
Defending champions Bengaluru FC will travel to Sree Kanteerava Stadium for the second match of the ISL.
Here is the full list of schedule for the first half of the season.
Indian Super League fixtures:
September 29 – ATK vs Kerala Blasters
September 30 – Bengaluru FC vs Chennaiyin
October 1 – NorthEast United (NEUFC) vs FC Goa
October 2 – Mumbai City FC vs Jamshedpur FC
October 3 – Delhi Dynamos vs FC Pune City
October 4 – ATK vs NEUFC
October 5 – Kerala Blasters vs Mumbai City FC
October 6 – Chennaiyin FC vs FC Goa
October 7 – Bengaluru FC vs Jamshedpur FC
October 8-16 – International Break
October 17 – Delhi Dynamos vs ATK
October 18 – Chennaiyin vs NEUFC
October 19 – Mumbai City FC vs FC Pune City
October 20 – Kerala Blasters vs Delhi Dynamos
October 21 – Jamshedpur FC vs ATK
October 22 – FC Pune City vs Bengaluru FC
October 23 – Delhi Dynamos vs Chennaiyin FC
October 24 – FC Goa vs Mumbai City FC
October 25 – NEUFC vs Jamshedpur FC
October 26 – ATK vs Chennaiyin FC
October 27 – Mumbai City FC vs Delhi Dynamos
October 28 – FC Goa vs FC Pune City
October 29 – Jamshedpur FC vs Kerala Blasters
October 30 – Delhi Dynamos vs NEUFC
October 31 – Bengaluru FC vs ATK
November 1 – Jamshedpur FC vs FC Goa
November 2 – FC Pune City vs Kerala Blasters
November 3 – Chennaiyin FC vs Mumbai City FC
November 4 – Delhi Dynamos vs Jamshedpur FC
November 5 – Kerala Blasters vs Bengaluru FC
November 6 – FC Pune City vs Chennaiyin FC
November 8 – FC Goa vs Delhi Dynamos
November 9 – NEUFC vs Mumbai City FC
November 10 – ATK vs FC Pune City
November 11 – Kerala Blasters vs FC Goa
November 12-20 – International break
November 21 – FC Pune City vs Jamshedpur FC
November 22 – FC Goa vs Bengaluru FC
November 23 – NEUFC vs Kerala Blasters
November 24 – Mumbai City FC vs ATK
November 25 – Jamshedpur FC vs Chennaiyin FC
November 26 – Bengaluru FC vs Delhi Dynamos
November 27 – FC Pune City vs NEUFC
November 28 – ATK vs FC Goa
November 29 – Chennaiyin FC vs Kerala Blasters
November 30 – Bengaluru FC vs FC Pune City
December 1 – Jamshedpur FC vs NEUFC
December 2 – Chennaiyin FC vs ATK
December 3 – Delhi Dynamos vs Mumbai City FC
December 4 – Kerala Blasters vs Jamshedpur FC
December 5 – NEUFC vs Bengaluru FC
December 6 – Mumbai City FC vs Chennaiyin FC
December 7 – Kerala Blasters vs FC Pune City
December 8 – NEUFC vs ATK
December 9 – Bengaluru FC vs Mumbai City FC
December 11 – FC Pune City vs FC Goa
December 12 – Jamshedpur FC vs Delhi Dynamos
December 13 – ATK vs Bengaluru FC
December 14 – FC Goa vs NEUFC
December 15 – Chennaiyin FC vs Delhi Dynamos
December 16 – Mumbai City FC vs Kerala Blasters
December 17 onwards – Break for AFC Asian Cup preparations
---