It is scary to hang out with Hardik Pandya, says KL Rahul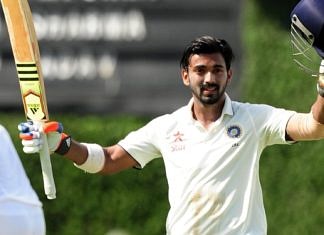 Karnataka batsman KL Rahul has gone on record and said that all rounder Hardik Pandya is very scary to hang out with as he cannot keep a secret.
The friendship and camaraderie between Hardik Pandya and KL Rahul is an open secret. In the fixture between MI and KXIP in the recently concluded IPL KL Rahul missed out on his hundred but batted magnificently to take his team on the verge of victory. However oncd he got out, the team lost its way and ultimately MI was successful in winning the match.
After the match got over, Hardik Pandya and KL Rahul were involved in a very gracious gesture. Bringing the culture of football into cricket they were seen exchanging jerseys as a mark of respect for the opposition.
Also Read: MS Dhoni chooses to train alone at the NCA
In a recent interview on 'What the duck season 3' with Vikram Sathe where KL Rahul and Ravichandran Ashwin had teamed up for the show, the Karnataka lad spilled a lot of beans. He said that Hardik Pandya was the scariest guy to hang out with as he does not have a filter and tells everything to Skipper Virat Kohli.
"It is scary to hang out with Hardik Pandya. There was a time before a match, me, him and Dinesh Karthik headed out to clear our minds. The next day, he spilled everything to Virat (Kohli). I became scared and asked him why would he go ratting up to the captain! He does not know what to say when. He has no filter," Rahul said in disbelief.
Interestingly, just few months ago Virat Kohli too in an interview with Gaurav Kapoor named breakfast with Champions had said the same thing about Hardik Pandya.
"Pandya is one of the entertaining members in the team. But, I haven't seen anyone as lost as Pandya in my life.
Pandya doesn't think before speaking. Once he wanted to take Ash's (Ashwin) name but he ended up saying – 'Ravikashyap Ashwin kya bowling karta hai yar'. He is very good at heart but he doesn't have any control over his tongue," chuckled the Indian skipper.
---
Share this article