JSJ Fight League (JSL) Season 1 comes to an end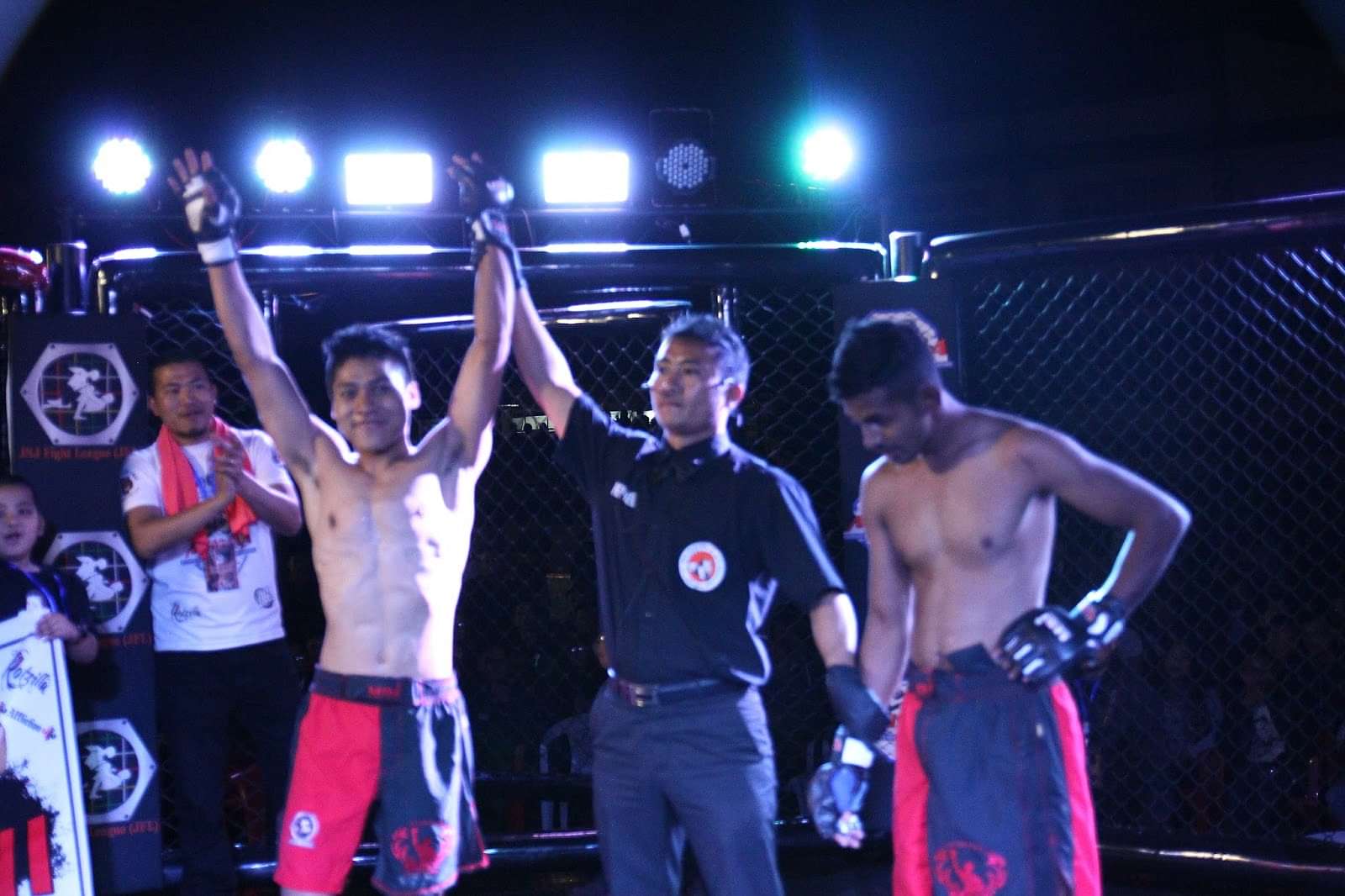 MMA in north-east India
The exciting story of mixed martial arts (MMA) in north-east India keeps on growing. Moreover, the support it garners from the masses makes it an awesome proposition for the future. So, as the JSL Season 1 comes to a successful end, the Sportsrush reviews this highly exciting inaugural season.
MMA is one of the fastest growing sports in the world. This fact could not be emphasized more than by seeing the craze among people in Mizoram for this event. Despite heavy rain, more than a thousand spectators flocked in and showed interest.
About JSL Season 1
The event was hosted by the Mizoram State MMA Association and sanctioned by All India MMA Association (AIMMAA). This oldest organization in India deputed MSMMA Technical chairman and international referee Mr. Samuel Lalrozama as the event commissioner.
JSL Season 1 comprised off 3 legs, the last two being conducted at Mizoram University Multipurpose Hall. Spectators flocked in exclusively for the bouts from neighboring states of  Meghalaya and Manipur as well. It has been modeled around the actual UFC mega-event complete with intense staredowns and weigh-ins. Season 2 commences in 2017.
Also Read : McGregor KO's Alvarez; claims second title
Championship titles were awarded in five categories : flyweight, bantamweight, featherweight, lightweight and welterweight. Other special awards included 'Submission of the season', 'KO of the Season'  and 'Best Fighter of the Season'.
Chief Guests, participants and main sponsors
The honourable Home Minister of Mizoram, R. Lalzirliana was the Chief Guest of the event. He said expressing his happiness, " We thought we would be watching MMA events on televisions only. We are surprised and at the same time lucky to see it live, right in front of our eyes. I really appreciate the efforts of the organisers."
The participants were experts in a variety of fields like Muay Thai, boxing, taekwondo, wushu and kickboxing. Women also participated in this event with a national level taekwondo player locking horns with a state medalist in boxing. However, in the main event, a Muay Thai artist met a wrestler, both with superb MMA records.
The chief guests appreciated the organisers' efforts and the main sponsors, JSJ Fitpro gym and Samsung 3:16 Plan Solution. Henceforth, they believe that many new sponsors will come to extend their support for the upcoming season in 2017. Consequently, we will see lot of big fight nights in Mizoram and the north-east region in general.
---