Junior Hockey World Cup : India through to semis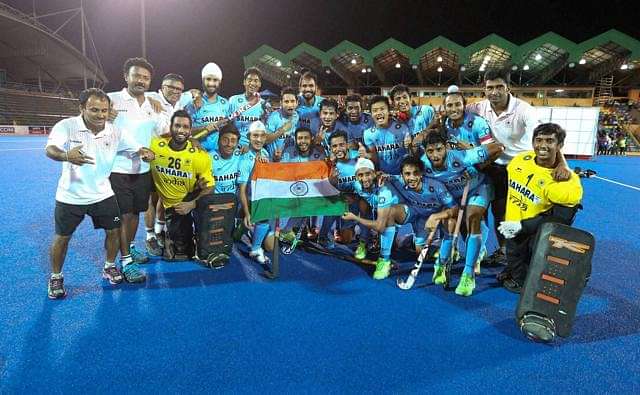 A win in the quarters of the Junior Hockey World Cup
In some cracking news for Indian hockey fans, India is through to the semis of the Junior Hockey World Cup. In a high octane and tactical match, the hosts edged past Spain 2-1 to set up a clash with Australia.
The initial stages of the match
Following a Marc Serrahima goal in the 22nd minute which gave them the lead, the Indians fumbled in almost every department. The Spaniards followed an extensively defensive strategy to conserve their lead. This coupled with sloppy play defined the first half for the hosts.
However, India had their share of opportunities to take the lead through two penalty corners early on in the first half. Both the chances were squandered by Harjeet Singh and Varun Kumar. Following this, the Spaniards took the lead through a penalty corner stunning the crowd at Lucknow.
After the interval
After the swapping of sides, Spain employed an ultra-defensive technique inducing several passing errors by the Indians. The hosts' aggressive strategy was countered by Spain's resolute defence. Consequently, India failed to made substantial headway into the Spanish goal.
The Indians did find some opportunities to level the scores. Spanish goalkeeper Perez would go on to deny Arma Qureshi and Manpreet through a brilliant double save. To make matters worse, India wasted two more penalty corners in moments to follow.
India finally draw level
India would finally manage to break free in the 57th minute through the fifth penalty corner. Simranjeet scored from the rebound much to the delight to the partisan crowd in attendance. Harmanpreet would then go on to give the lead for India through another penalty corner.
The hosts scraped through the tense last 10 minutes which saw a send-off to Armaan for an unnecessary tackle. In other matches, Belgium triumphed over Argentina 4-1 in the shoot-out and Germany eased through against England. Also, Australia pipped Netherlands and next battle the hosts in the semis.
---