Mark Wood confident of English players accepting Alex Hales in national team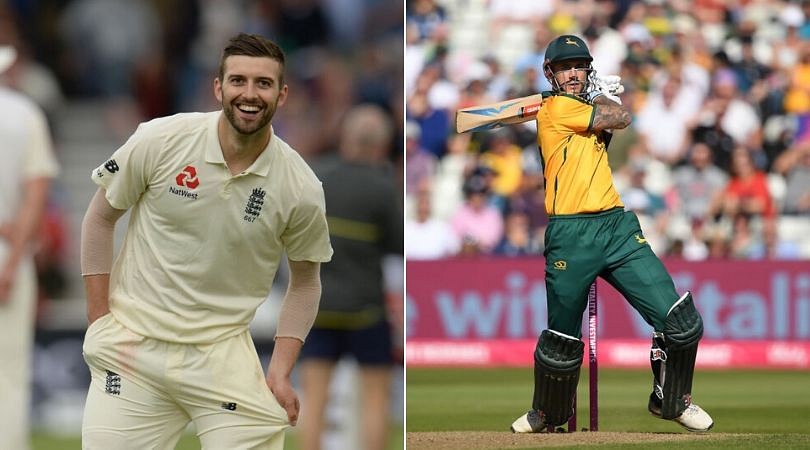 Mark Wood confident of English players accepting Alex Hales: The Durham speedster has become the latest player to be vocal on the opening batsman.
England fast bowler Mark Wood has expressed confidence in England hosting international cricket despite COVID-19 scare around the world. With West Indies approving England's proposal of playing in "bio-secure" environment, it seems both teams will lock horns in July.
Speaking to former England captain Nasser Hussain for SportsMail, Wood laid emphasis on maintaining security for all involved individuals in a cricket stadium.
"Yes. I think we've got a really good chance. There's a lot of trust in the medical staff and management. As long as it's safe — and I don't mean just players, I mean management, cameramen, caterers and everyone at the ground — then I think there's a great chance of cricket being back on," Wood was quoted as saying to Hussain.
Wood, who had played across formats during England's tour of South Africa earlier this year, disclosed head coach Chris Silverwood nominating him to play "smiling assassin" against opposition teams.
"I do enjoy it [smile on the face] but at the moment Chris Silverwood has pushed me down the firm route. He wants me to be, as he says, the smiling assassin. It's not in my nature to shout and scream at people but if I can be an aggressive smiling bowler that's great," Wood said.
Mark Wood confident of English players accepting Alex Hales
Axed batsman Alex Hales has been doing the rounds among the English fraternity primarily because of his national comeback. While Hussain, England all-rounder Chris Woakes, former batsman Nick Compton have supported Hales' return, white-ball captain Eoin Morgan has spoken of the otherwise.
Hales, who was initially part of England's squad for the ICC Cricket World Cup 2019, was dropped after he was tested positive for a recreational drug days after the squad was announced. Being asked if he would happily welcome back Hales into the squad, Wood seemed to lay emphasis on both sides of the coin.
"Yes and no! Halesey [Alex Hales] is a fantastic player and I think the lads would accept him coming back but there seems a way for him to go yet. If he does come back what would that say to someone who has worked hard and done the right things to earn a place in the team? Would it be harsh to leave someone out for him?
I find the Hales treatment ridiculous. I spent a month in the Caribbean with him (cpl) and he was keen to put his mistakes to bed. Some might say the leadership have got a bit ahead of themselves. Stokes made a pretty bad error some time ago, were the rules different then?!

— Nick Compton (@thecompdog) May 29, 2020
"I felt sorry for David Willey missing out on the [2019 Cricket] World Cup. He lost his place just before the tournament and I don't know what someone like Dave would think about Alex getting another chance before him. But if the barriers come down I'm sure the lads would accept him, yes," Wood mentioned.
In 53 T20s across five tournaments since last year's World Cup, Hales has scored 1,590 runs at an average of 34.57 and a strike rate of 142.73 including 14 half-centuries.
As far as Willey is concerned, he was dropped for spearhead Jofra Archer just before the World Cup last year despite being a regular for them in limited-overs.
---