Miami Heat vs Toronto Raptors Dream11 Prediction : Dream11 Fantasy Tips for MIA vs TOR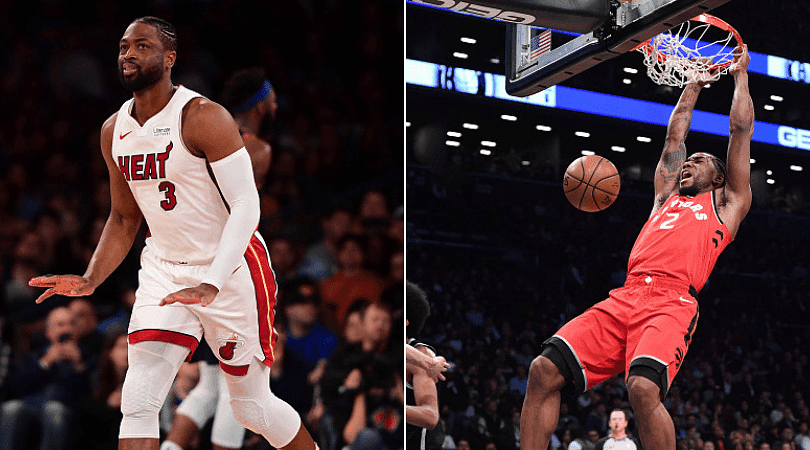 Miami Heat vs Toronto Raptors Dream11 Prediction : Dream11 Fantasy Tips for MIA vs TOR as The SportsRush helps you form the best possible Dream11 Team.
Sunday night sees another Eastern Conference clash between two teams at the opposite ends of the playoff spectrum. Toronto Raptors have booked their play-off spot with consummate ease. They are locked into the second position and can neither move to the top, nor can they fall below their 2nd spot. So, it is not incorrect to say they do not have much to play for.
On the opposite side are Miami Heat who sit 1 game behind the Detroit Pistons in the 9th position with a 38-41 record. Brooklyn Nets who sit in the 6th spot are 40-40 for the season, so Miami are only one loss behind the 6th spot right now so the season isn't over for them by any means and Miami has extra incentive to go for the playoffs with this being Dwayne Wade's final season and ending the season in the playoffs is a much better way to say goodbye to the team legend than whimpering out in the lottery.
Heats and Raptors Form –
Toronto Raptors lost their last game in the closing seconds against the Charlotte Hornets who themselves are fighting hard to keep a glimmer of play-off hopes alive. But that loss was their first in 6 games on the back of 5 consecutive wins. They hold a 7-3 record over their past 10 games and have a healthy roster with only Patrick McCaw out still with his thumb injury.
Miami Heat are stuttering at the completely wrong time but thankfully their fellow play off competitors also are losing steam. Heat are on a 3 game losing streak and have gone 5-5 over the last 10 games.
Toronto have one of the best home records this season going 31-9 over the season and this is the last home game and they would like to finish the regular season on a high. Surprisingly Miami Heat have a better record away from home than they do at home, with a 20-19 record away from Miami.
Miami Heat vs Toronto Raptors Dream11 Prediction –
Point Guards: Goran Dragic (12 Cr) Fred Van Vleet (10 Cr)
Goran Dragic remains the Miami Heat's only option at point guard with Josh Richardson still out with injury. Dragic after a injury riddled season has still managed good numbers averaging 15 points, 5 assist and 3 rebounds despite playing a smaller role for much of the season. Recently without Richardson, along with the Winslow at PG experiment seemingly coming to an end, Dragic has received more minutes and his numbers have gone up. He is averaging 18 points per game over the past 5 games, along with 5 rebounds and 8 assists per game and a handy 2.2 steals per game.
Fred Van Vleet makes the team on the back of good averages in the recent games. He is averaging 13 points, 6 assists, 3 rebounds and 1 steal per game and has had occasional bursts of 20 plus points when Lowry doesn't play and there's a good chance Lowry doesn't play if Raptors want to rest their stars. Also Lowry himself doesn't average enough points and rebounds to have a better value for money over VanVleet costing 6 more Credits.
Loading embed tweet https://twitter.com/Miami_Boi305/status/1113906727110492162?ref_src=twsrc%5Etfw
Shooting Guard: Dwayne Wade (13.5 Cr)
Dwayne Wade's last dance seemed like a sentiment thing at the start of the season, but not anymore. As Miami push towards the playoffs Wade is their best player at the moment. He is averaging 18 points per game to go with 6 rebounds and 5 assists. Thats good enough to make you splurge for him over Danny Green who blows a bit hot and cold at times.
Small Forwards: Kawhi Leonard (20 Cr) O.G. Anunoby (6 Cr)
Leonard is a 40 point machine on Dream 11 with his 27 point average to go with 7.5 rebounds and 3.5 assists per game. On top of that he averages nearly 2 steals per game and 1 block. He is a de facto pick for every Raptors game, unless they shut him down for load management, which doesn't seem to be the case for today's game.
Anunoby is the only possible pick due to the really poor low price picks on both teams. Miami doesn't have any pick at a price point lower than 9 points and Anunoby is coming around well in his recovery from his injury.
Power Forward: Pascal Siakam (14.5 Cr)
Siakam is a live wire doing a bit of everything and pretty much guarantees a 35 point return which projects better bang for buck than anyone else including Kawhi. 17 points, 7 rebounds and assists are season averages but his numbers have constantly improved and over the last 8 games he has crossed 20 points 5 times, with 3 of the games being 30+ point performances.
Centers: Bam Adebayo (12 Cr) Marc Gasol (12 Cr)
Adebayo has had his minutes increased over the season and holds the starting spot over Hassan Whiteside who is priced ridiculously high at 15.5 Cr. It helps that he is averaging 12 rebounds over the last 7 games to go with 12 points as well. Thats handy in this match-up especially with no greater alternatives available.
Marc Gasol has gelled very well with the team and while theres a toss up between Gasol and Ibaka for the spot. The two seem to have great games but in exclusivity to one another. If Ibaka has a 25 point game, Gasol seems to largely disappear. If Gasol has a 7 assist game, Ibaka barely gets in any minutes. Picking Gasol in this game is easier as after all permutations and combinations we are left with 12 Cr and going for Ibaka would cost 1.5 Cr more that would mean replacing Anunoby for someone who wont be playing any minutes in the game.
Star player:
Kawhi Leonard if he plays or else Pascal Siakam.
---