"Charles Barkley, You Hustled Me in Arizona!": Salty About His Loss in $5,400,000 Event, Stephen Curry Warns Patrick Mahomes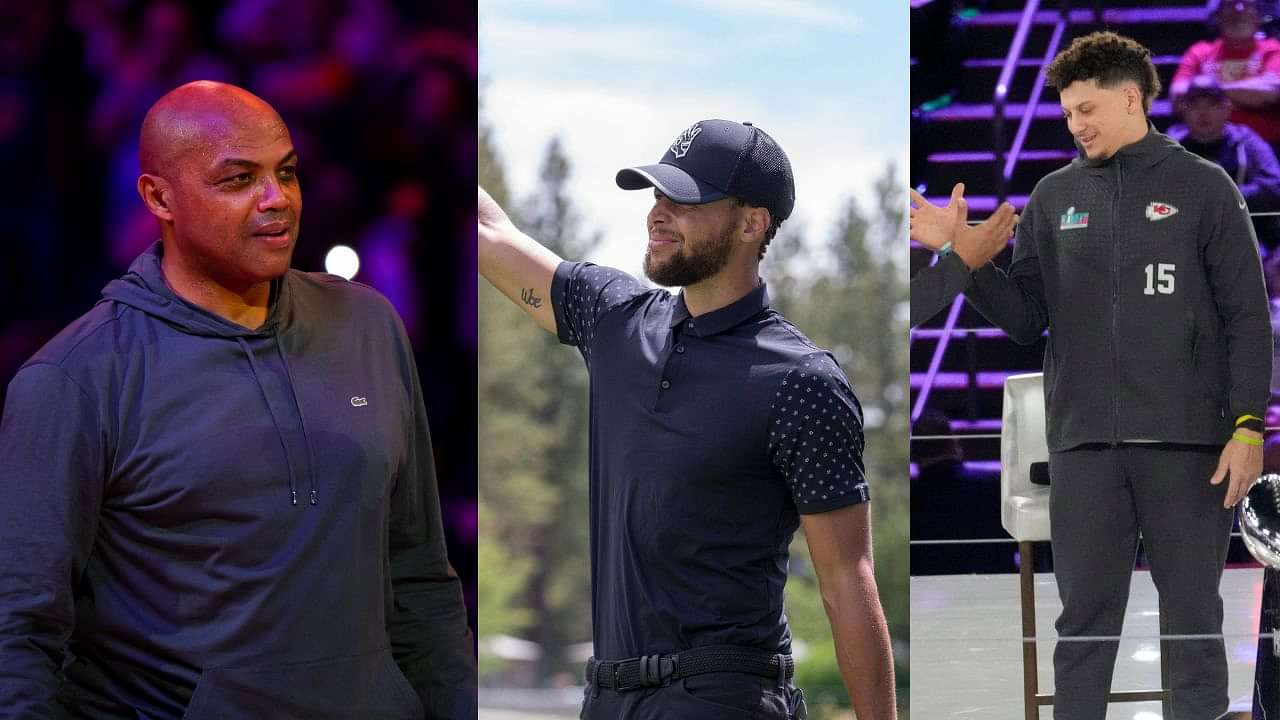 Stephen Curry has had a rather rewarding week. First, he won the 2022-23 J. Walter Kennedy Citizenship Award. A few days ago, he was the title of the 2023 Kareem Abdul-Jabbar Social Justice Champion. Steph was invited on Inside the NBA for a special presentation of the latter. While he was on with the crew, Shaquille O'Neal joked with him for 'getting him in trouble,' referring to the FTX lawsuit. Curry then went on to claim Charles Barkley hustled him in Golf in 2020.
Stephen Curry received a special video from Kareem Abdul-Jabbar, celebrating his work towards society. After that video, the guys started talking to him. When Chuck asked him about the upcoming game against Patrick Mahomes, Curry responded in a manner that showed he hadn't forgiven Charles Barkley for the $5,400,000 loss.
Stephen Curry claimed Charles Barkley hustled him in $5.4 Million Charity Game
In 2020, Stephen Curry teamed up with Peyton Manning to take on Charles Barkley and Phil Mickelson. It was a charity Golf game named "The Match: Champions for Change". The money raised for the event was going to Historically Black Colleges and Universities(HBCUs).
$4.4 Million was raised during the contest, and another $1 Million was added through bonus challenge holes. Phil Mickelson and Charles Barkley secured the win in the contest, and thus chose their charities to receive the benefits from the winnings.
Loading embed tweet https://twitter.com/BleacherReport/status/1332491652468854784?ref_src=twsrc%5Etfw
It's been nearly 2.5 years, but Steph hasn't forgotten about his loss. While on a video conference with the Inside guys, Charles Barkley asked Steph about his Golf preparation for the upcoming contest and how he's splitting his time. Curry replied and said,
"I've been out since two Fridays ago, so I'm 50-50 right now[between basketball range and golf course]. I'm getting a bit of family time right now, but I'm definitely preparing. Only silver lining of not playing basketball right now is that I get a little more preparation since the last time you and Phil Mickelson hustled me out in Arizona. Me and Klay, we'll be a little more prepared for this one, and it'll be fun with Travis[Kelce] and Patrick[Mahomes]." 
Here are some more details about the upcoming 'Match.'
Stephen Curry and Klay Thompson take on Patrick Mahomes and Travis Kelce
The Match found an excellent matchup for this year's charity Golf Contest. They put one of the most successful NBA duos against an upcoming NFL duo. Stephen Curry and Klay Thompson will take on Patrick Mahomes and Travis Kelce. The contest will take place in Las Vegas on June 29th at 6:30 PM ET.
Curry competed in the event back in 2020, whereas Mahomes was there just last year. Both of these talented superstars faced defeat the last time they took the course for charity in the event. One of them will be able to make things right in the 12-hole Game in June.
Knowing how competitive these guys are, we can expect a fun contest.
---