"I Couldn't Beat Dwyane Wade for S**t.": Gilbert Arenas Accepts Heat Legend's Supremacy in Southeast Division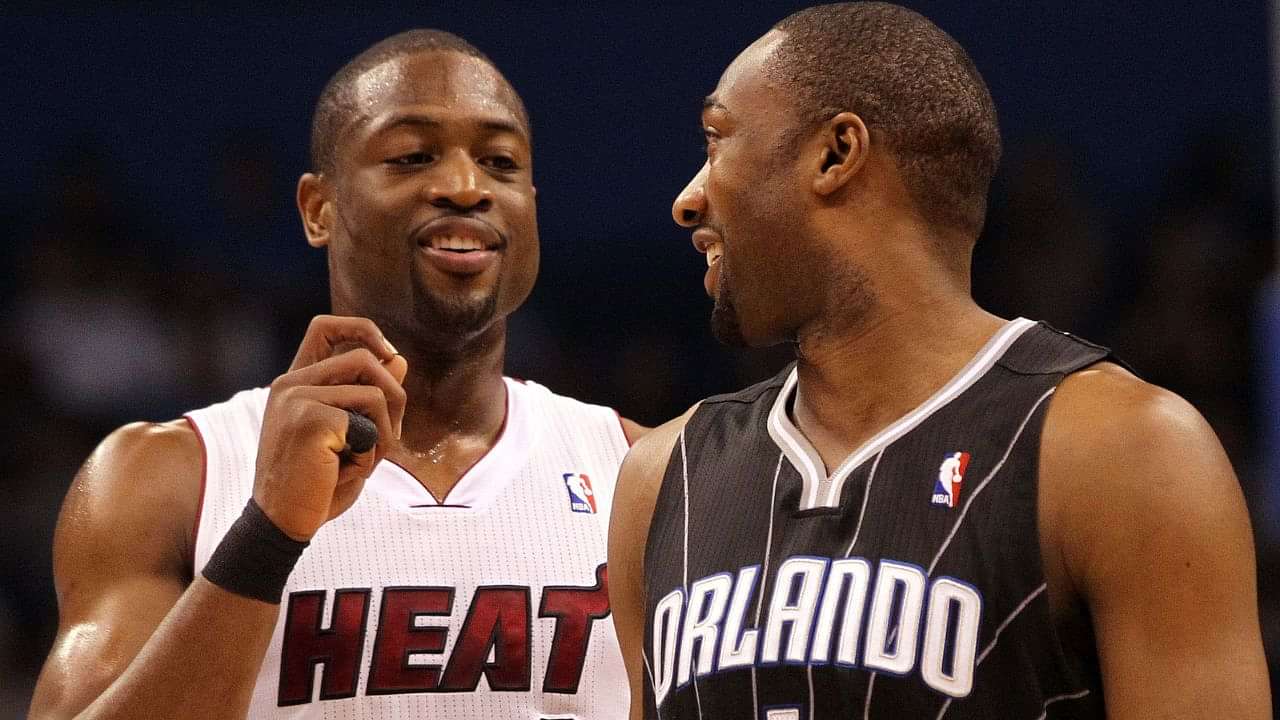 Gilbert Arenas has been on the news for the last few years thanks to his ever-popular podcast. Filled with burgeoning opinions and hot takes, "No Chill Gil" has been able to capitalize on public outcry to make name for himself. This time around, he is in the news for admitting that Dwyane Wade was a better player than him.
It doesn't happen often that Dwyane Wade is not in the conversation for being one of the best players of all time. The shooting guard cut his teeth in the league at a time when Kobe Bryant, Shaquille O'Neal, and LeBron James were dominant forces.
Two of them chose to team up with Flash and won 3 titles alongside him. There perhaps has never been a better 2nd tandem in the NBA.
But he himself was nothing short of a menace. A high-powered dunker with feet as quick as Hermes, Dwyane Wade earned the nickname "the Flash". And it was his dominance in the division that denied Gilbert Arenas even a single title during his time with the Wizards.
Loading embed tweet https://twitter.com/TheNBACentral/status/1639780932608577538?ref_src=twsrc%5Etfw
"Yeah, I couldn't beat Dwyane Wade for S**t":  Gilbert Arenas Admitts inferiority to Heat Legend in the quest for division titles
Dwyane Wade was great. So great that he stopped a scoring machine like Gilbert Arenas from helping his team clinch division titles! Forget conference titles, Wade's Heat was so strong they would repeatedly beat teams in the Southeast division.
In a recent sitdown, Gilbert had this to say, "We was (were) nice, we just didn't win the division,".
And he credited his lack of success to one factor, Dwyane Wade. In the same segment, Arenas remarked, "No, we had Miami. I'm pretty sure Miami was in our division. Yeah, I couldn't beat (Dwyane) Wade for s—.". 
Not often that you get to hear about picking up losses and being humble about it, especially for someone like Gilbert Arenas. And to admit inferiority to a player like Dwyane Wade. Good on you Gilbert.
The sheer amount of bad luck for Gilbert Arenas and the Wizards
During a 4-year span, between 2004-2008, the Washington Wizards, led by Gilbert Arenas vied for the division title. In the first two years, they faced the Heat led by Dwyane Wade.
In both of those seasons, the Heat vanquished the Wizards for the Southeast division title by a margin of over 10 games! In the third season, when Wade was out with injury, the Wizards were sadly toppled by Orlando Magic.
By the time the 4th year came around Arenas' relationship with the Wizards had soured and the two parted ways. And even if he had stayed, it was the time LeBron James and Chris Bosh had come to Miami.
Gilbert Arenas's tenure in the NBA was filled with bad luck. Dwyane Wade's time with the Heat just ensured that he would never win.
---