"I was Scared of Larry Bird": Magic Johnson Confessed Celtics' 6ft 9″ Legend's Shot Making was Fear-Inducing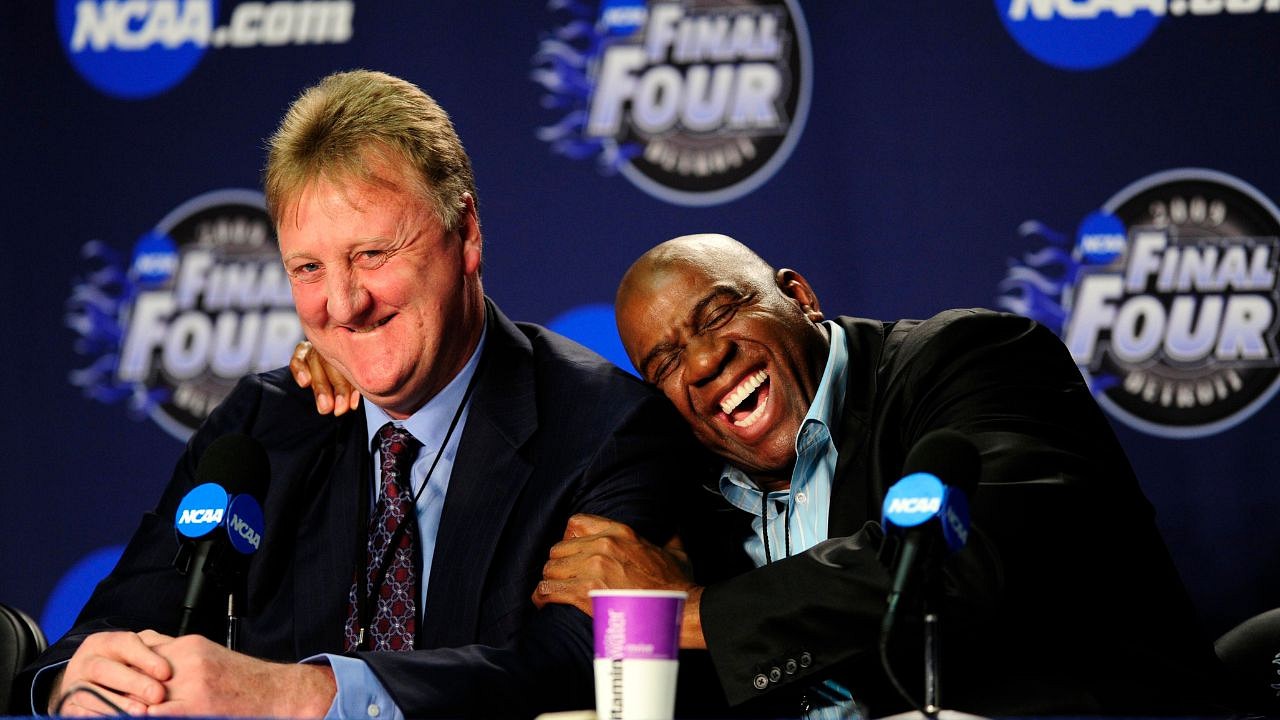 The NBA is a billion-dollar league. With millions tuning in every day. While today it is colossal, the scenario was quite different back in the 70s.
In the 1970s the league was falling apart as they struggled to keep viewers engaged. If not for a pair of electric college stars, the NBA would have died a long time ago.
The two college stars were none other than Magic and Bird. Magic Johnson and Larry Bird saved the league, but their rivalry is rooted deeper and precedes their clash in the NBA.
Read Also:  "Playing With Larry Bird and Michael Jordan One Time Was on My Bucket List": Magic Johnson Reflects on Dream Team Experience With His Rivals
Magic Johnson and Larry Bird at the 1979 NCAA Finals
Magic Johnson and Larry Bird were both stars who played for The Spartans and Sycamores respectively. Their rivalry reached its peak during the 1979 NCAA finals when the two stars faced off for the Championship.
Recalling the atmosphere before the game, Larry Bird described it as "nerve-wracking". He said so in his book When the game was ours.
The two were generational talents and had never met another player quite like each other. This was especially true for Magic Johnson.
Magic in the book recalls watching  Larry's game against Depaul in the 'Final Four' of the NCCA Championship. The Lakers legend had the following to say " The problem with Larry was he could score from anywhere. It was the first time in my life I was scared of another player."
Despite Larry showing up big during the game, Magic and The Spartans took home the trophy. Though Bird did win The Naismith College Player of the Year, the Celtic Legend called the defeat 'crushing'.
The Rivalry that saved the NBA
Stylistically Larry was always a mismatch for Johnson. The 6'9 Celtic Legend had an offensive arsenal that Magic described as "endless'. Along with being the game's 'best-shooter' at the time, Larry was tougher than any other player Magic had ever come across.
The rivalry between Magic and Larry also had tones of racial conflict which represented the state of the country at the time. Though the two players never showed any signs of racial discrimination against each other, they both respectively became the frontmen in a game of chess on the hardwood. Making the rivalry bigger than sports.
The rivalry was a godsend for the NBA, as it helped bring back ratings. Bringing massive crowds to the matches, the two battled throughout the 70s and 80s and won a combined 8 Championships. Making it possibly the greatest rivalry in NBA history.
Read Also:  Lakers legend Magic Johnson reveals when he became friends with Celtics legend Larry Bird, despite hating him for half a decade
---
Share this article