Kareem Abdul-Jabbar Was Awed By Wilt Chamberlain Because of His Ability To Entice And Court Women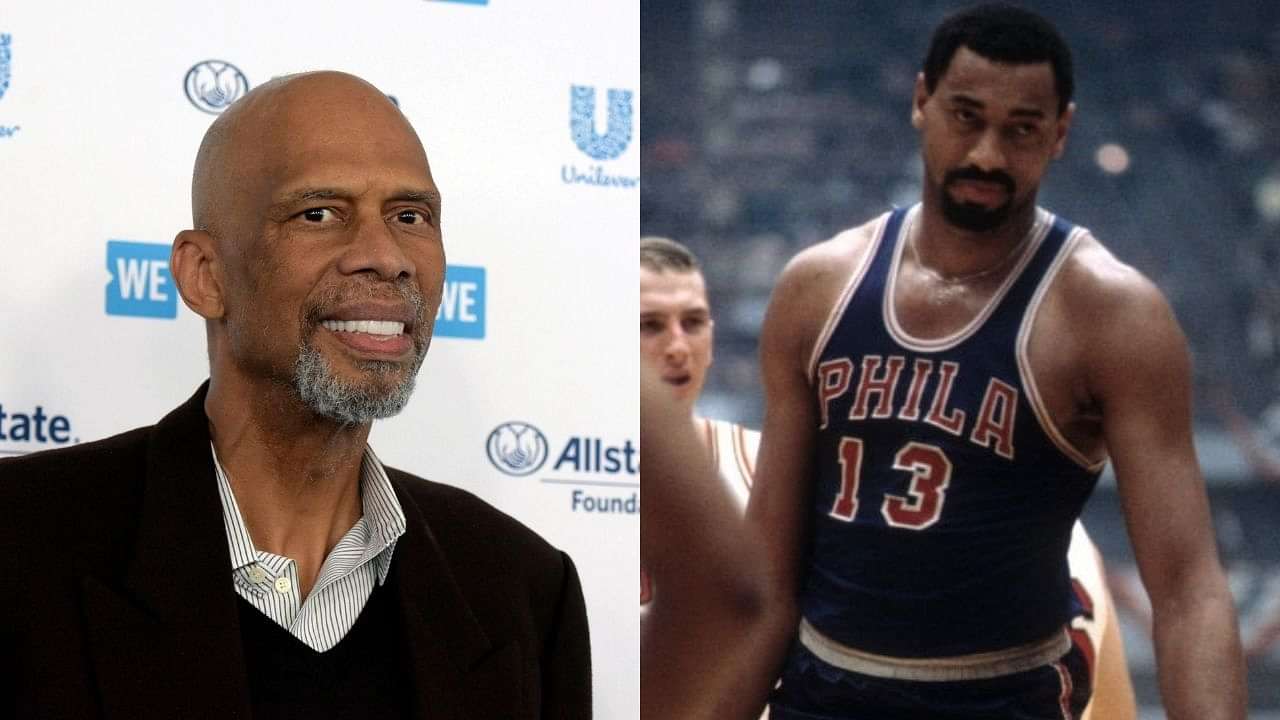 Kareem Abdul-Jabbar was a mentee of Wilt Chamberlain right from the days when he was just a high school player in New York.
Most NBA fans view Kareem and Wilt as the two greatest players at the center position of all time. Kareem has more career value, and Wilt arguably had the most dominant peak for any player ever.
The two centers, however, displayed different traits both on and off the court. While Wilt was a muscly man with insane musculature for his size, Kareem was comparatively a gangly figure.
Loading embed tweet https://twitter.com/Dom_2k/status/1250095479926464514?ref_src=twsrc%5Etfw
Also Read – Wilt Chamberlain blocked Kareem Abdul-Jabbar's iconic "skyhook" 5 times in Game 3 of the 1972 WCF
While Kareem played closer to the rim for most of his career, Wilt endeavored to score from mid-range also. He developed a fadeaway jumper that may have been the most unblockable shot ever, coming from a 7'2″ guy. Kareem's skyhook, on the other hand, was no less effective.
The duo defined two-way excellence from the center position to a degree that has not been matched since. Shaquille O'Neal and Hakeem Olajuwon came close, but one can spot clear differences in ability and execution between them and Kareem or Wilt.
Kareem Abdul-Jabbar describes how Wilt Chamberlain was an amazing ladies' man
Kareem Abdul-Jabbar penned down a memoir about his formative years and how he converted to Islam in 2017. This book, called Becoming Kareem, sheds light on the friendship that Wilt developed with Kareem as a high school kid.
Kareem goes into a comparison between his inability to draw women to him and Wilt, who was seemingly always with a different woman, in one of the chapters of this book:
"Every time I visited Wilt, there was another beautiful woman. Not only were they gorgeous, but they were also friendly, funny, and kind."
"It would've been easy to dismiss Wilt's success with women as merely the result of his wealth and celebrity, but the women I met seemed to genuinely enjoy his company."
"He was outgoing and generous, loved to laugh, always knew what to say…basically, he was the exact opposite of me. I tried to copy Wilt's style, to be suave and sophisticated, but I didn't have it in me. I was shy and quiet, and I avoided the spotlight."
Loading embed tweet https://twitter.com/kaj33/status/1057320785868546048?ref_src=twsrc%5Etfw
Also Read – "Kareem Abdul-Jabbar, Wish I Had Legs Like That": How Wilt Chamberlain Complimented the Captain During Their First Meeting
The bond between Wilt and Kareem soured over the years
Though the two were close before Kareem's playing days as a professional, things turned once he got to the NBA. Ever the guiding voice for the youngster, Wilt suddenly changed tack as Kareem took the league by storm.
Abdul-Jabbar recounts that Wilt even punched him when referees weren't looking during a Lakers-Bucks game early in his career. Wilt also helped an ageing Lakers team beat his Bucks in the 1972 Western Conference Finals.
After his retirement, Wilt would go on a media campaign to rant about how Kareem was having it easy compared to his era. Even his reaction after Kareem passed him as the all-time top scorer was beneath his dignity.
Following Kareem's own retirement, he lashed out all guns blazing at the hate peddled by Wilt in an open letter.
Also Read – "Wilt Chamberlain? More like Wilt Chumperlame": Kareem Abdul-Jabbar wrote an open letter after retiring from the Lakers, detailing how Bill Russell dominated the mythical big man
---