"Luka Doncic I Don't Consider You a Scorer!": Shaquille O'Neal Showered 6ft 7″ Mavericks Star With Praise Ahead of Celtics Matchup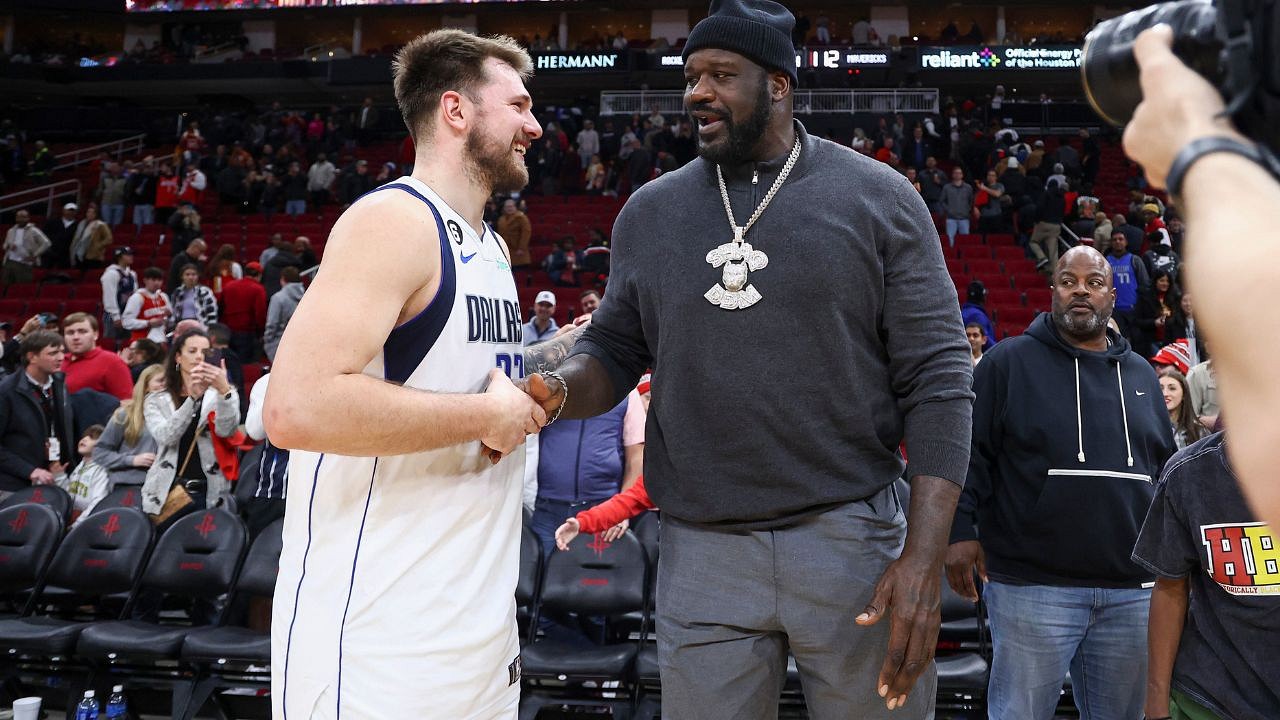 The Boston Celtics made their way to Texas and snapped the Mavericks' seven-game win streak. Luka Doncic and the Mavericks were on an absolute tear as of late. However, it seemed like sickness hit the Dallas stride today.
During the game, Luka Doncic appeared to be coughing.
Luka Doncic coughing uncontrollably #MFFL @dallasmavs pic.twitter.com/SdqRJDibN0

— MunkFruit 🍈 (@MunkFruit) January 6, 2023
Without their 6ft 7″ guard providing the usual scoring punch, the Mavericks couldn't gather enough points to match the 2022 Finalists. Celtics came up with six players scoring in double-digits and ran away with a 124-95 win.
The Mavericks next face the Pelicans on the second night of a back-to-back for them. Luka would hope to be back and healthy by then, so the team could register a win before they head on the road.
Also Read: "Ay Bryce Maximus Is Catching Lobs Now?!": LeBron James Is Astonished At His Second Eldest's New Found Hops
Luka Doncic gets high praise from Shaquille O'Neal
Scoring is an important aspect of a basketball game. While every player tries to get the ball rolling, there are some players who make the same feel effortless. In the history of the game, there have been players like Michael Jordan, Kobe Bryant, Shaquille O'Neal, Kevin Durant, and more, who were known to be great scorers.
As of late, Luka Doncic has been climbing and trying to join those ranks as well.
Luka Doncic's Last 5 Games of 2022

51pts 6reb 9ast 4stl 1blk — W
35pts 12reb 13ast 1stl 2blk— W
60pts 21reb 10ast 2stl 1blk — W
32pts 9reb 9ast 2stl — W
50pts 8reb 10ast 3stl — W pic.twitter.com/MYPhuIHYQH

— Nick Angstadt (@NickVanExit) January 1, 2023
Before tonight's game against the Celtics, Luka was talking to Inside the NBA guys. Shaquille O'Neal turned to Luka and asked,
"Luka, Shaq here. I don't consider you a scorer. I consider you a prolific scorer. When I was a prolific scorer, I used to tell myself, 'I need to get 40, or I need to get 50.' Do you go into the game with the same mentality, or do you let the game come to you?" 
Luka replied and talked about how he lets the game come to him and does whatever is needed to help his team get wins.
"Just trying to win the game and like you said, 'Let the game come to you.'"@luka7doncic breaks down his scoring mentality with @SHAQ pic.twitter.com/GRkwKAbskG

— NBA on TNT (@NBAonTNT) January 6, 2023
Well, coincidentally, scoring is what his team needs to help them win.
Also Read: "You Are Fine Ja Morant, But The Grizzlies On the Other Hand…": Draymond Green Showcases Admiration for 2022 MIP, Distrust in Memphis
Can Luka win MVP this season?
Luka Doncic has put the NBA on notice, ever since the start of the season. Even before the season kicked off, the NBA GMs expected Luka to win the MVP honors this year. So far, he's been showing them why they thought the same.
He's averaging 34.3 points, 8.8 rebounds, and 8.9 assists a game. The MVP ladder put out last week had Luka in the 3rd spot behind Nikola Jokic and Jayson Tatum. However, his performances in the last six games would surely change that. Luka has a fair shot at winning MVP as long as he stays healthy and keeps up his form.
Also Read: $620 Million Magic Johnson Claims He Knew LeBron James' $1 Billion Would Take Form In Los Angeles During Recruitment
---
Share this article