WATCH: Patrick Beverley Hilariously Imitates Giannis Antetokounmpo, Reveals Greek Freak's Offer to Recruit Him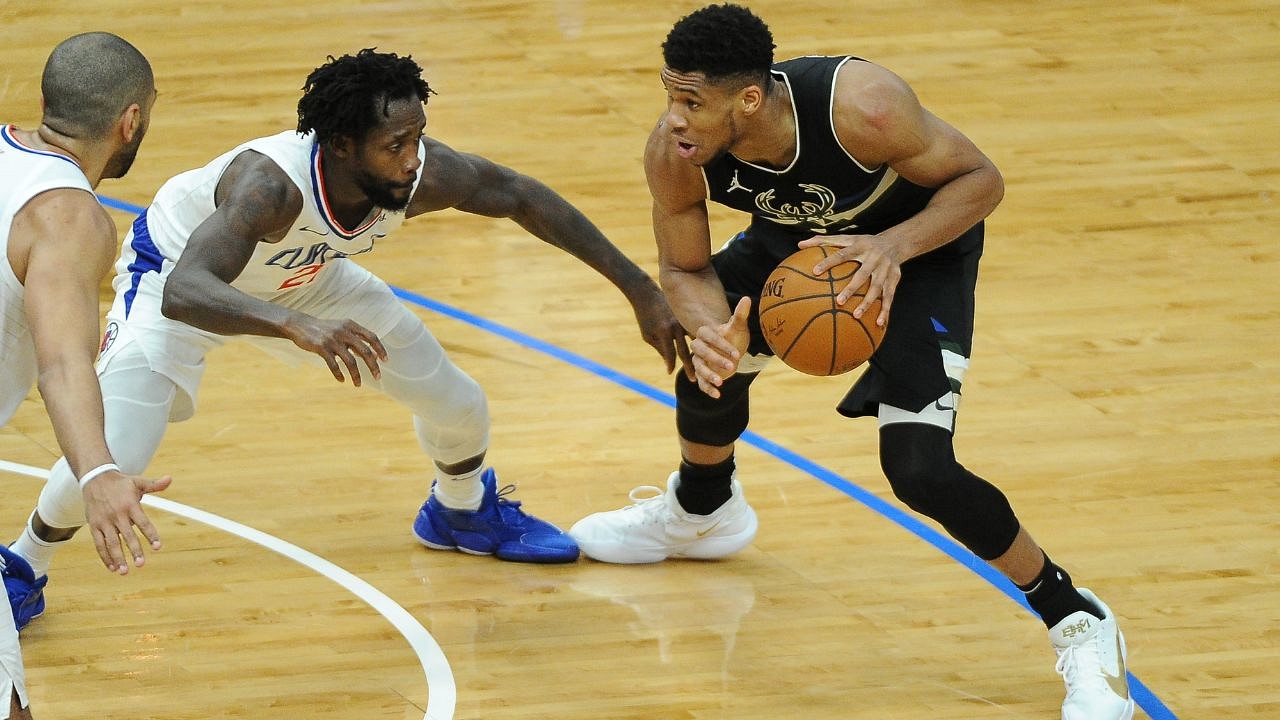 Patrick Beverley has been one of the best defensive guards in the league over the past few years. Giannis Antetokounmpo, as we all know, is arguably the best two-way player in the league. Talent appreciates talent.
We don't know how truthfully Pat Bev speaks, but his dogged defending is such highly appreciated in the league that not averaging even 10 points per game in the last 4-years couldn't fend teams off from paying him $13 million a year.
However, the man claims that Antetokounmpo recruited him to Milwaukee Bucks when he was once trying to instigate the Greek Freak for not playing a game against his former team.
Also read: Giannis Antetokounmpo is Hard to Spell, Just Ask Mallory Edens, Aaron Rodgers' New Girlfriend, and the Bucks' Owner
Patrick Beverley minutely mimics Giannis Antetokounmpo
In an episode of The Pat Bev Podcast with Rone, Patrick Beverley revealed a story about when last season he visited Milwaukee and was excited to play one of the best teams in the league and Giannis Antetokounmpo himself.
But then the former Minnesota Timberwolves guard was disappointed to not see him being in the line-up. He then talked to his brother Thanasis and asked him why is his brother "ducking smoke".
That didn't take much time to travel to Giannis and the 7-feet talk Greek international came out the to practice arena. Beverley will tell us the rest of the story, mimicking Giannis.
In a fun way, he also slid in Antetokounmpo's attempt to recruit him to Milwaukee, which, if true, must have made Beverley so proud.
Also read: "Luka Doncic!": Jayson Tatum's Teammate Picks Mavericks Guard Over Celtics Star in Stunning Reveal
How has Beverley been playing for the Lakers?
The Lakers took on Pat Bev's contact in order to help James win a championship. But it hasn't been as good as he has been in Houston, LA (Clippers), or Minnesota.
The Lakers now have a 19-21 record and must be looking toward a victory tonight to get back into contention and get them to +.500. Beverley will be a big part of them coming back if there is one in the cards. If not he will always remain an overrated player, where ever he goes after LA.
Also read: "Giannis Antetokounmpo is Unguardable Like Michael Jordan": Avery Johnson Saw the Greek Freak's Potential Before His First MVP Season
---
Share this article