Arizona Cardinals Training Camp 2021: Start Date, Location, Roster Battles, and Fan Policy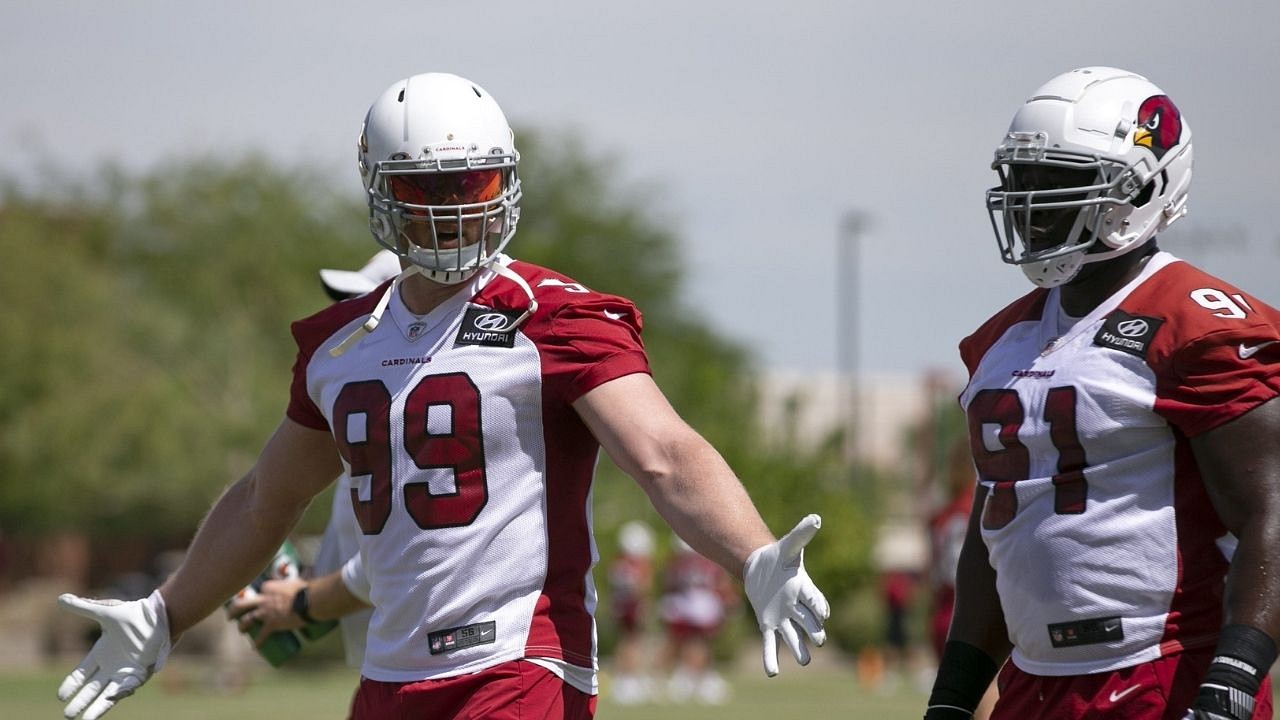 After a plethora of big free-agent signings hoping to propel the team to the playoffs, the Arizona Cardinals have a crucial training camp coming up if they want to have a successful season. When does it start, where will it be held, and are fans allowed to attend?
With phase 3 of the 2021 NFL offseason set to wrap up on June 18th, teams are already looking forward to training camp. It is by far the most grueling and pivotal part of a team's preparations.
Training camps often include busy days for players and coaches, sometimes with 2 practices a day, weight training, team meetings, and film sessions.
Per the league's Collective Bargaining Agreement (CBA), no contact is permitted during the first 3 days of camp. Days 4 and 5 will see players at full speed in light equipment called "spiders and shells", day 6 is a mandatory day off, and finally fully-padded practices start on the 7th day.
Along with the strenuous schedule, full-speed practices mean that both contact and non-contact injuries are very common. Regardless, training camp is mandatory for all players, unlike OTAs which are voluntary. If a player doesn't show up, they risk getting cut by their team.
When Does Training Camp Start for the Arizona Cardinals?
For the first time in NFL history, there will be a unified start for training camp. 29 franchises, including the Cardinals, will kick off their training camps on Tuesday, July 27th.
The Cowboys and Steelers, who will play in the preseason Hall of Fame game, are allowed to begin training camp as early as July 21st. The Buccaneers will also be allowed to start training camp 3 days earlier on the 24th, as they play the season opener against Dallas on a Thursday night.
Where is the Cardinals Training Camp Being Held?
Normally, NFL teams are permitted to hold training camp at outside facilities to improve accessibility for fans, However last year, due to the uncertainty caused by the COVID pandemic, teams were instructed to conduct camp at their own training facilities.
The Arizona Cardinals will host their training camp at State Farm Stadium in Glendale, Arizona.
Arizona Cardinals Training Camp Roster: Key Position Battles to Watch
As usual, teams will start camp with 90-man rosters. They must cut down to 85 players by August 17th and to 80 by August 24th, before settling on a final 53-man roster by August 31st.
The Wide receiver 2 battle behind DeAndre Hopkins will be intense in 2021. Christian Kirk was the position holder in 2020 and had a solid season. The 24-year-old caught for over 600 and 6 touchdowns in his third season. So it's not unrealistic to expect another leap in his 4th year.
But the team signed 7-time Pro Bowler A.J Green this offseason in free agency, and the vet will expect to see his targets. Green has been one of the best receivers in the NFL the past decade and his resume justifies that title. But Green had an awful season in 2020, catching only 523 yards in 16 games. So heading into his 10th season, the 33-year-old might have a number of questions looming over him.
The team also drafted wideout Rondale Moore in the second round of the NFL draft, only making the spot more competitive.
The LB group will also be interesting to follow. Veteran Jordan Hicks was given permission to see a trade but hasn't found another team yet. Assuming he remains with the team, the battle to secure the 2 starting spots between him and Isiah Simmons and Zaven Collins.
Simmons and Collins are both first-round picks in 2020 and 2021 respectively with an immense amount of upside. But Hicks had a solid 2020 season. Assuming the team wants to make a real push to make the playoffs, Hicks might be the choice over the development of Simmons and Collins.
Will Fans Be Allowed to Attend Cardinals Training Camp?
The NFL is planning to have fans at all training camps, with fan events scheduled to start on July 31st. The NFL and the NFLPA continue to negotiate parameters for fan interactions.
Per the memo of the NFL and NFLPA's agreement, "Fans will be permitted to attend Training Camp, provided that they are more than 20 feet away from Tier 1 staff, including players, at all times, and adhere to physical distancing requirements. Fans will not be permitted to interact with players at any time."
So fans will be allowed to attend Cardinals camp.
Also Read: Los Angeles Rams Training Camp 2021: Start Date, Location, Roster Battles, and Fan Policy
---