"The Slim Reaper": Devonta Smith Dubbed As Kevin Durant Of The NFL By Eagles Teammate Lane Johnson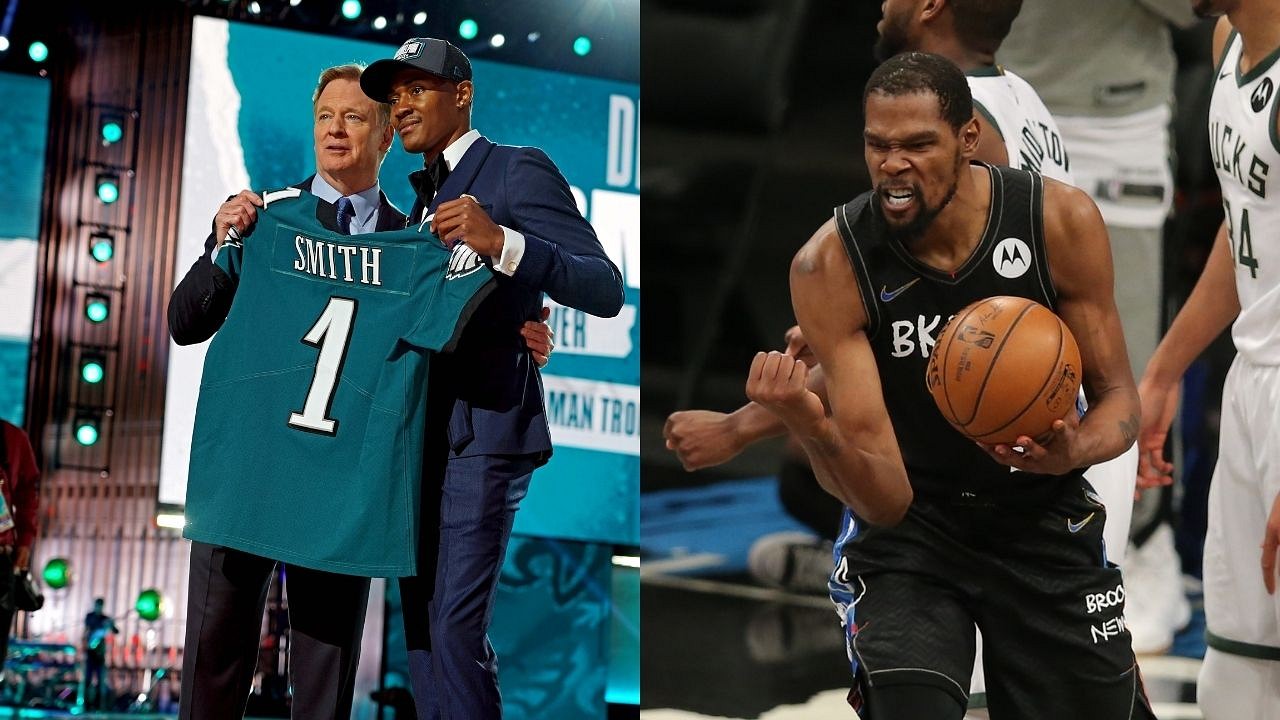 Devonta Smith hasn't even played a snap in the NFL yet, but it looks like his teammates are already likening him to be the Kevin Durant of the NFL.
Durant goes by many nicknames including Durantula, Easy Money Sniper, and KD, but one of his most iconic nicknames is the 'The Slim Reaper.' You can probably take a garner as to why Durant is called this as it has everything to do with his thing and somewhat lanky frame coupled with his killer production on the basketball court.
Devonta Smith was by and far the best wide receiver in the NCAA as he walked away with the Heisman award, but many draft analysts said he'd be a bad pick because of his small frame. He comes in at 6'1″ and 170 pounds which is small by NFL standards.
However, his talent level is elite and the Eagles saw plenty of reason to pick him. It looks like his teammates are playing into his criticism as well giving him the same nickname Kevin Durant has:
Scary hours in Philly.

(via @gmfb) pic.twitter.com/bBMBXDDHTj

— B/R Gridiron (@brgridiron) July 13, 2021
Also Read: Who is Stan Kroenke?: Los Angeles Rams and Arsenal FC Owner Faces Setback in Relocation Lawsuit, Could Reach Settlement Soon
Devonta Smith and Kevin Durant Comparison Apt? Heisman Winner's College Stats
It might be a little too early to give Devonta Smith the same moniker as Kevin Durant, but you can tell where the intention is coming from.
After being criticized for being too small, Smith is more than ready to show that all the criticism against him is wrong. He hasn't reached Kevin Durant levels of success yet, but if he can play up to the kind of skill set and talent he has, he may be well on his way.
In college, Smith was an absolute force to be reckoned with. His last two seasons with Alabama in particular saw him absolutely dominate the competition. In 2019, Smith put up 1,256 receiving yards along with 13 touchdowns on a whopping 18.5 yards per catch.
In 2020, as his receptions went up (68 tp 117), Smith hauled in an incredible 1,856 yards and 23 touchdowns en-route to a Heisman trophy. Smith is hoping the momentum of the last two years of college will carry over into the NFL.
While his size won't be the be-all, end-all of his career, he will have to scrap much harder to beat the more physical defensive backs in the NFL. Nevertheless, his teammates believe in him (as evidenced by their nickname for him), and he's ready to prove the doubters wrong.
Not long until we see what @DeVontaSmith_6 can do in Philly. pic.twitter.com/CO3XtaNkVw

— NFL (@NFL) July 8, 2021
Also Read: Who is Stan Kroenke?: Los Angeles Rams and Arsenal FC Owner Faces Setback in Relocation Lawsuit, Could Reach Settlement Soon
---