Nitin Tomar vows to repay Team UP's faith in him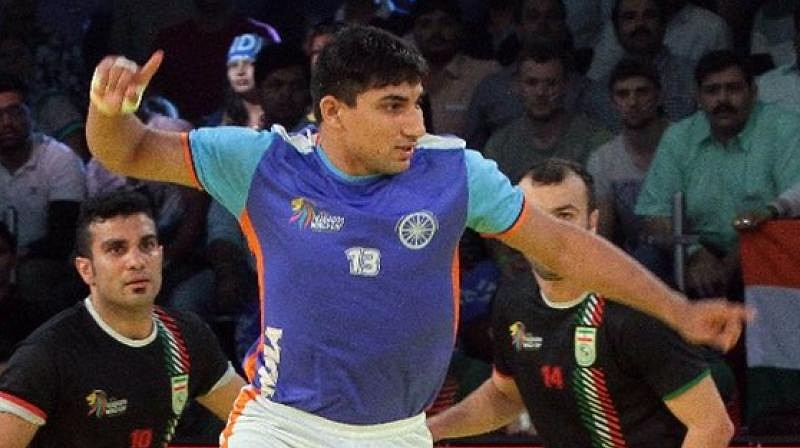 From the tiny lanes in his native village to the bright lights of the Pro Kabaddi League, it has been a fairy tale journey for Nitin Tomar. In what was a watershed moment for Indian kabaddi, Nitin Tomar became the costliest kabaddi player in history, as Team Uttar Pradesh bought him for Rs 93 lakhs. Although over awed by his huge price tag, Nitin Tomar vows to repay Team UP's faith in him.
What makes Nitin's rise all the more surprising is that fact that, he was not one of the biggest names in Indian Kabaddi. In fact, Nitin did not even play in the first two editions of the Pro Kabaddi League. While he did have a fine campaign last year, which was backed up by a good showing in the Kabaddi World Cup, his sudden propulsion to super stardom has surprised even the man himself.
This is what Nitin had to say after his historic bid. He spoke about his reaction on hearing his price tag, his family reactions, his childhood days and what he expects from this season of the Pro Kabaddi League.
"The fact that I received such a big bid is very motivating. Now it is up to me to ensure my team gets the benefit of it. I will do all I can to help my team gets the due for their big investment," Tomar told Firstpost over the phone.

"Nobody knew for what amount we would be bought in the auction. But certainly no one thought that the amount would be so high. I would like to thank the UP team owners for bidding so aggressively for me," he added.
"There isn't a lot of pressure. In the end the game is the most important and I have to do well on the mat as all the eyes will be on me," said the 22-year-old raider. "I have attracted the biggest bid. So I will have to take that responsibility and deliver best possible results. I'm confident I will put in a very good performance when I get back on the mat."
"Everyone in my family called to congratulate me. But firstly it was my father and my grandparents who wished me. It was like a festive atmosphere in my house. It made me feel very proud," recalled the raider.
"In my school we didn't have wrestling, so I used to play kabaddi. I was selected to play more competitions for my school and I started developing interest in the sport, I started playing it more regularly and the sport completely gripped me," Tomar revealed.
"We have a very good team. We have Rishank Devadiga, Jeeva Kumar who is a defender and the most experienced player of the team. I am looking forward to playing with him. I think he will be a key member of our team and I will get to learn a lot from him," he said.
"If you ask what my aim for the season is, then I would say that I want to take the team to the final this season," Tomar said.
---
Share this article