Olympic swimmer Sajan Prakash creates national record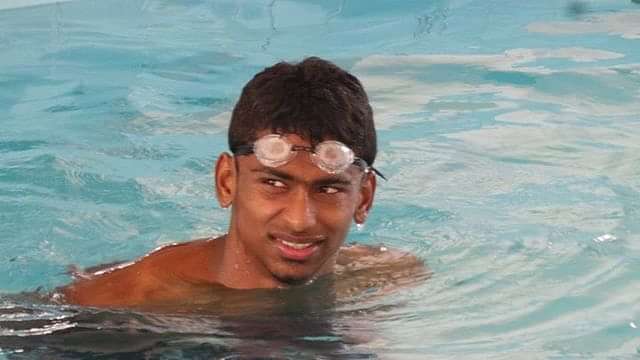 Indian Olympian, Sajan Prakash, set a national record in men's 200m butterfly on Sunday. Prakash set the record on route to winning the gold in the event. The event took place at the 70th Senior National Aquatic Championships in Ranchi.
Also Read : Ajay Singh is the new BFI President
Prakash had created history at the 2015 National Games by winning 6 gold and 3 Silver medals. He also represented India at the 2016 Rio Olympic Games in 200m butterfly.
Prakash, who had been the first Indian to break the 2 minute barrier in the 200m butterfly, clocked 01:59.35 to win the gold.
His Railways teammate, Supriyo Mondal, won the silver at 02:03.42 while Manoj Mitesh, representing Services, won bronze with a time of 02:07.04.
In fact, Prakash had clocked 1:59.27 in the 200m butterfly event at the Hong Kong Open in 2016 which was better than today's timing.
But the result sheet of the Championships said that it was a national record. According to records at the Swimming Federation of India also, Prakash's effort on Sunday was adjudged as a national record.
Meanwhile, the women's 50m butterfly was won by Chahal Arora of Chandigarh who clocked a time of 00:35.11. Annie Jain of Madhya Pradesh, who was the pre Games favourite, finished second in 00:35.39 while A V Jayveena of Tamil Nadu claimed bronze with a time of 00:35.40.
In the women's 1500m freestyle, Monique Gandhi of Maharashtra won with a time of 18:21.13.  She beat Shruti Mahalingam from Tamil Nadu who clocked 18:21.53. The bronze went to her state mate P M Abhishikta who finished with a time of 18:43.59.
The best race of the day was witnessed in the women's 4x100m relay. Gujarat had been the early leaders, followed by Karnataka who led after the third leg. Finally, Maharashtra, represented by Yuga Barnale, Monique Gandhi, Trisha Karkhanis and Rayna Saldanha, got the gold with a timing of 04:36.31. Karnataka won silver with 04:38.33 while Gujarat won bronze with 04:41.41.
---