Rags to riches to obscurity: The Munaf Patel story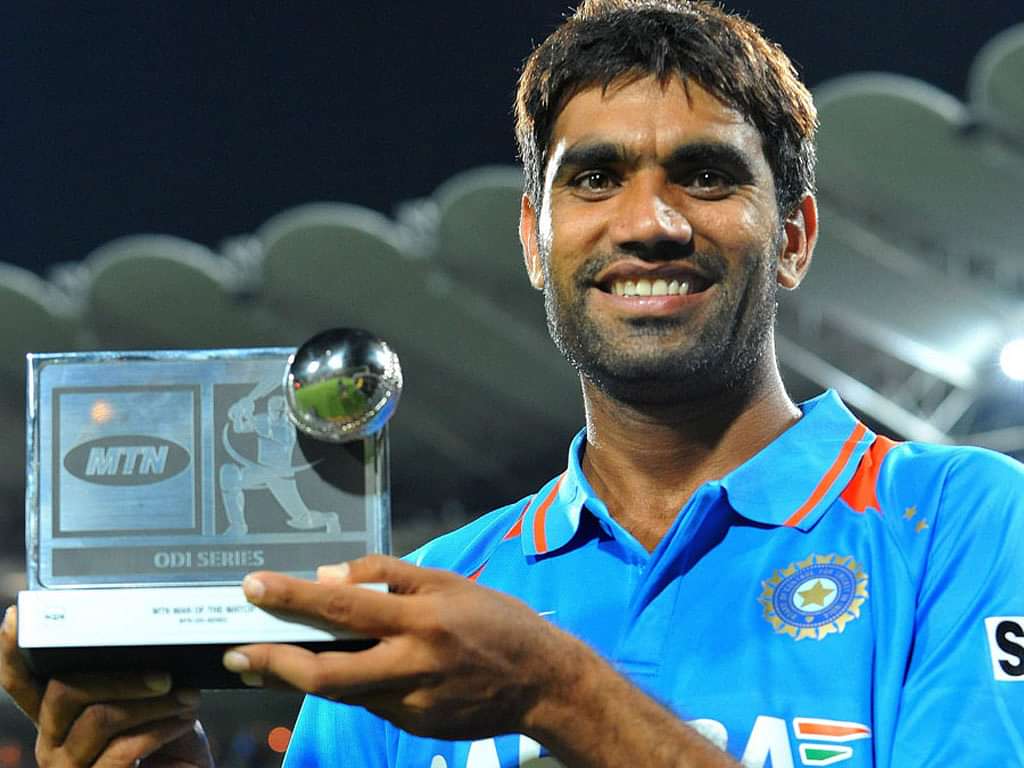 In the long list of also-rans in Indian cricket Munaf Patel would probably find pride of place. On his 33rd birthday, we look back at his none too simple cricketing journey and where it went wrong.
In the second half of the noughties, Munaf was a familiar face in Indian cricket. The near permanent scowl, the slow run-up, the neat delivery at best described at medium fast and swearing at the opposition. However, at one time, Munaf was considered a genuine prospect bowling as a tearaway pace bowler.
Munaf made his first class debut for India A without having represented his native Gujarat. The then national selector, Kiran More, had sent him to train in Chennai, with the MRF pace foundation. Then, at Sachin Tendulkar's insistence, he decided to represent Mumbai.
National debut
After a couple of injury scares, he finally made his international debut in March 2005. In a nation starved of genuine fast bowlers like no other, Munaf was quickly heralded as a pace sensation. When India coach Greg Chappell took Munaf under his wing and compared him to a young Glenn McGrath, it seemed Munaf was destined for big things.
The much publicized pace fell away and left behind a shell, who struggled to fulfil expectations. Instead, Munaf decided to focus on line and length, reportedly at the insistence of Chappell. This was the same Chappell who had decided to turn Sachin Tendulkar into a middle order batsman and Irfan Pathan into an all-rounder. Then came the lull, as like others before him, Munaf began to fade away.
Also Read: Mohammad Amir to fix his wrongdoings at Lord's
While injuries played their part, Munaf's attitude certainly did not help. There was the infamous incident in Cape Town, January 2007, when Munaf hiding an injury, left his captain, Rahul Dravid, high and dry with only 3 bowlers.
Although he had a decent World Cup in 2007, the team's failure did nothing to endure him to the masses. Munaf's fate seemed to be sealed when he was ignored for the tour of Australia in 2007-08. The selectors had finally become frustrated with his attitude and obstinate refusal to follow protocol.
World Cup and departure
However Munaf's finest moment was yet to come. He was recalled for the ODI series prior to the 2011 World Cup, following an injury to Praveen Kumar. One man's poison was indeed, another man's meat. He ended up being part of India's historic campaign and was also the third highest wicket taker (among Indians) after Zaheer Khan and Yuvraj Singh.
However, that was to be his high point. Later that year, Munaf took part in the disastrous tour of England and played his last limited over internationals on the tour. Earlier, he had played his last test in the West Indies tour.
Life came full circle in 2014, when Munaf was ignored in the annual IPL auctions. Munaf had earlier been part of two different IPL winning teams: in 2008 with Rajasthan Royals and 2013 with Mumbai Indians. Subsequently, he went unpicked in 2015 and 2016 as well.
Attitude
Munaf has always been under the scanner due to his aggressive on field behaviour and frequent swearing at opposition players, umpires and sometimes even his own team mates. He has been censured several times due to inappropriate behaviour.
In the 2008 Irani trophy, Munaf (representing the Rest of India) was fined 75% of his match fee for abusing his opponents. In the 2012 IPL, Munaf and Harbhajan Singh were guilty of showing dissent towards the umpire. Munaf ended up losing 25% of his match fees. In the same tournament, he was once again censured for altercation with a Kings XI Punjab batsman.
Also Read: Top 5 hairstyles in Euro 2016
On other occasions, he has been caught swearing on camera or chastising his team mates for poor fielding on the stump mics. This is particularly galling as Munaf himself has a reputation for being a poor fielder.
However, off the field Munaf seems to be the perfect gentleman. He has often been said to be extremely courteous. This fact has been attested by team mates as well as journalists.
Future of Indian fast bowling
Munaf belongs to the long list of Indian fast bowlers who have flattered to deceive and generally fail to live up to expectations. Undoubtedly, the fault lies somewhere in the system as it is the job of the authorities to ensure bowlers' fitness and to help them reach their peak.
In spite of modern technology, Javagal Srinath remains the last Indian fast bowler to have increased his pace after breaking into the national team. The BCCI, NCA and other relevant bodies need to address this issue, or else, India will be resigned to produce top quality players, and watch them fall by the wayside. Like a Munaf Patel.
---