Rod Laver – 5 Things you should know about the Original Superstar of Tennis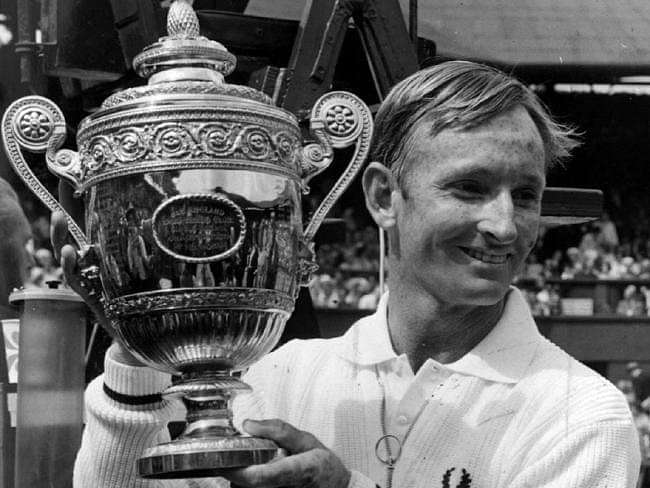 Before the world had superstars like Roger Federer  , Pete Sampras , Bjorn Borg and John Mcenroe , there was Rod Laver. The Australian maestro helped shaped the modern tennis as we know today , arguably one of the greatest players of all time Laver was a young child when he left school to pursue a tennis career which spanned more than 20 years.  As the legend turns 78 today , here we look at 5 interesting facts about Rod Laver , Rod Laver -the original superstar of tennis.
1. 200 Singles Titles
Rod Laver's 200 singles titles are the most in tennis history , he holds the record for the most titles in a year with 22 in 1962.  Laver turned professional in 1962  Before the 'Open Era' where professional players were not allowed to participate in the 4 big tournaments , also known as the grand slams. He still continued his dominance and won titles wherever he went despite being banned by the grand slams for five years prior to the Open Era.
2. Calendar Grand Slams
Rod Laver won all four grand slam tournaments in the year 1962 taking the tennis world by storm. He still remains the only male athlete to do so and to add to his legacy , he went on and won all the four grand slams again in the year 1969.
Also Read : Does Federer even need the 18th 
3. Davis Cup cakewalk
Laver won the Davis Cup with the Australian team for 4 consecutive years between 1959 and 1962 before being ineligible for the tournament for turning professional. In 1973 , Davis Cup allowed professional athletes to participate and he helped Australia won another title. Australia won all 5 Davis Cups in which Laver participated.
4. More Grand Slams?
Laver won a total of 11 grand slam titles which is really impressive for  a player from any era. Considering the fact that he was banned for 5 years, that's 20 titles we are talking about ,  Roger Federer's 17 would have looked short had Laver completed between 1962-1968.
5. Forever honoured in Melbourne
The Centre court Melbourne Park was renamed in the honour of Rod Laver in 2000, the stadium has since seen several great players lift the trophy , including Roger Federer , Rafael Nadal  and Novak Djokovic. Rod Laver would definitely be proud of the lot playing these days , and maybe one day someone will finally equal his record and win the calendar grand slam.
---