Sheffield United vs Man Utd VAR Controversy: United Fans claim that VAR would have cancelled the goal if Liverpool were playing tonight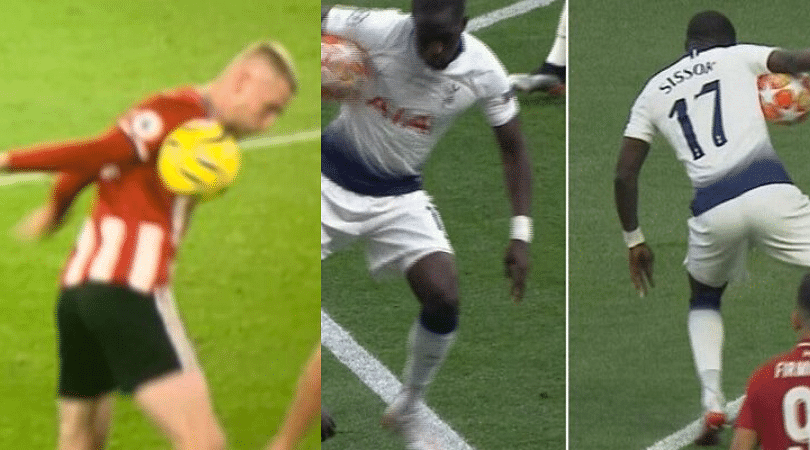 Sheffield United vs Man Utd VAR Controversy: United Fans livid after VAR allows goal to stand in the Premier League match between the Blades and the Red Devils.
Manchester United scripted a near perfect comeback after being 2-0 down by the 52nd minute. Brandon Williams, Mason Greenwood and Marcus Rashford scored in the span of 7 minutes to give them the lead. However, Oli McBurnie smashed the equaliser in the 90th minute.
Also read: Phil Jones blunder costs Manchester United as Sheffield United score
The goal was sent to VAR who had a lengthy check at the goal before awarding it to the hosts. Bramall lane was sent into a tizzy. However, United fans were less than impressed and took to twitter to express their displeasure.
Sheffield United vs Man Utd VAR Controversy
Replays showed that the ball hit, Oli McBurnie's thigh before bouncing to his shoulders. The player pulled his hands back to avoid a handball before firing the equaliser. A very close call but in all likeliness the right one.
United fans however, are of the opinion, that if the ball had gone in the nets while Liverpool were playing, VAR would have awarded a handball to keep the table toppers at the top spot.
Goal allowed against Man United Vs Penalty given to Liverpool in UCL final 18/2019. VAR fuq off #SHUMUN pic.twitter.com/1tbYDCSYd1

— Zoba K Yamah (@UtdChi) November 24, 2019
#Var how is this handball and the united one today not!! pic.twitter.com/X9LWAbYHuB

— Jonathan keane (@Jonathankeane20) November 24, 2019
Liverpool: I know you've helped us all season but can you fuck over United in the 90th minute for us?

— James Teale (@TealeJM) November 24, 2019
https://twitter.com/ManUtd_HQ/status/1198667796072321025?s=20
VAR clearly helping Liverpool win the league by giving that Sheffield United goal there. Corruption at its finest!

— Stanley House 6️⃣ (@StanleyHouseLFC) November 24, 2019
Liverpool fans have also come to the defence of their side.
Apparently its Liverpools fault that United didn't get a VAR decision…

— ManéSzn(12-1-0) (@ftbl_george) November 24, 2019
Its great how a VAR decision in a sheffield united/man united game is somehow part of a massive liverpool conspiracy. It's like flat earthers #VAR #lfc

— Daz (@DJJ_1981) November 24, 2019
If VAR was around in the 90s, I'd be claiming United were only top because of it.

Would I have been correct? No, I'd be acting bitter because the best team, who I loathe, kept winning.

That's all that's happening with rival fans and Liverpool currently, and it's great to see.

— Henry Jackson (@HenryJackson87) November 24, 2019
Half and hour before full-time, Manchester United would have happily taken the one point. However, with 3 points merely 3 extra minutes away, it is understandable why fans are upset with the events that took place tonight. Unfortunately, the hypothesis that VAR would have made a wrong decision to keep Liverpool at the top does not justify the fans demand for VAR to wrongly send another side home pointless.
Click here for more football news
---
Share this article