Steven Gerrard: Top 5 moments of his illustrious career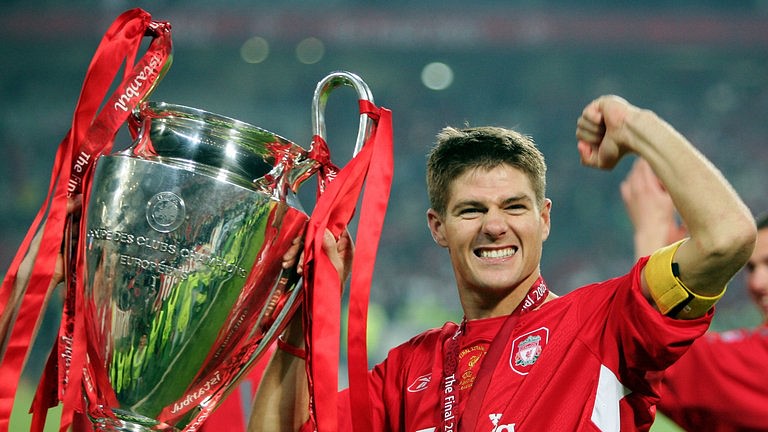 And finally, its the end of the road.
Steven Gerrard, the boy from Merseyside who lived his dream and of many others with him to play for Liverpool for 15 years has finally called an end to his career. The captain fantastic who lead his club brilliantly for many others, and who for I don't know how many times rescued Liverpool from jaws of defeat and took them the cusp of glory will be sorely missed.
Not only did he carried his club duties brilliantly, he is 4th most capped player for England as well, captaining the country in 3 major international tournaments. There are numerous moments from his glittering career.
We look at top 5 moments from Steven Gerrard's illustrious career.
5. Kissing the enemy Goodbye : Manchester United 0-4 Liverpool
Nobody can forgive this moment, specially not the Liverpool fans.
It was the time when Liverpool was in the front seat to win the title, and going to their fierce rivals' home and scoring 4 goals to defeat them was a big achievement.
That was the year when Torres and him when giving a Nightmare to all the defenses. After a scintillating performance at old trafford, Gerrard provided a light moment for the viewers when he kissed the camera and his enemy goodbye.
Also Read : Sindhu's another Triumph
Nobody would have thought that Liverpool will still remain short of lifting the tile after 19 winners but they eventually did.

4.) A Captain's Performance :Liverpool 3-0 Everton
The 2012-13 Season provided nothing notable to remember for the club.  When Everton side headed to Anfield team games unbeatan, it needed some special performance from Liverpool.
And who other than the captain fantastic. Gerrard completed his hat-trick in the third minute of the stoppage time and grabbed a convincing victory for the reds at the expense of the Merseyside blues.
Also Read : Justin Bieber Shocks Messi, Neymar and Suarez
He lived for this game, and it meant a lot to win it….

3.) The screamer at Wembley: Liverpool 3-3 West Ham
Till 2006, Liverpool fans had grown familiar of Gerrard's heroics. Already in the third year of his captaincy, he stood up
once more to provide an unforgettable moment in front of huge Wembley crowd.
Another of those Andy Gray moments were on show that day.
Trailing by a goal to West Ham, Gerrard pulled one scream out of his bag from 30 yards straight into the bottom left corner. Liverpool equalized and went on to win the FA cup 3-1 on penalties.

2.) Oooo You Beauty : Liverpool 3-1 Olympiakos
There is a reason, I rate this moment ahead of the West Ham victory.
This was champions league. The tournament in which Liverpool were regulars, and they hadn't won anything since last 20 years. That generation hadn't witnessed the glory days of Liverpool. Gerrard in the interview before the match had said that he didn't want to wake up in Champions cup the next morning. And he didn't.
Again having to climb a mountain after Rivaldo scored a brilliant free-kich at the Kop End, Liverpool needed to score 3 in the second half. Having scored two, Liverpool needed just one more.
Time was running out for the reds. A cross by Risse, cushioned by team mate, fell to Gerrard just outside the penalty box. What transpired next will not be forgotten by any football fans for generations to come.
Apart from the goal, what is iconic about the goal is the commentary by Andy Gray. He screamed from the bottom of his heart. That is as natural as it comes to a football fan irrespective of what club he has played for or what club he supports. That was the football fan in him,  shouting out the emotions of all the Liverpool fans combined.

1.) One night in Istanbul – Liverpool 3-3 AC Milan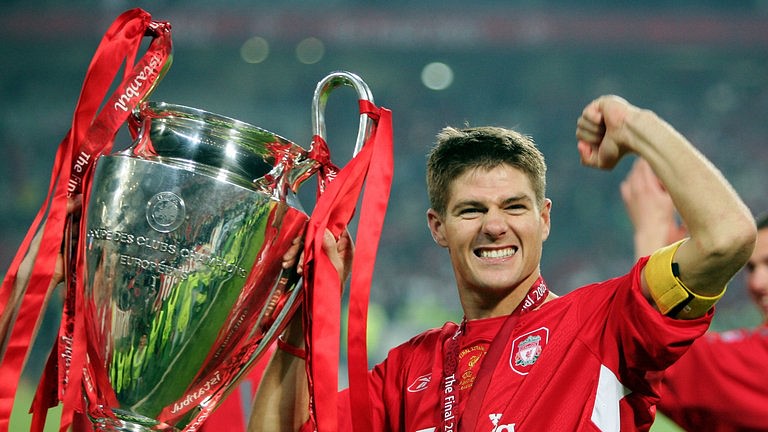 A night, not to be forgotten.
Liverpool, the club who ruled Europe in 1970s, and mid 80s had gone out of the picture for 20 years. That is not acceptable for club of that stature. Fans of my generation hadn't seen the way Liverpool ruled. We hadn't experienced those magical nights at Anfield which were famous throughout the football world.
Throughout that campaign, similarities were drawn to previous campaign of Liverpool  during old days and how this team was playing similar football. Olympiakos was breathtaking, Chelsea a nerve racking contest, and it was all setup brilliantly for the final against Italian stalwarts AC Milan.
And the dreams were thrashed literally at the end of first half. Milan lead Liverpool by 3 goals.
And then, crowd starting to sing " You will never walk alone". And it literally created something that day which transpired the events that happened for next one hour or so.
At the center of everything that happened was Steven Gerrard.
First scoring a strong header to bottom right corner across Dida, and then for the third goal when he ran through defense only to be stopped by a foul which turned into a goal. Not only that, he defended everything that day, playing right back during the latter stage of the match.
It remains to be best ever champions league final, and the best ever night of every fan of Liverpool football club.
---