Sunil Chhetri greatly moved by Virat Kohli's gesture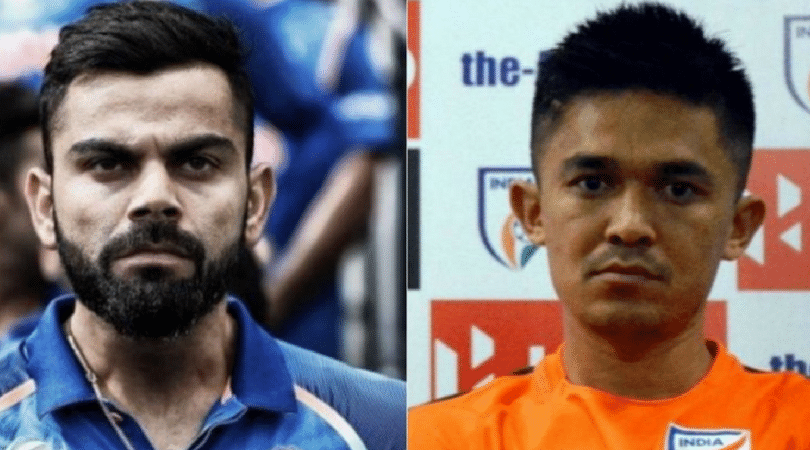 Indian football captain Sunil Chhetri has thanked Virat Kohli for his appeal to fans to go and watch Indian football team play.
Be it cricket or football, any sport becomes complete through its spectators. Whether you have a bat in hand or a ball at the helm, a player needs the atmosphere around him to get the best out of him.
Essentially, it is not about stacking up the numbers or publicising the sport but the overall impact that the involvement of fans generates.
Cricket has been very fortunate in that sense as far as the Indian sphere is concerned. The sport has never been short of public attention and viewership. However, other games have not had the same privilege. Games like football which are taking baby steps and gradually evolving in the country do not invite great spectator involvement and often stadiums are found vacant.
As the Indian football team is currently part of the Intercontinental Cup that is being played in India, there were hopes of greater fan involvement. However, we have to take it with a pinch of salt that only only 2599 people attended the fixture between the Indian Football Team and the Chinese Taipei.
Indian Football Captain Sunil Chhetri then uploaded a video on Twitter requesting Indian fans to come in more and more numbers and support the team. The way in which Chettri requested the fans and the humility that he showed touched the hearts of many.
Cricketers Suresh Raina and Virat Kohli came out in support of Chhetri and the Indian football team and requested people to go and watch the match in Mumbai. Moved by Kohli's appeal, Chhetri has now replied with a thank you note for the Indian cricket Captain.
Here is the string of tweets:
This is nothing but a small plea from me to you. Take out a little time and give me a listen. pic.twitter.com/fcOA3qPH8i

— Sunil Chhetri (@chetrisunil11) June 2, 2018
Please take notice of my good friend and Indian football skipper @chetrisunil11's post and please make an effort. pic.twitter.com/DpvW6yDq1n

— Virat Kohli (@imVkohli) June 2, 2018
Thank you, champ. This is really appreciated.

— Sunil Chhetri (@chetrisunil11) June 3, 2018
---