Thangavelu Mariyappan receives a rousing reception at Chennai Airport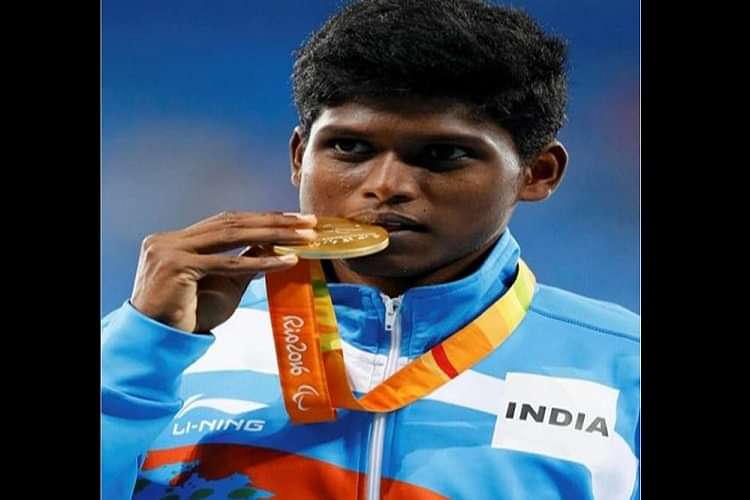 Indian's Paralympic star Thangavelu Mariyappan, received a hero's welcome as he returned home after a sensational performance in Rio de Janerio. He landed in Chennai amidst a cheering crowd eagerly waiting for his arrival. Tamil Nadu Ministers for School Education, K Pandiarajan and Rural Industries Minister P Benjamin were present to receive him.
Early Life
Thangavelu Mariyappan was born in Periavadagampatti village, Salem district, Tamil Nadu. At the age of five, Mariyappan suffered permanent disability in his right leg. He was run over by a drunk bus driver while walking to school. This accident crushed his leg below the knee, causing it to become stunted.
First Competition
He participated in his first competitive high jump event at the age of 14. He competed against a field of able-bodied competitors and stood second which gave him encouragement to pursue the sport. In 2013, his current coach, Satyanarayana noticed his performance at the Indian national para-athletics championships. He then formally took him on as a student in 2015 and brought him to Bengaluru for further coaching.
Olympic Glory
In March 2016, Thangavelu Mariyappan cleared a distance of 1.78m in the men's high jump T42 event at the IPC Grand Prix in Tunisia. This feat helped him qualify for the Rio Paralympics. At the Rio Paralympics, he won the gold medal in the men's high jump T42 finals. The leap recorded for the event was 1.89 m.
Celebrating Mariyappan's victory, Tamil Nadu Chief Minister has announced a cash prize of Rs 2 crore for Mariyappan. We at The Sportsrush believe that such inspiring stories will encourage young talent to take up sports as a career. The likes of Mariyappan and other medal winners at Rio Paralympics games are living examples of people who had the conviction to challenge the conventional mindset and take a challenging course which inspires the Indian youth.
---