Twitter erupts as India beat Myanmar in the AFC Asian Cup Qualifiers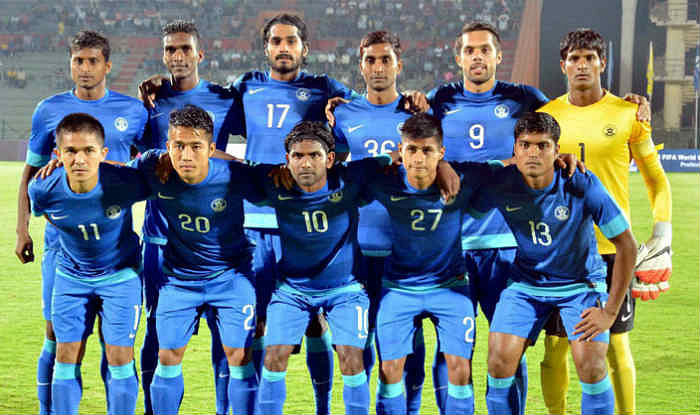 On a day when India outclassed Australia on the cricket field, the Indian Football team brought further joy as Sunil Chettri and his men romped to a 1-0 win against Myanmar in the AFC Asian Cup Qualifiers, making this the first time in 64 years that an Indian side had won a game in Myanmar.
The Indians were high on confidence after their historic away win against Cambodia in the international friendly a week ago and desperately needed the 3 points to cement a good place in Group A. India started the game brightly but couldn't quite put away their chances and the teams went into halftime with the scores still level.
The second half was dominated by Myanmar, creating umpteen chances, but Gurpreet Singh Sandhu and the back four bailed India out time and again.
Chettri who wasn't very influential during the game managed to be at the right place at the right time as he slotted home the winner for India in the 90th minute. Udaya Singh delivered a delightful ball into the box and Chettri made no mistake in putting it away.
India now play Kazakhstan at home on June 13, 2017.
This is how the world reacted to this historic Indian win. Reactions on the next page:

FT Myanmar 0-1 India

India pick 3 away points, beat Myanmar at home after 64 years

Live https://t.co/u1VuuuCcZs#MYAvIND #IndianFootball pic.twitter.com/CYcZ2Pnsrg

— Firstpost Sports (@FirstpostSports) March 28, 2017
We've beaten Myanmar in Myanmar for the first time since 1953! Possibly on our way to our best ever ranking. Good day this! #MYAvIND

— Vishnu Prasad (@visheprasad) March 28, 2017
#MYAvIND is the trending topic in India on a day the cricket team won a series against Australia. We're finally waking up! #IndianFootball pic.twitter.com/MDmO4gweTG

— Vishnu Prasad (@visheprasad) March 28, 2017
https://twitter.com/fni/status/846726708237664256
History created after 64 years and its a milestone#BackTheBlue #AsianDream #MYAvIND #bleedyblue pic.twitter.com/EP7l6UVmvm

— MR_IKER (@Mr_IkerCasillas) March 28, 2017
Congrats boys. Well played @StephenConstan with his boys #IndianFootball #BackTheBlue #AsianDream #MYAvIND @afcasiancup pic.twitter.com/RYlyHDzqgR

— Indian Football Team (@IndianFootball) March 28, 2017
https://twitter.com/Indianit07/status/846738613882802177
https://twitter.com/KaswanHappy/status/846735907931643905
Appreciate @Humey_7's enthusiasm for #IndianFootball. #MYAvIND #BackTheBlue

— Philarima Hynniewta (@philarima) March 28, 2017
https://twitter.com/CoolSunil4756/status/846732009342824452
More reactions on the next page

 
Yaaayy! I was tired as hell, but well Im sure these lads made it worth the energy I had it in me! 😍#BackTheBlue #MYAvIND https://t.co/IJcZC575ZL

— Aastha Varma (@AasthaVarma) March 28, 2017
https://twitter.com/imarnabd/status/846742332615475200
Sry for comparing 2 different players, @chetrisunil11 is now @imVkohli Of indian football. Congrats india on tremendous win #MYAvIND

— Darshanakumar (@Darshanakumar9) March 28, 2017
https://twitter.com/girish1323/status/846741102354927616
https://twitter.com/mischi3fmak3r/status/846739197864042496
---