Twitter reacts as Belgium's last second winner seals quarter-final spot for Red Devils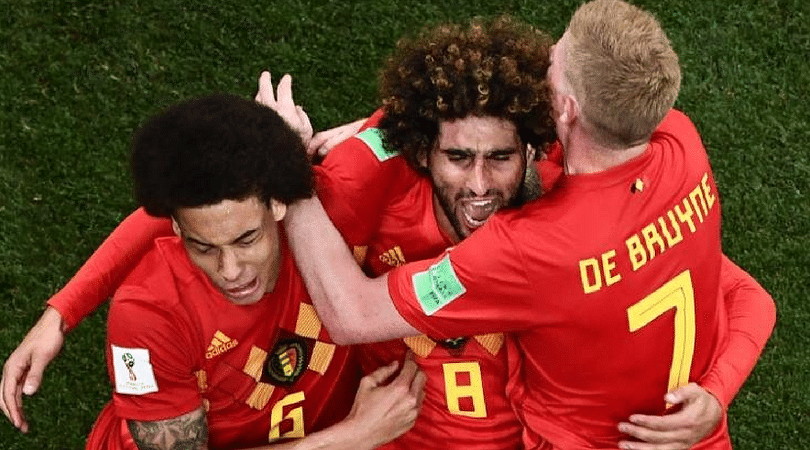 Belgium played Japan in the round-of-16 match today.
It was a heartbreak for the Asian team as Belgium grasps last second winner against Japan to ensure a place in the quarter-final for Belgium. The Red Devils won 3-2 in a closely fought game, which saw a roller-coaster of emotions as Japan punched above their weight.
The Asian side scored two quick goals in the second half after the first half was seemingly uneventful. However, Belgium came back strong when Vertonghen and Fellaini provided a quick double to even the game.
Japan continued to lead attack after attacks on the Belgian defence, and even came close to scoring the winner. During injury time, Japan had most possession on the ball as they were awarded free-kick and a corner. However, Belgium scored with a counter-attack in the final minute, as Romelu Lukaku's clever pass to Nacer Chadli resulted in a winner for Belgium.
The European side will now face tournament favourites Brazil in the quarterfinals of the World Cup. Brazil beat Mexico earlier in their round-of-16 match, as Neymar and Firmino's goal gave them a 2-0 win.
In the final match-day of round-of-16, Switzerland will face Sweden, whereas England will meet Colombia.
Here are some of the tweets from the match:
jApaN dOn'T hAVe a CHanCe pic.twitter.com/nYg0o4zIWy

— B/R Football (@brfootball) July 2, 2018
Thank heavens England avoided Japan.

— Gary Lineker (@GaryLineker) July 2, 2018
They both came on and won Belgium the game 😂😂😂

This world cup is unbelievable. pic.twitter.com/Rq59CY5IEU

— FootballFunnys (@FootballFunnnys) July 2, 2018
This tournament is the best I've ever seen. This country 🇷🇺 has risen to the occasion!! Come and enjoy it if you can ⚽

— Gary Neville (@GNev2) July 2, 2018
France have Griezmann
Brazil have Neymar
England have Harry Kane
Croatia have Modric

Belgium have Fellaini pic.twitter.com/bEyQncIIrC

— Footy Humour (@FootyHumour) July 2, 2018
Say what you want about Fellaini, but it's rare he doesn't have some sort of impact on a game. #BEL #JPN

— Paddy Power (@paddypower) July 2, 2018
Marouane Fellaini is on for Belgium. Japan, however, have lots of short players, so he may find it difficult landing his trademark flying elbow.

What a fascinating battle this is.#BEL #JPN

— Paddy Power (@paddypower) July 2, 2018
Massive Effort by Japan 🇯🇵 Football Team, Deserve Standing Ovation 👏
Great comeback by Belgium🇧🇪. #BELJPN pic.twitter.com/7oZrkIRiU6

— Fantam (@Fnanhe) July 2, 2018
Great showing by Japan very proud of all of the Players and Coaching Staff. Japan is progressing and played some great Football. Look forward to the Asian Cup and building on this World Cup experience!

— Tom Byer汤姆.拜尔•トムバイヤー (@tomsan106) July 2, 2018
What we learnt from #BELJAP…

1. Brazil 🇧🇷 v Belgium 🇧🇪
2. Heartbreak for Japan 💔🇯🇵
3. Unlikely to see a better counter attack goal 👏🏻👏🏻
4. Or a better second half 😄
5. Fellaini is about 3 foot taller than the whole Japan defence 😆

— ⚽442oons⚽ (@442oons) July 2, 2018
When you think But Belgium turns
you'll play Japan it around with a
in the quarters last minute winner pic.twitter.com/rmQA2wWBlu

— Christian Benteke (@chrisbenteke) July 2, 2018
---