U-16 Indian girls win the second biggest youth football tournament in Denmark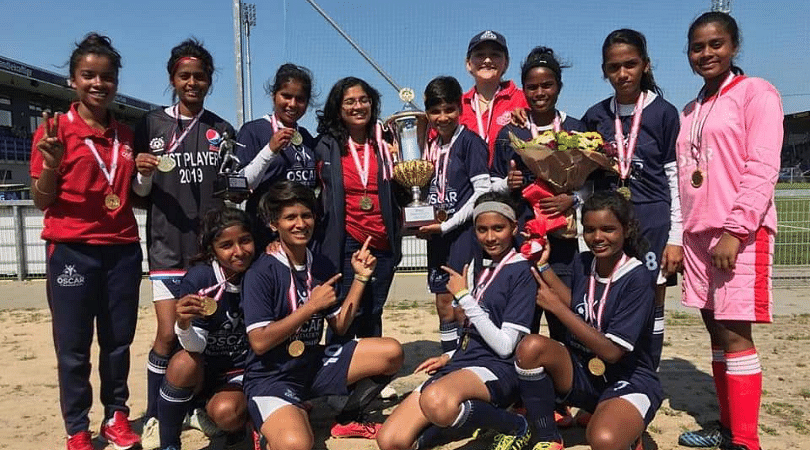 U-16 Indian girls win the second biggest youth football tournament in Denmark. The victors hope it will serve as an inspiration to many back home.
An under-16 girls football team from the Oscar Foundation has won the Dana Cup 2019 Tournament in Denmark. The road to the top however, has been nothing short of inspirational. The team is comprised of players from Ambedkar Nagar slum in Mumbai and rural Jharkhand. Which means have had to face a lot of difficulties to just be given a chance to play in the first place.
Gender discrimination is prevalent in the country and even more so in the lower sections of the society. These girls have had to overcome backbreaking discrimination, dropping out of school and even early marriage. They fought through all of this and persisted with their passion of playing the beautiful game of football and have scripted a fairy tale victory only found in movies and novels.
Winning the trophy will inspire many
Ashok Rathod, Founder of Oscar Foundation, hopes that this victory will inspire many others in their communities.
He said: "Despite having limited access to resources such as nutrition, the girls have shown great courage and determination in the way they have played. Winning the trophy will inspire many other girls in the communities where we work."
The champion team took on four Belgian teams en route to the final. They won all of their matches before beating Toten FK 2-1 to clinch Denmark's largest Youth football tournament. Anita Kumari from Jharkhand scored the highest no. of goals in the tournament and was given the Best Player award.
Quotes from the players:
 "It's a unique feeling. We had to put in a lot of hard work and we're bringing home the trophy," said Pooja Gautam.
"We did this for our mothers and all the girls in our communities," said Priya Rathod.
https://twitter.com/nowdurga/status/1154789113926705152
Dana Cup
The Dana Cup is Denmark's largest sporting event, and one of the biggest international youth soccer tournaments in the world. Since 1982, over half a million players have participated in the Dana Cup from over 115 nations. The tournament has witnessed 90% foreign team participation. In the tournament's 2019 edition, 1100 teams took on each other in seven-a-side games over a period of one week.
Click here for more football news
---