UFC 257 Canceled?: Google Search Result Shows The Pay-Per-View Event Is Canceled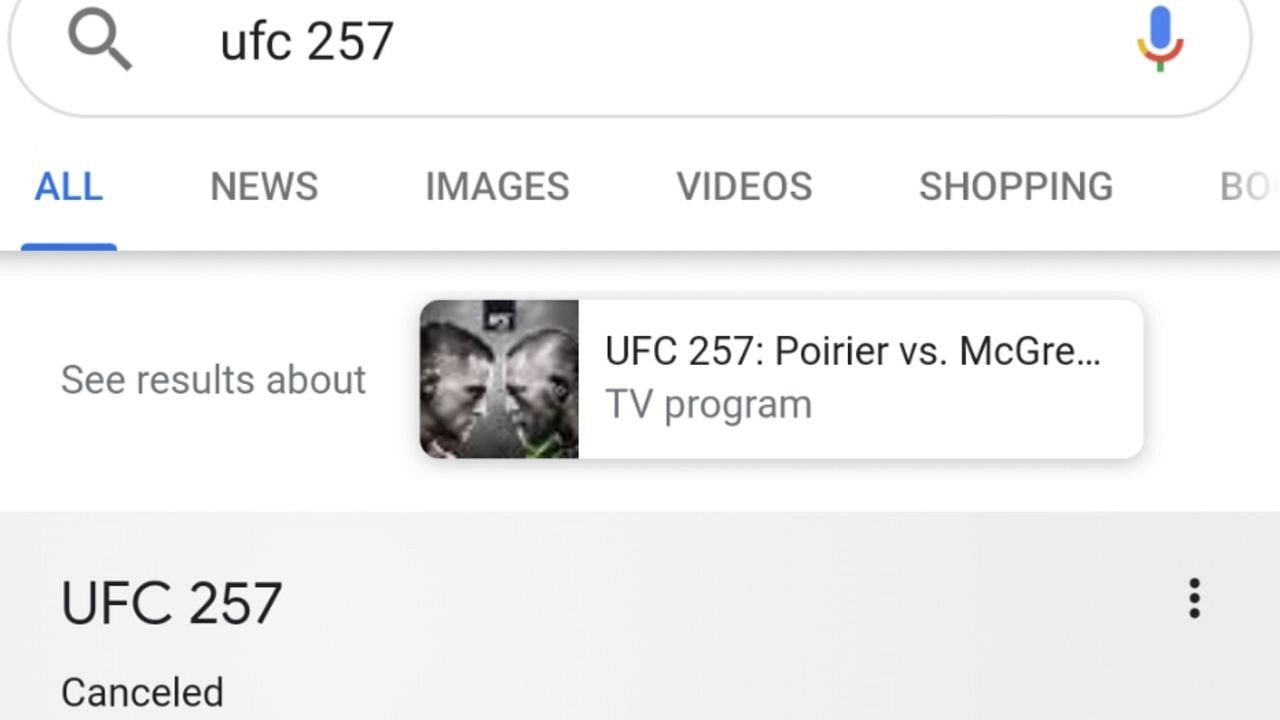 UFC 257 Canceled: There are rumors about UFC 257 being canceled. Is the Marquee event really deferred?
Just hours before the commencement of the ultimate event. There are rumblings that UFC 257 is canceled. While there is no evidence to the theory, but upon writing the term "UFC 257′ on google's search box, the search result highlights it is canceled.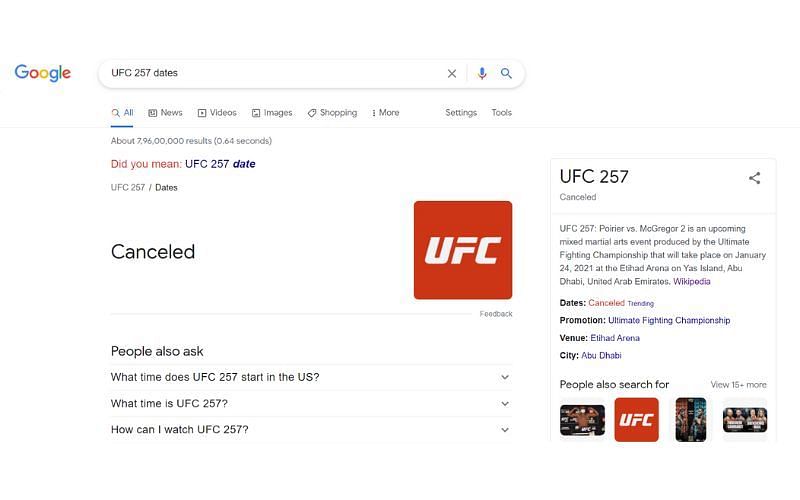 On further probe, by clicking on the Trending link, which is static beside Canceled, a new result draws open which is evidently a search result of UFC 257 date. The "Canceled tag" persists with this result as well.
Though the search result says UFC 257 is canceled but there is no need to worry, as in cases as such the promotion disseminates the news upfront as it happened back at the time of UFC 249. However, there is no notification from UFC's side, and hence UFC 257 stands high and strong.
Also Read: UFC 257 Payouts
UFC fans panicked after learning about the search result
It is a significant glitch from the search engine giant but the event will commence at the scheduled time. However, this supposed error was enough to cause panic among MMA enthusiasts, who took to social media to express their concern.
What the actual fuck !?!? #UFC #UFC257 #UFC257Cancelled ?
i went to check the start time, google says it's cancelled..@danawhite ? pic.twitter.com/pFnbsvKZLT

— The280Times Trivia Channel (@The280Times) January 23, 2021
UFC 257 better not be cancelled…. please be rumors….. please….

— Your Best Bet (@YBBSportsData) January 23, 2021
Search UFC 257 in google and it'll say cancelled

— Ryan Wolfe (@rywoo) January 23, 2021
what the fook ufc 257 is cancelled ?

— Combat Sports 👊🏿👊🏿💯👑👑 (@CombatBets1) January 23, 2021
@ufc Why is google and other sources saying ufc 257 is cancelled???

— Jon Urban (@Urbnized) January 23, 2021
While UFC did not address the false claim by Google, and there is no statement as of yet, so it is just an eleventh-hour hoax.
Click Here For More UFC News
---
Share this article