WATCH: Katherine Brunt doesn't mankad Sune Luus in crunch situation; creates storm on social media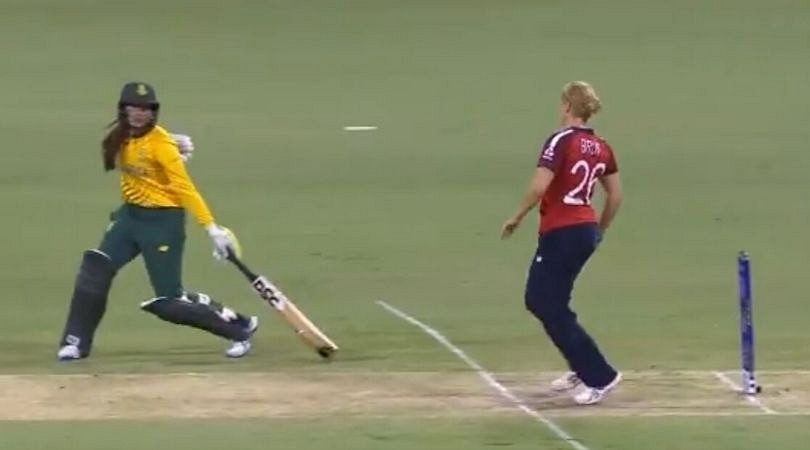 Katherine Brunt doesn't mankad Sune Luus: The English all-rounder's stand denied her team of a clear advantage at the WACA.
During the fourth match of the ongoing ICC Women's T20 World Cup 2020 between England and South Africa in Perth, England all-rounder Katherine Brunt had a clear chance of mankading South Africa batswoman Sune Luus to perhaps change the outcome of the match.
Having said that, Brunt choosing to warn Luus and not dismiss her to in the name of "spirit of cricket" invited a heavy storm across social media platforms.
It all happened on what would have been the third delivery of the last over when South Africa required seven runs off four balls to win the match.
South Africa batswoman Mignon du Preez, who was on the striker's end, hit a six and a four on the following two deliveries to seal a 124-run chase against a dominant English side. Had Brunt dismissed Luus via mankading, it might just have affected du Preez's mindset before playing a big shot.
It is worth mentioning that English players generally consider mankading as a mode of dismissal which violates the spirit of cricket.
Earlier, it was South Africa captain Dane van Niekerk who won the toss and invited England in to bat who scored a below par 123/8 in 20 overs on the back of all-rounder Natalie Sciver's 50 (41) with the help of five fours and a six.
Van Niekerk, who registered bowling figures of 4-0-20-2, followed it with top-scoring for South Africa as her 46 (51) played a vital role in them starting their World Cup campaign on a winning note.
Katherine Brunt doesn't mankad Sune Luus
With the game on the line, Katherine Brunt could have dismissed Sune Luus at the non-striker's end, but opted not to. Moments later Mignon du Preez blasted a game-defining six.

What do you think? 🤔 pic.twitter.com/oPqeUdo7Hl

— ICC (@ICC) February 23, 2020
How Twitterati reacted:
Ayabonga Khaka did exactly the same while brunt was batting, fair play from both teams. https://t.co/mx5Zp0wJMQ

— Marizanne Kapp (@kappie777) February 23, 2020
I find it interesting that it's always the bowler who is questioned in these circumstances re 'spirit of cricket'. The batter is clearly gaining an advantage yet it is always the bowler that has the focus on them.
Stick to the laws of the game. https://t.co/AAgxcJcgrJ

— Jason Gillespie 🌱 (@dizzy259) February 23, 2020
It's easy to be in favour of Mankads (as I am) but a lot harder to do it in a World Cup game knowing you'll be subject to endless accusations of cheating. https://t.co/AQX6Ewk0cg

— Louis Cameron (@LouisDBCameron) February 24, 2020
Why don't they allow umpires to call "one short" if batters are creeping out early. Hence, reducing runs (batters will stop doing it if losing runs). And most importantly it will put to bed all this mankad carry on 🤷🏼‍♂️ I feel taking it out of the players hands is good for the game

— Tim Ludeman (@tludey) February 24, 2020
She should have been standing even further down the pitch. England are adamant they'll never mankad anybody – exploit this weakness. https://t.co/7NIn3BDd8G

— Dan Liebke (@LiebCricket) February 23, 2020
This is the edge case we've all been hypothetically bringing up whenever there's a Mankad debate. World Cup, qualification arguably on the line, the game essentially resting on this. #T20WorldCup https://t.co/gxvVluNR2e

— Ben Jones (@benjonescricket) February 23, 2020
I asked Nat Sciver about it and she said their is no way KB was ever going to run her out and neither would anyone in the team. She was adamant.

— Melinda Farrell (@melindafarrell) February 23, 2020
The non-striker is cheating, Ben. That is against the spirit of cricket surely!

— Harsha Bhogle (@bhogleharsha) February 24, 2020
A storm is raging across the cricket world after a Women's #T20WorldCup star was made to pay for her act of sportsmanship https://t.co/bDIUY3oqTm pic.twitter.com/t7Ni0r7QKv

— Telegraph Sport (@telegraph_sport) February 24, 2020
For more cricket-related news, click here.
---