WATCH : MS Dhoni and Kapil Dev feature in a fun TV advertisement for SRMB Steel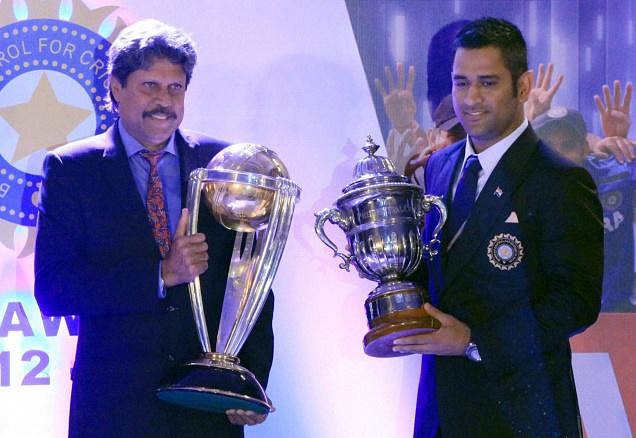 Wow!
Indian cricket's only two World Cup winning captains took part in a television advertisement that took social media by storm.
In 1983, Kapil Dev shocked the world when he inspired the Indian team to a historic World Cup triumph. The underdogs India had beaten the two time defending champions, West Indies in the final.
The West Indian outfit had some of the greatest players to have played the game, and were overwhelming favourites heading into the match. But as fate would have it, India triumphed over them and Kapil Dev and his men engraved their name in history.
Twenty eight years later, MS Dhoni inspired his side to yet another World Cup triumph this time in Mumbai. A visibly emotional Kapil Dev broke down on national television, as the weight of being the only Indian captain to lift the World Cup was finally taken off his shoulders.
So it was a historic moment when both Kapil and Mahi were present to take part in a television shoot at the historic Eden Gardens. While shooting the ad, Kapil bowled a couple of deliveries to Dhoni, who was shocked by the pace that fast bowler could still generate.
The ad shows Dhoni asking Kapil Dev for a chance to bat, which the former readily agreed to.
Kapil Dev then bowed a bouncer, which Dhoni negated by ducking out of the way. The legendary fast bowler seemed quite happy and asked Dhoni if he was read to stop.
Dhoni though did not take this lightly, as he then proceeded to hit the fast bowler all over the place. The two then shared a conversation in the end, in which Dhoni claimed that Kapil Dev was his and the entire nation's inspiration.
It was a wonderful ad, that showed two of Indian cricket's biggest legends come together for the first time. Both Dhoni and Kapil were small town heroes, as their respective rise to the top was an inspiration to every young kid in the country.
WATCH THE VIDEO HERE :
Let's hope Dhoni wins another World Cup before he finally calls it a day on his legendary career!
---
Share this article