WATCH : The Rock identifies MS Dhoni's helicopter shot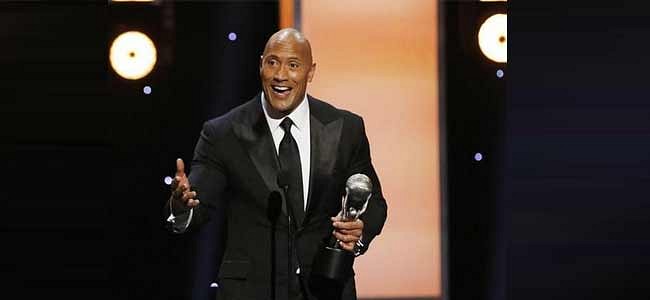 Dwayne Johnson, also known as the Rock, is one of the biggest celebrities in the world right now. Dwayne's mass appeal from the WWE has translated on the silver screen, as the People's Champion has well and truly established himself as a box-office draw in Hollywood.
After achieving tremendous success in the WWE, Dwayne left the company in 2003 as he left to pursue of dream of becoming a Hollywood superstar. After a stop start career, Dwayne briefly returned to the WWE in 2011, as the WWE Universe welcomed back their icon with open arms.
After competing in a couple of huge matches against John Cena and CM Punk, Dwayne went back to Hollywood as his movie career flourished. He is now part of some huge franchises, including the Fast and Furious series which really propelled him into super stardom.
Now, Dwayne is promoting his latest movie, Jumanji, as the charismatic superstar is travelling all around the world to spread the word about his movie. He has come to India as part of his world wide tour, as Dwyane reached out to the millions of the Rock's fans in India through a medium that we all understand, cricket.
The Rock was asked to identify several cricketing actions and shots, as Dwayne struggled to make head or tail out of a game that he understand little of. While he was all at sea while trying to decode umpiring signals, he did recognize MS Dhoni's helicopter shot.
He did not even hesitate before calling out Dhoni's famous shot, as the People's Champion recognized Indian cricket's legendary captain. This should come as a huge compliment for Mahi, as his appeal clearly extends beyond boundaries.
Now what if we get The Rock and Mahi together in the same frame one day?
WATCH THE VIDEO :
---
Share this article