WATCH : Stone Cold returns and stuns Vince and Shane McMahon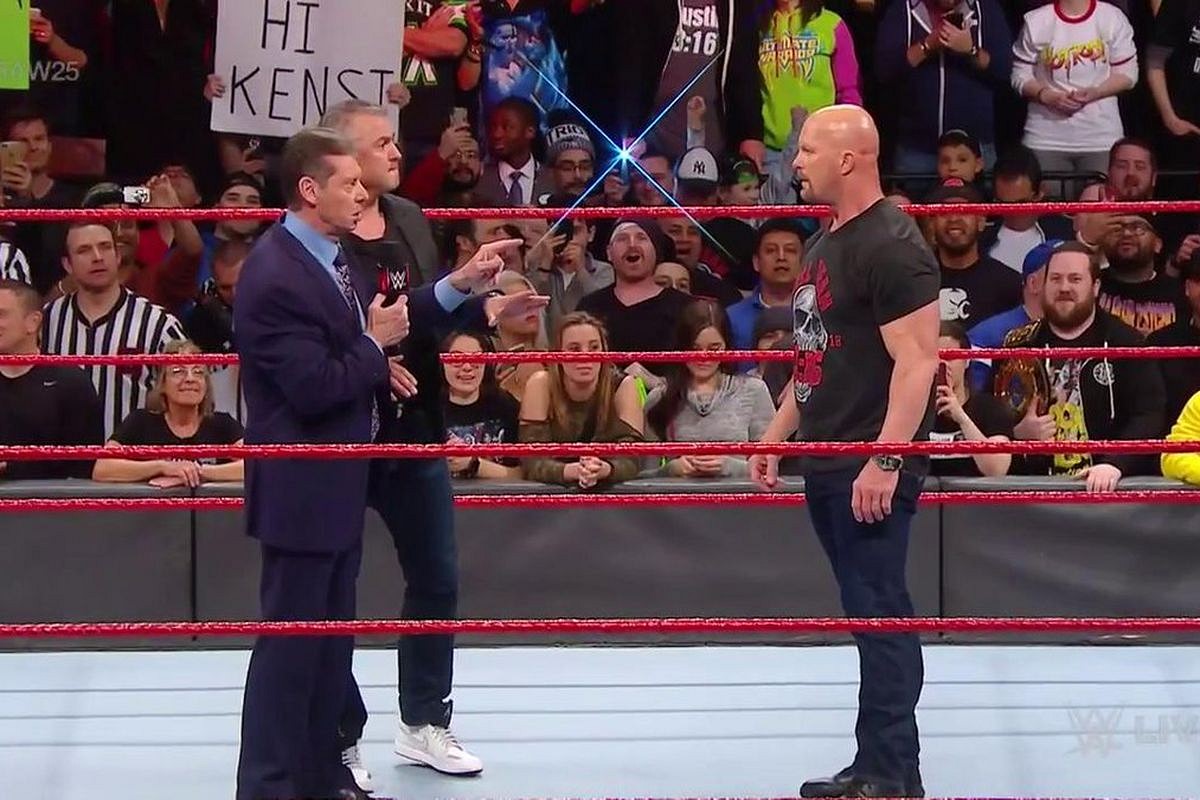 The much anticipated 25th anniversary of Monday Night Raw took place last night, as stars from yesteryear made an appearance and served up a nostalgia act for the WWE Universe.
The show was telecast from two cities, Brooklyn and Manhattan, as the WWE tried to give their fans a taste of the early years of Monday Night Raw.
The opening segment of the show saw Vince, Shane and Stephanie McMahon come out and speak in front of the WWE Universe.
The WWE Universe gave Vince a standing ovation, as the fans thanked him for everything he had done over the last 25 years. Vince was visibly emotional, as he soaked in the applause from a jam-packed crowd in Brooklyn.
Shane and Stephanie then proceeded to present Vince a commemorative plaque as a recognition for his achievements over the last 25 years.
Vince though did not take this too kindly, as he felt that his accomplishments deserved a much greater price. He then went on to mock the Brooklyn crowd, as he goaded their fans and the city they live in.
That is when the glass shattered and Stone Cold Steve Austin made his entry, as he was roared on by the capacity crowd. Vince was scared and immediately asked Austin to spare him, as he was no longer a young man.
Vince then pointed to Shane, and asked Steve to punish him if he wanted to do, much to the bemusement of the younger McMahon. At first, Steve raised Shane's hand and asked the fans to cheer the GM of SmackDown Live.
But old habits die hard, as Austin gave a stunner to Shane McMahon, much to the delight of everyone present.
Vince and Steve then shared a beer and a hug, as fans thought they were seeing a pleasant reunion between two men who helped shape the course of Monday Night Raw over the last quarter of a century.
But Austin could not resist himself, as the legend gave a classic stunner to the Boss, before walking out to a grand ovation.
WATCH THE VIDEO HERE :
---