WATCH : Vernon Philander drops Kohli off Rabada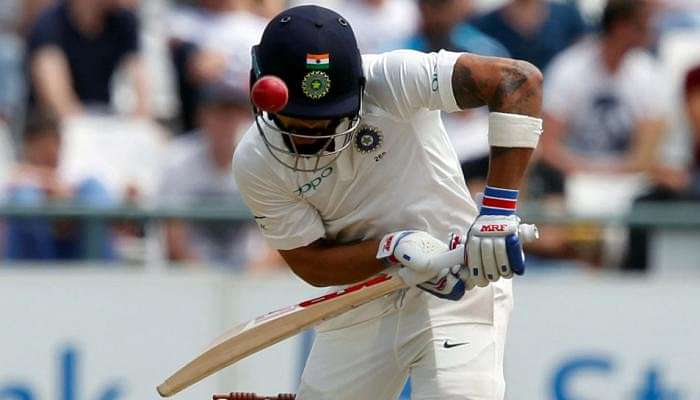 Listening to Virat Kohli at the toss, you got a sense that the Indian captain wanted to set things straight in the third test at Johannesburg.
"We are going to bat first. There is a good grass covering here and it's always been there. If we bat first and bat well, it's always an added advantage. (On the good record at Jo'burg) We've played some really good cricket here. Even the last time around, we did well."
"Should be a good contest. We are up against a side who are really strong in their conditions as they have shown in the first two Tests. We are trying to improve as a side and correct our mistakes. It's never too late to do it. We have two changes. Rahane replaces Rohit and Bhuvneshwar comes in for Ashwin."
Rahane and Bhuvi's inclusions were quote surprising, as it went against what India had maintained through out the series. Rohit performed decently in the fourth innings in Centurion, at a time when everyone else failed, while Ashwin picked up four wickets in the first innings.
Then again, Kohli brought this upon himself, as the Indian skipper had made some head scratching decisions in the previous two matches.
Walking in at 13-2, Virat Kohli knew that he had a job on his hands today. The Indian skipper tried to launch a counter attack himself, but after playing and missing a couple of deliveries, Kohli settled down and played safe.
After hanging in there for a few overs, Kohli lost his head and went for a pull shot off Rabada. The talented bowler got the ball to climb on Kohli, as the Indian skipper could only manage a top edge that went straight up in the air.
Vernon Philander circled the ball, and looked comfortable until the very last moment. The ball suddenly dipped on him and got away from the all-rounder, as he grassed the catch.
Kohli was clearly unhappy with himself, as he knew that his was the wicket that the South Africans wanted today. Rabada was distraught, as the young South African's carefully crafted plan was all laid to waste.
WATCH THE VIDEO HERE :
Loading embed tweet https://twitter.com/cricvideos5/status/956107988808318976?ref_src=twsrc%5Etfw
---